Just in time for fall, my newest healthy recipe is guaranteed to impress your taste buds and simultaneously benefit your overall health. Apples and cinnamon together is one of my all-time favorite flavor combinations. Autumn flavor pairings make for perfect comfort foods and what's better than a guilt-free treat? I created this recipe on the spot without researching other recipes for inspiration. On the first try, they came out incredible! These muffins are not only easy to prepare, but they're extremely low calorie, with only about 510 calories in the entire recipe. They are free of refined sugar and are full of dietary fiber. This batch created seven muffins for me, so feel free to double or triple the recipe as desired. The soft, sweet muffin mixed with the crisp crunch of the apples within it makes a delicious, healthy recipe to prepare for your family, friends, coworkers, or anyone you love!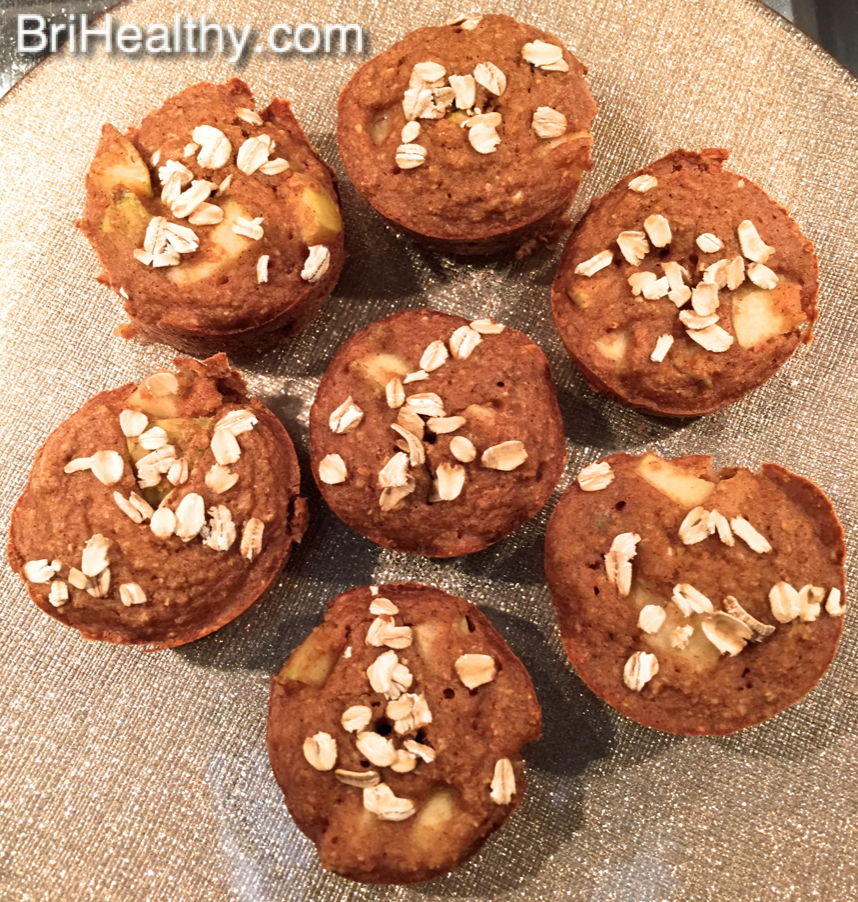 Makes 7 muffins
Ingredients
1 cup oat flour (ground whole grain oats)
About 1 tbsp whole grain oats to sprinkle on top
⅔ apple of your choice, diced (I used Honeycrisp)
1 teaspoon pure vanilla extract
1 teaspoon baking soda
4 packets pure stevia
½ cup unsweetened applesauce (I used one Nature's Promise individual container)
2 tbsp unsweetened almond milk
1 egg
Cinnamon
Nutmeg
Pinch of salt
Instructions
Preheat oven to 375°F.
In a mixing bowl, add oat flour, stevia, baking soda, and pinch of salt. Add as much cinnamon as desired (I used a few generous shakes, probably about ½-1 teaspoon) and a small shake of nutmeg. Mix well.
In a separate mixing bowl, whisk together the egg, vanilla extract, applesauce, and almond milk.
Pour wet ingredients to the bowl of dry ingredients, whisking constantly while pouring.
Dice apple into small cubes, about ½ inch thick.
Add apples to mixing bowl and fold into the batter.
Spray a muffin pan with nonstick cooking spray. Fill each muffin cup halfway with the batter, making sure the apple pieces are evenly distributed. You should have enough batter to fill 7 cups halfway.
Sprinkle some whole grain oats on top of each cup.
Bake for about 12 minutes, or until muffins have risen and are somewhat golden brown.
Take them out and stick a toothpick in the center of each, making sure no wet batter comes off on it. If the toothpick comes out dry, let them cool for about 5-10 minutes and enjoy!
Calories: about 510 in entire recipe, making each muffin about 73 calories.