I had last week off from work, so my dad and I took a little trip to Los Angeles, California from early Sunday morning until Thursday afternoon. The trip flew by, as I thought it would, but it was a perfect length of time to get away and experience life in another major city. It was my third trip to LA – it was the first place I flew to at the age of 12 and I visited again when I was 18. At 23, it was definitely a different experience. The last time I visited was before I ever attempted or even fathomed a thought about my weight loss journey, so I recalled the delicious restaurants I visited in the past. In-N-Out Burger had been something so exciting for me, and on this trip, I had absolutely no desire to even be around it. That's not simply because fast food is notoriously less healthy than other fare, but also because I've learned so much about the healthy eateries that LA has to offer.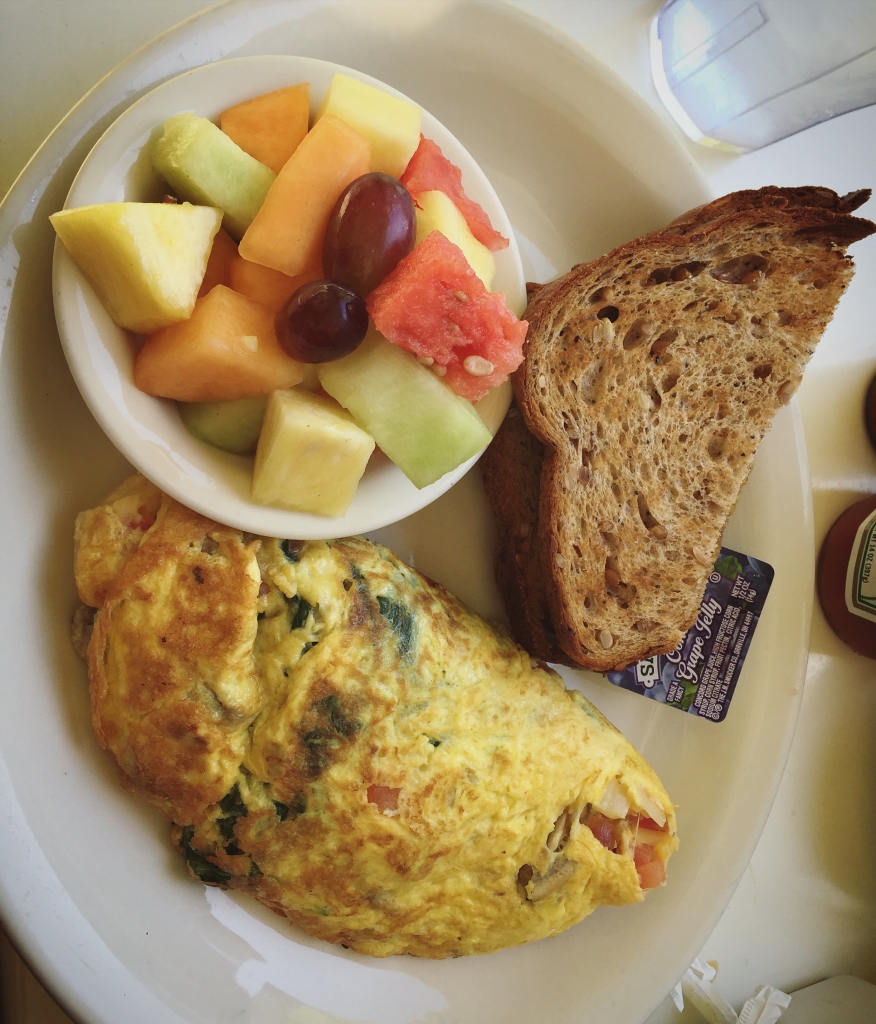 On Instagram, I've seen so many pictures of delicious and nutritious foods that are located at restaurants and cafés in Los Angeles. It always made me a bit jealous because they were slightly out of reach from New York City, where I reside. When my dad invited me on this trip, I felt really excited because I knew there were so many spots to eat where I could make healthy choices. I did some research and formulated a list of must-try places, with some spots to indulge at as well. After all, it's vacation and you have to let yourself live too! 🙂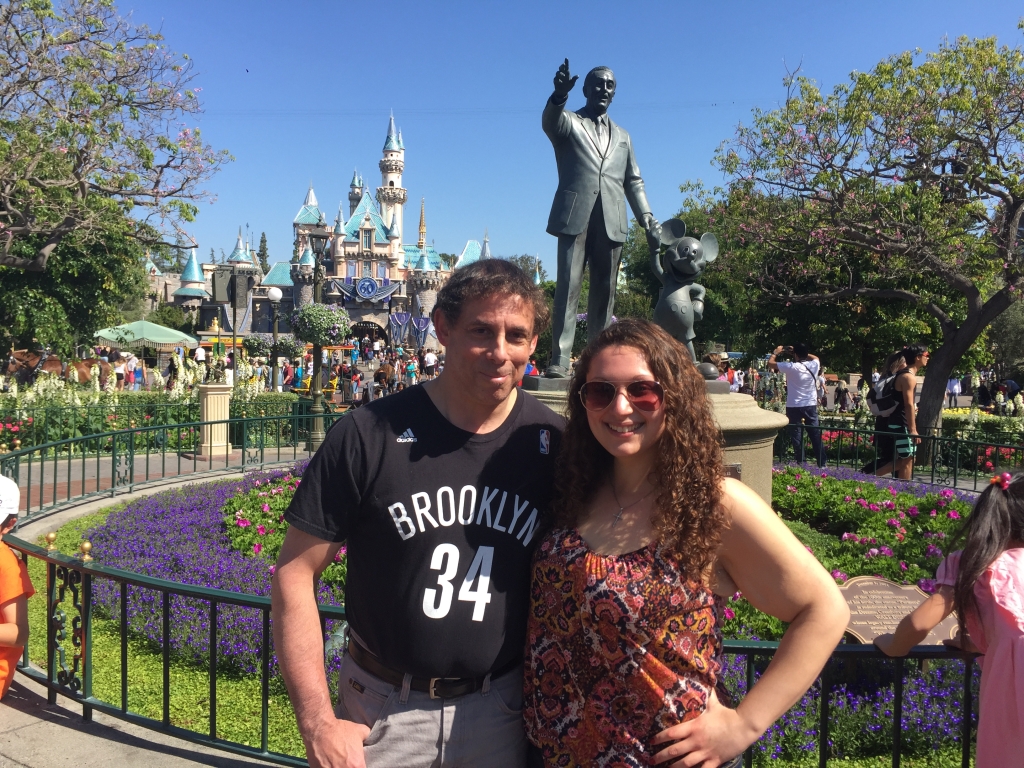 Typically when I'm on vacation, I eat much more frequently and in greater quantities than usual. For some reason, on this trip, I was able to control my appetite more easily. My dad and I did a lot of walking, so I felt comfortable indulging in small amounts when I chose to. But of course, since I am Bri Healthy, I made it a point to check out healthier places during my stay.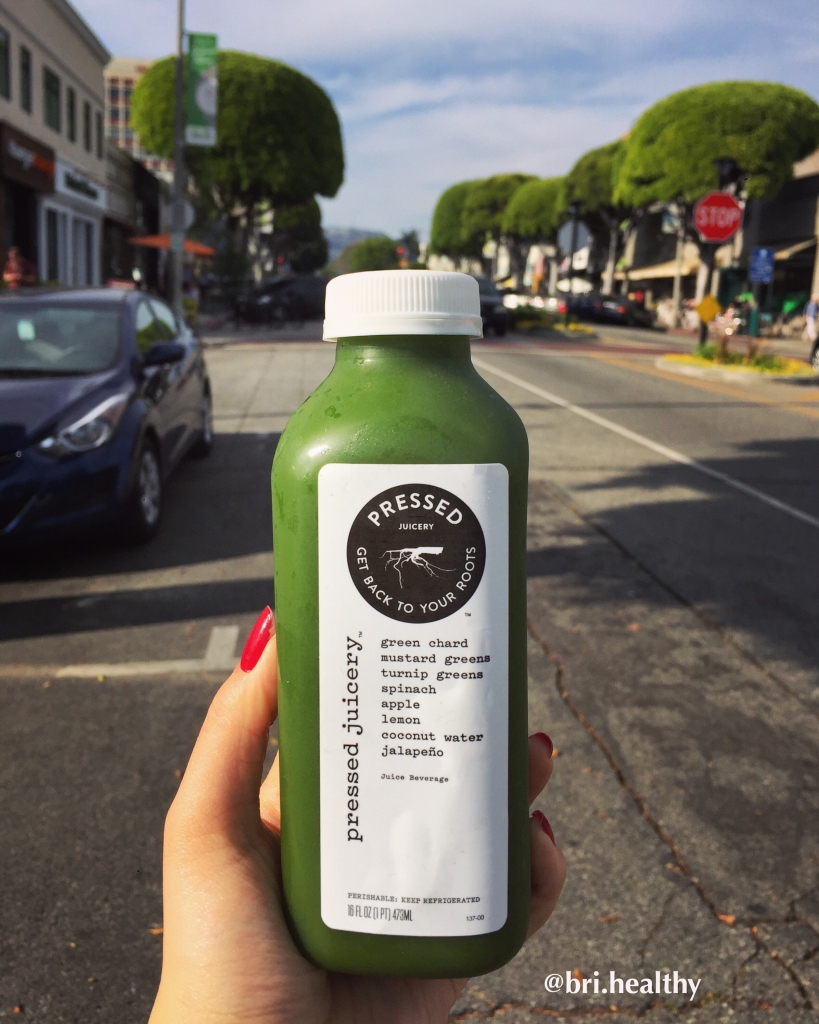 I wanted to show my dad an area that I fell in love with on my previous LA trip called Larchmont Village. It's a low-key area with various shops, cafés, and restaurants with a perfect view of the iconic Hollywood sign. On Larchmont Boulevard, I stumbled upon a chain that's also located in New York: Pressed Juicery. The employee there was awesome. I told her that I liked green juice, since it tends to be lower in calorie and made with very simple ingredients. She explained four different varieties to me and let me sample each of them, giving me her honest opinions on each. She introduced me to one that consisted of green chard, mustard greens, turnip greens, spinach, apple, lemon, coconut water, and jalapeño. I loved it! It's unbelievable how filling it was, mostly due to its incredibly high protein content. I've never seen a juice contain 14 grams of protein before! The employee explained that it was the mustard and turnip greens that contributed the largest amount of protein. Plus, the entire bottle contained only 100 calories. At around $6, it costed less than most juices in NYC. I'll definitely be checking out the NYC locations soon and hopefully they have this flavor for a similar price.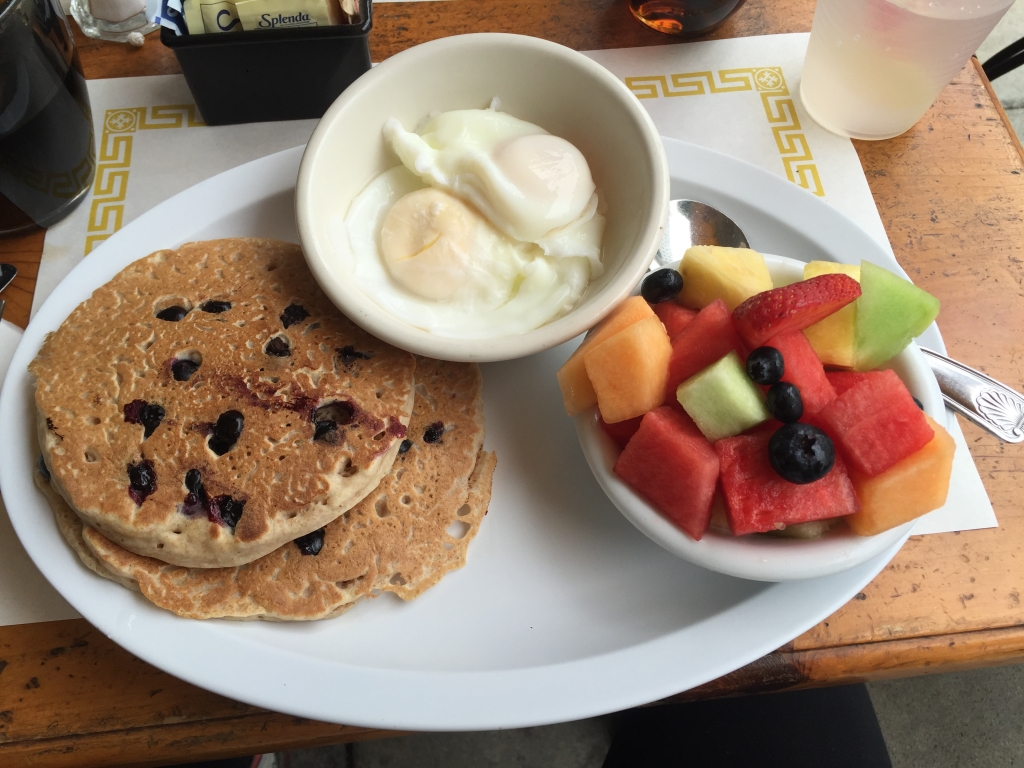 We stayed in Beverly Hills, so our breakfasts usually occurred at cafés in that area. I found that many places had at least one healthy option, if not an entire section of healthy dishes, on their menus. We ate breakfast at Walter's Cafe on Beverly Drive. Here, I ordered a delicious dish called the "Health Omelette": three eggs, tomatoes, onions, mushrooms, and spinach. I had unbuttered whole wheat toast on the side and some fresh fruit. It was so tasty! I love that sides of fresh fruit were extremely common instead of breakfast potatoes on menus. I feel that in NYC, a side of fruit instead of potatoes is often an extra charge. In LA, it seemed customary! At the Beverliz Cafe, I ordered two whole wheat blueberry pancakes, two poached eggs, and a side of fruit. Another café called Creme de la Crepe offered an entire healthy section on the menu. Lighter menu options were definitely common in LA, which makes it easier to dine without guilt.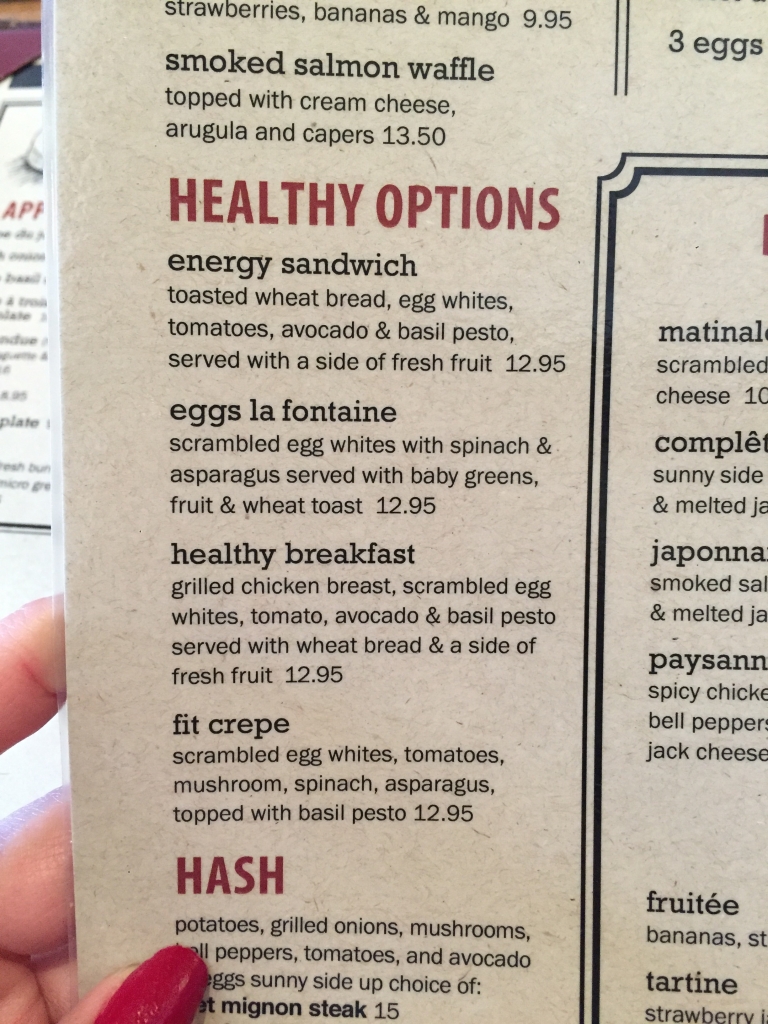 In addition to healthy eating, fitness seemed to be a big trend in Los Angeles. I passed countless crossfit centers, boxing gyms, yoga studios, cycling facilities, and more. The coolest thing I witnessed out there was a gym on the beach! I was strolling along Venice Beach's pier and stumbled upon an outdoor gym with ocean views. It's called Muscle Beach and it is amazing! Had I known it was only $10 a day (and if I had more time), I absolutely would have performed a weightlifting session there. Next time, I'll plan on it! Fitness culture seems very popular in LA. I hope NYC's growing fitness culture continues to build like LA's!
I had such an awesome time in Los Angeles and I was so pleased to see how health-oriented the city seemed. Of course, there were plenty of unhealthy options too, but the health-conscious trend seemed to be extremely prominent there. It was satisfying to see a place so in tune with their nutrition and fitness, as I've traveled to other places where it was much more difficult to locate lighter fare. I did my fair share of indulging, especially when I visited Disneyland, which is fine in moderation. But it was comforting to know that there were so many ways to stay healthy in the beautiful, palm tree-filled city of Los Angeles.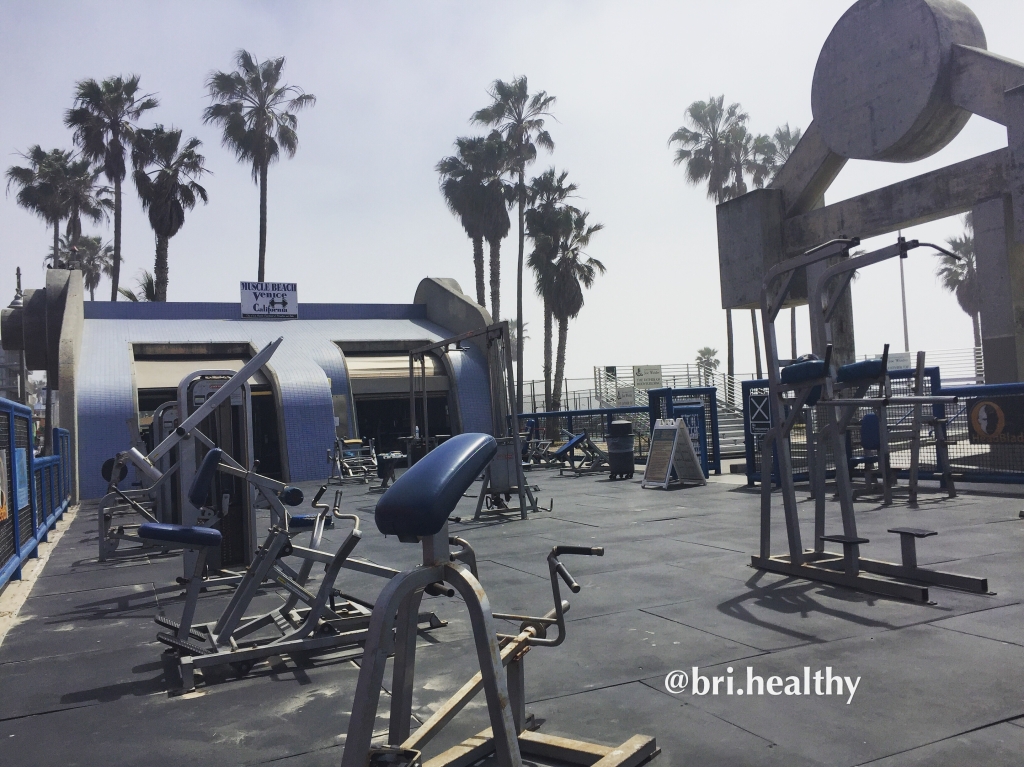 Know of any healthy spots in Los Angeles that you love? Leave a comment! 🙂