Happy 4th of July everyone! I hope that your day is filled with happiness, fun, and delicious food! I quickly threw together a brand new recipe for a healthy, patriotic treat to enjoy today, or any day for that matter! This Red, White, and Blue Berry Shortcake Mug Cake is so delicious, and I can't even fathom how easy it was. It came out incredible on my first attempt too! Plus, it only takes 2 minutes to "bake", so you have time to spend the rest of the day celebrating!
Reducing the microwave power to 30% is very important because it allows the cake to bake more slowly, and as a result, it will be the perfect cakey consistency. If you remove the blueberries, it's a perfect strawberry shortcake for any occasion. It just works so perfectly for the holiday when you add blueberries too!
Feel free to decorate the cake however you'd like. This particular layering strategy worked out perfectly for me. I guarantee that if you love cake, strawberries, strawberry shortcake, or all of the above, you will love this! Give it a try, your healthified sweet tooth will thank you! Have a safe and happy July 4th!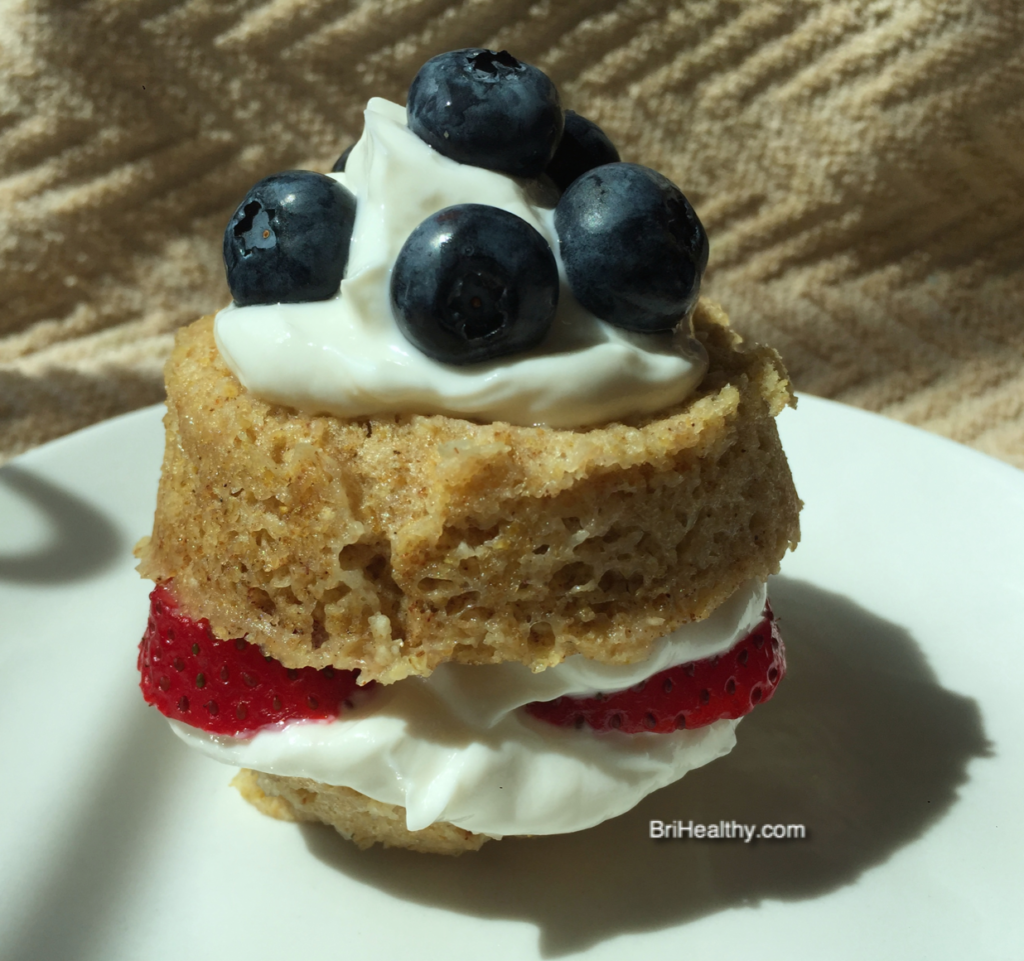 Berry Shortcake Mug Cake
2016-07-04 12:41:51
Serves 1
For the cake mix
2 tbsp oat flour
3 tbsp liquid egg whites
½ teaspoon liquid coconut oil
½ teaspoon vanilla extract
1 tablespoon pure maple syrup
⅛ teaspoon baking soda
⅛ teaspoon baking powder
1 dash cinnamon
For decorating the cake
Strawberries
Blueberries
1 8 oz container plain Greek yogurt (I used Fage 0%)
1 tablespoon pure maple syrup
Instructions
Add all cake mix ingredients to a microwavable mug and mix well.
Microwave on about 30% power for 2 minutes.
Wait a few minutes for cake to cool. Use a butter knife to unstick cake from edges of mug, although it should be pretty much detached already.
Gently use the knife to help the cake slide out of the mug onto a plate.
Cut the cake in half from top to bottom so you have two equal-sized cake pieces.
Mix the container of Greek yogurt with 1 tablespoon of pure maple syrup. Mix well.
Place one half of the cake on a plate and top with some yogurt mix. Layer sliced strawberries and top with more yogurt.
Place the second cake piece on top and top with more Greek yogurt. Top with desired berries.
Enjoy!
Notes
Calories: for the cake: about 140
For the toppings: about 175
Total calories: about 315
BRI Healthy https://brihealthy.com/