Cheeseburgers are undeniably one of America's best-known meals. They're a go-to choice when out to eat at a restaurant or a barbecue. Unfortunately, many restaurant varieties can really rack up a calorie count. A typical cheeseburger at chain restaurants contains around 850 calories, and larger, specialty cheeseburgers can contain well over 1000 calories. That's way too much for one serving! It's almost unbelievable how restaurants can knowingly produce dishes that are that unhealthy. Since you're a Bri Healthy viewer, it's safe to say that you and I both desire to cut calories and recreate dishes in a healthy way. Of course it's possible to make a healthy cheeseburger with a bun (I even posted one on my Instagram account recently), but I decided to make an extremely low carb recipe that'll satisfy your burger cravings: cheeseburger bowls!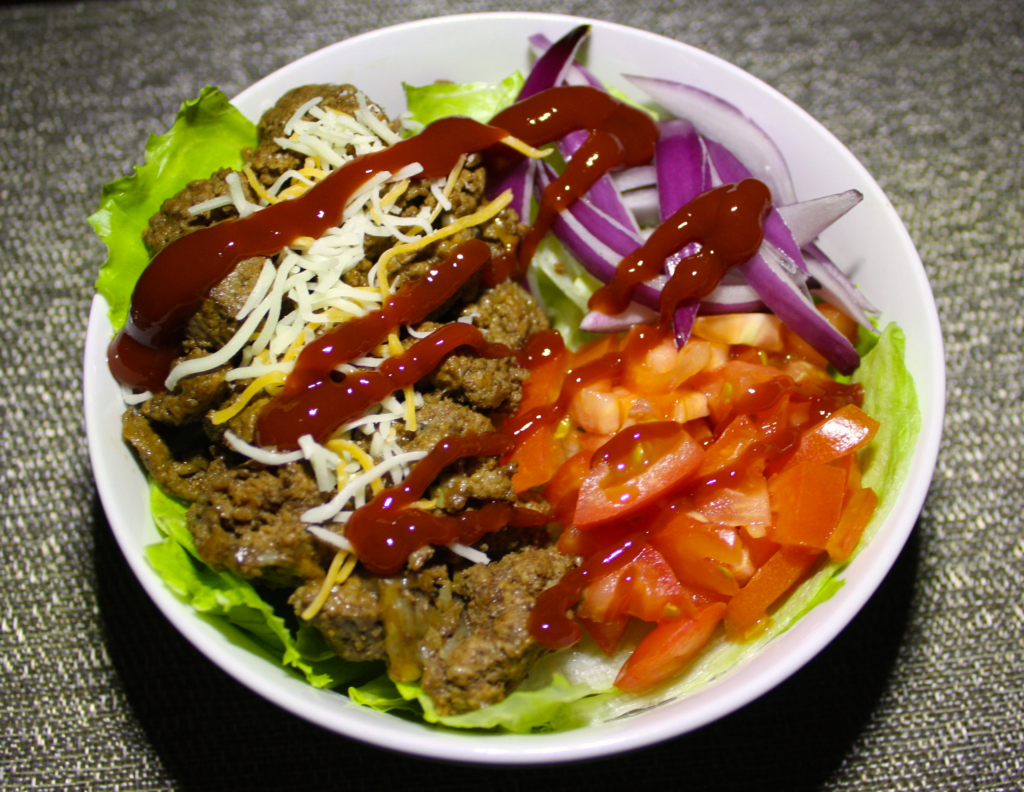 This recipe is super quick to throw together. If you cut your veggies in advance, it's even faster! Buying lean ground beef (I used 96% lean) will help make sure the calorie count remains low. I added Trader Joe's Lite Shredded 3 Cheese Blend for that melty, cheesy touch. I chose diced tomatoes, iceberg lettuce, and chopped red onions for the bowl, but you can experiment with your own toppings. You could caramelize white onions by sautéing one half of an onion in one tablespoon of extra virgin olive oil. You could also use gorgonzola cheese and top with a low-sugar barbecue sauce. I drizzled my bowl with organic ketchup, which isn't free of sugar, but I made sure to count the calories into my daily goal. All in all, this cheeseburger bowl is so filling and has very few carbohydrates. Since this recipe makes four servings, you can save the rest for future meals or even prepare this recipe as a part of your weekly meal prep. If you love cheeseburgers, give this a try!
Low-Carb Cheeseburger Bowls
2017-01-10 12:48:43
Serves 4
Ingredients
1 pound 96% lean ground beef
1 cup light shredded cheese (plus extra to garnish, if desired)
Iceberg lettuce
1 tbsp extra virgin olive oil
1 clove garlic, minced
1 medium tomato, diced
½ of a medium red onion, sliced
Optional: ketchup
Salt
Black pepper
Crushed red pepper
Onion powder
Instructions
Place ground beef in a mixing bowl and add desired spices. I used salt, black pepper, crushed red pepper, and onion powder. Mix well.
Place one tablespoon of olive oil into a pan and heat on medium heat.
Add minced garlic to the olive oil and sauté for about 2-3 minutes, or until it is lightly golden.
Add ground beef to the pan. Using a spatula or wooden spoon, chop it up and move it around frequently so that it cooks evenly.
Once all sides are browned, remove the pan from the heat. Add shredded cheese to the beef and stir to mix it together.
Prepare the serving bowls. Place lettuce in the bottom of each bowl. Add diced tomatoes to one side of each bowl and the onion to another side portion. The tomato and onion should each take up about ¼ of the bowl, so ½ of the bowl is still available for the cheeseburger mixture.
Add cheeseburger mixture to the remaining half of the bowl. Top with a pinch of extra cheese and a drizzle of ketchup if desired. Enjoy!
Notes
Calories: about 235 calories per bowl (without ketchup); 940 in entire recipe
BRI Healthy https://brihealthy.com/