If you have heard my story and know my history, you know that before I lost 150 pounds, I used to eat unhealthy food for the majority of my meals. My parents did not enjoy cooking as I grew up, so we ordered takeout for dinner most nights. We rarely watched what we ate.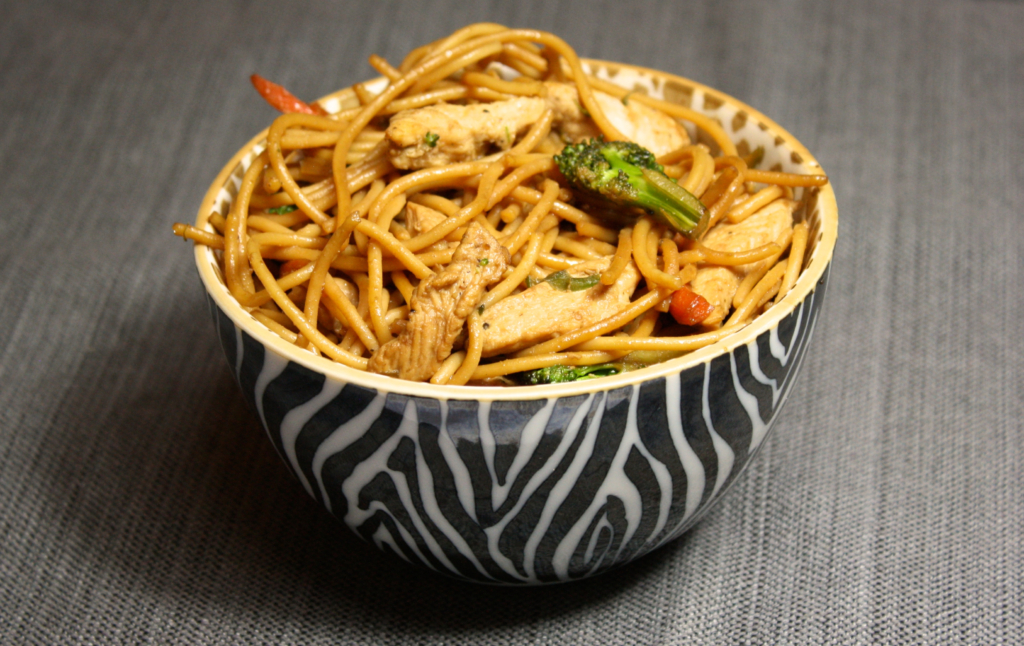 Chinese takeout happened to be one of our favorite cuisines. As a pre-teen, I could eat an entire combination (a main dish plus a generous portion of pork fried rice), complete with a greasy egg roll, and I even made room for a fortune cookie afterward. Looking back, I do not know how I ate so much without making myself sick, but by looking at an old picture of me, you may observe that I had rarely saved leftovers. Nowadays, post-weight loss transformation, I still enjoy Chinese takeout from time to time, but I save it for my treat meals and I control my portions. There are so many dishes that I love and lo mein has always been a favorite of mine. My boyfriend's Caribbean mother makes her own version every Sunday, which inspired me to create my own healthy recipe.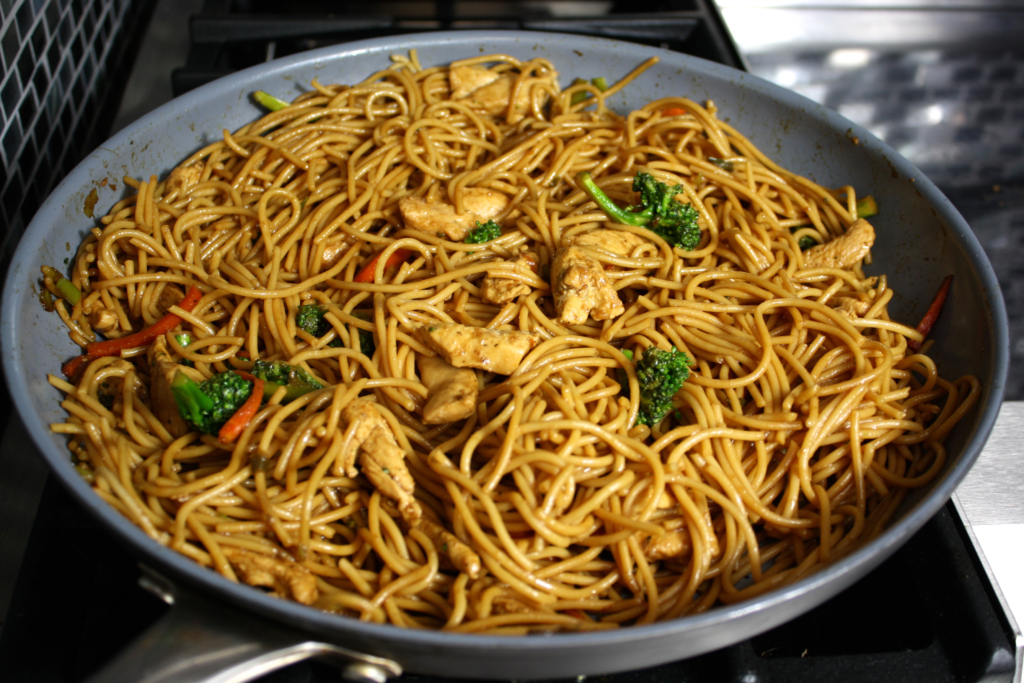 The sweet and generous people at Banza sent me some of their newest pasta variety, spaghetti, right as it was released. I was saving it all this time for a recipe like this. I researched the oily sauce that coats the noodles in the traditional dish and I put together my own ingredients to create a healthified version. But let me tell you, this does not taste healthified. You would never know that there are only 315 calories per each generous serving. My slightly picky, junk food-loving boyfriend couldn't believe this was healthy. He said this is his favorite dish I've ever made, and when I got home today, he admitted that he ate all the leftovers. Now that, folks, is a real testimonial. You've got to try this one out. It's perfect for anyone who wants a healthy version of a generally unhealthy dish.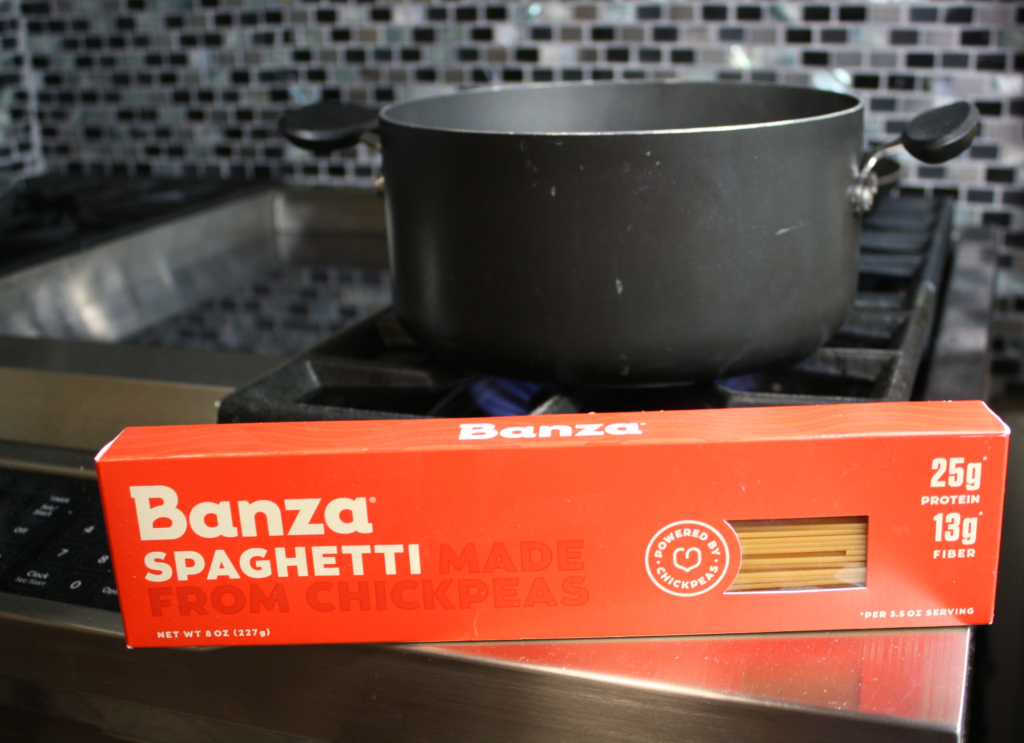 Not only is this recipe absolutely scrumptious, but it's pretty easy to throw together, too. Feel free to add other veggies to the mix, such as snow peas, corn, cabbage, or spinach. The stevia in the sauce gives it a sweet, delectable taste. If you use Banza's noodles, they're extremely dense and filling, due to the fact that the product is made of chickpeas. The fiber and protein help keep you satiated. If you don't have access to Banza products, you can choose whole wheat spaghetti or rice noodles; however, the calorie count may vary from the one I listed below. To calculate your own calorie count, I'll subtract the calories of the Banza from that of the entire recipe (1260 – 760 = 500). Add the total calories of all the spaghetti you used to 500 and then divide by the number of servings to know your own personal calorie count.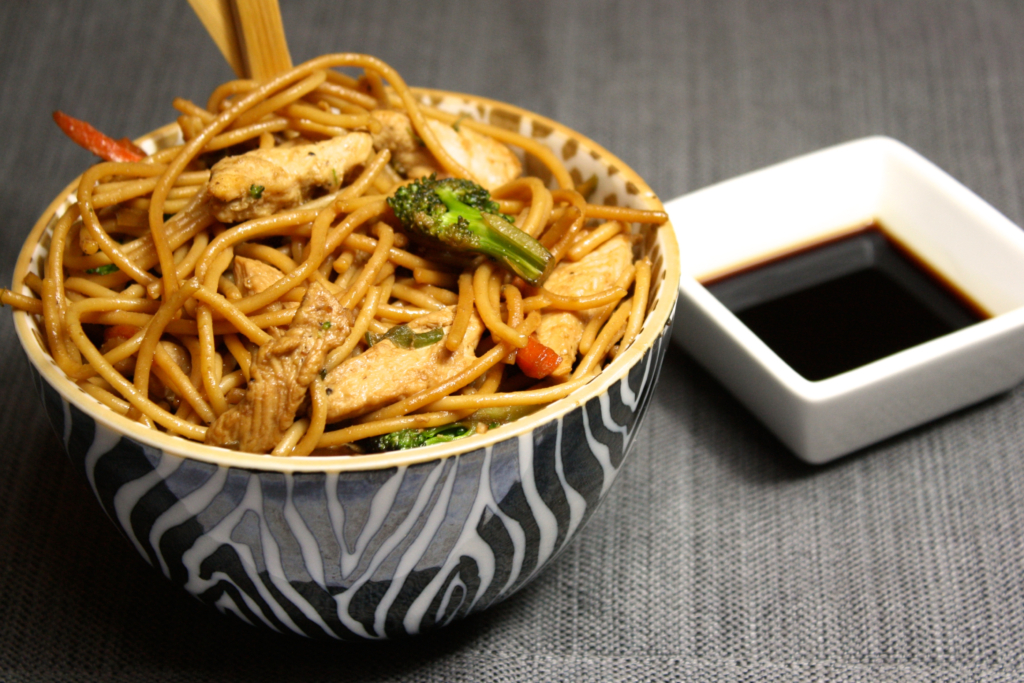 If you enjoy lo mein, you honestly have to cook this soon. I wouldn't recommend it so forcefully if it wasn't THIS good. Do yourself a favor and try it out. You can even try it plain without the chicken or with tofu as vegetarian options. If you're a meat-lover, you can also use other proteins, such as beef, shrimp, or pork. Make this as soon as possible and send me pictures if you do so I can feature them on my Instagram! Enjoy!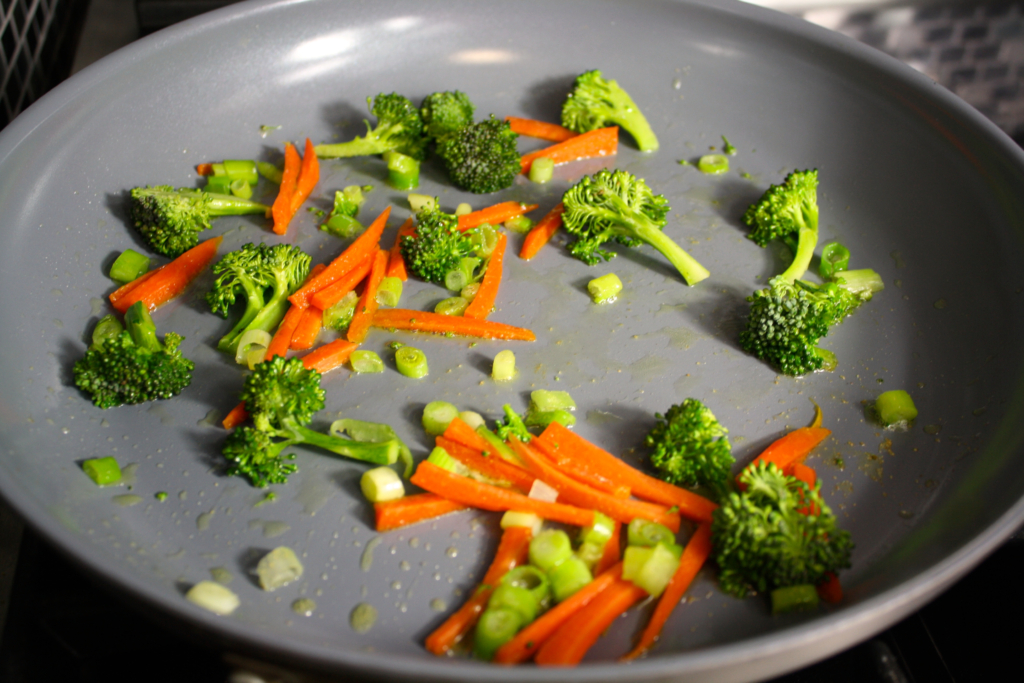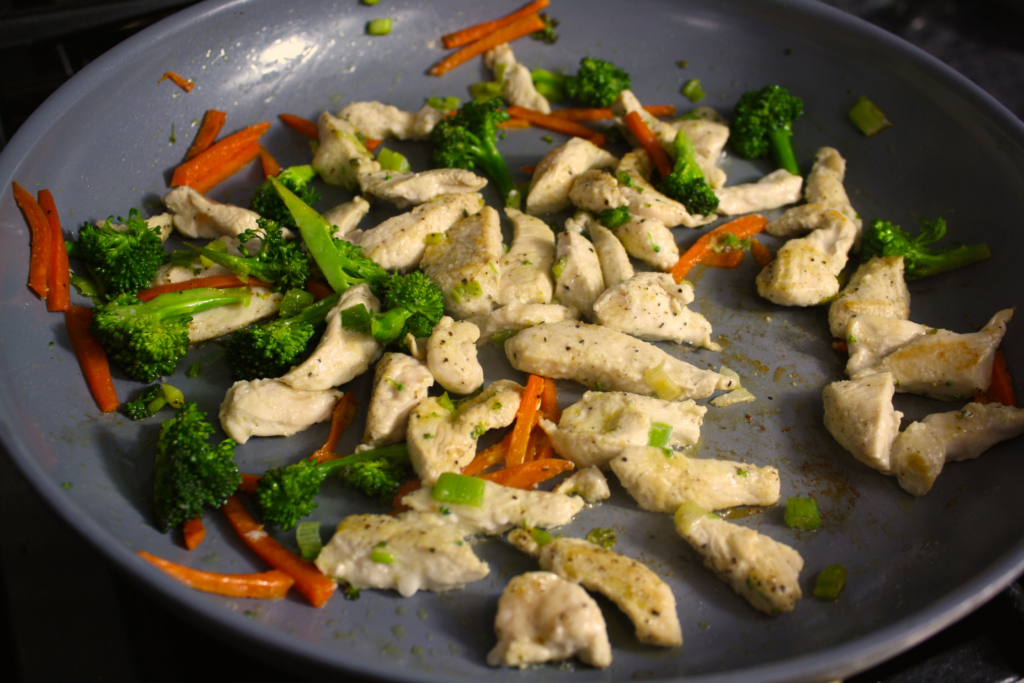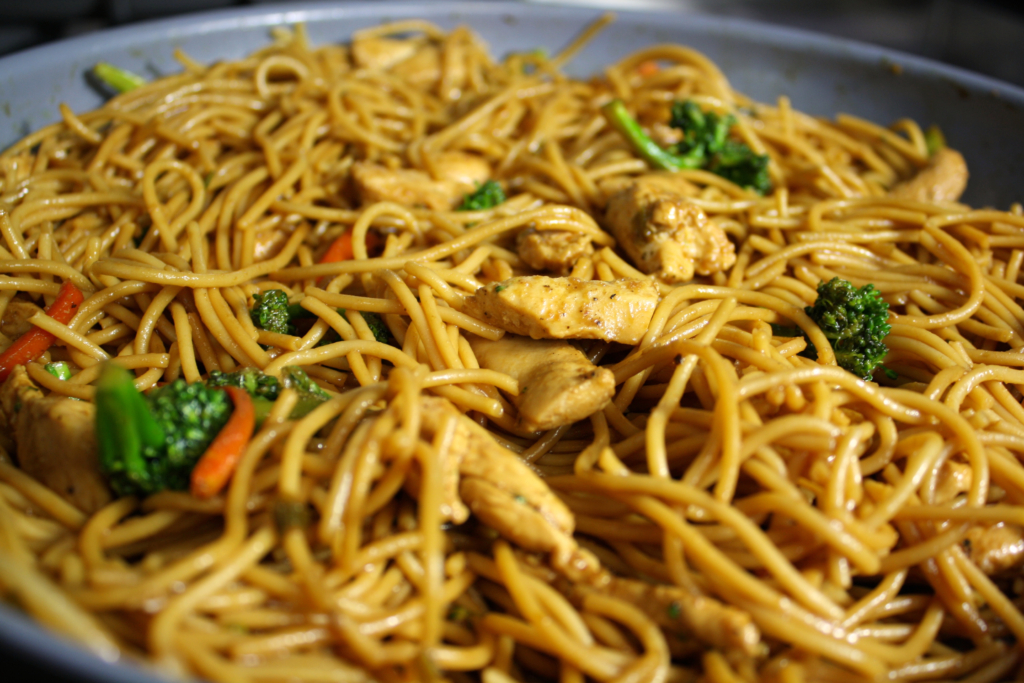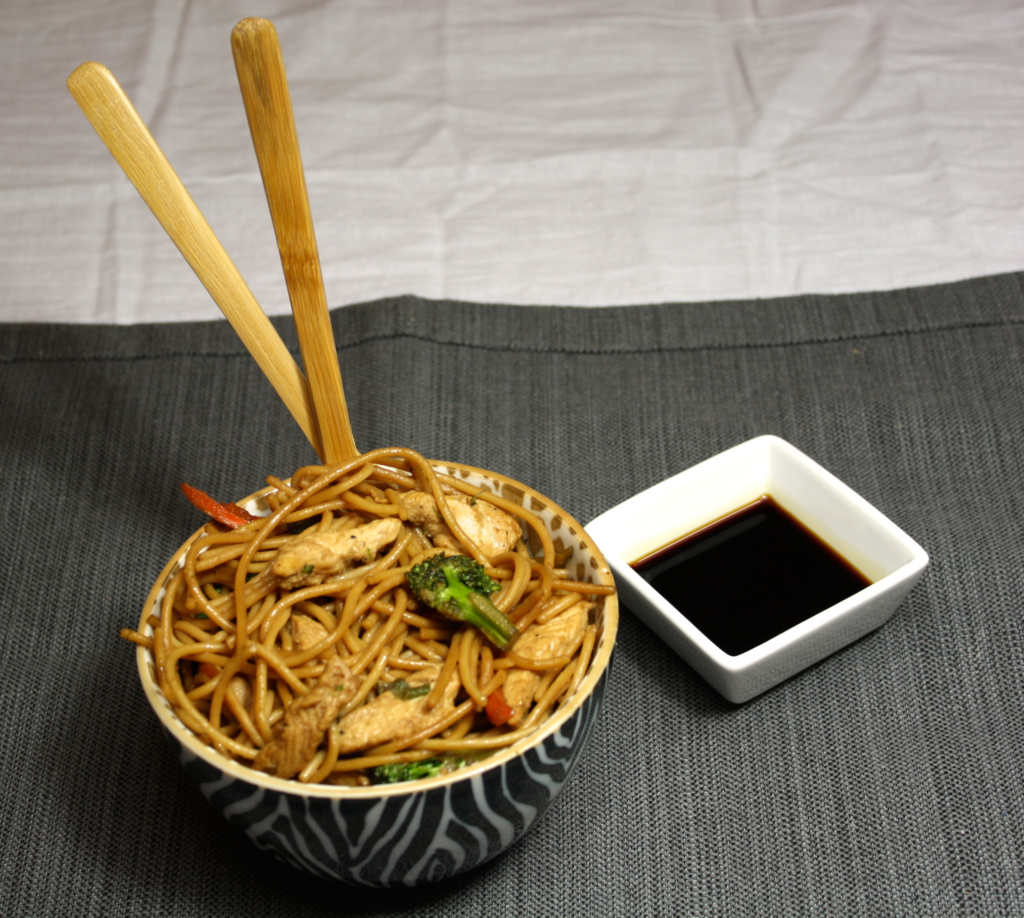 Chicken Lo Mein
2017-02-01 20:58:16
Serves 4
Ingredients
1 8 oz box spaghetti (Banza brand, whole wheat spaghetti, or rice noodles. I used Banza)
1 tablespoon extra virgin olive oil
2 cloves of garlic, minced
½ carrot, peeled and thinly sliced
4 oz raw chicken breast, cut into thin, short strips
¼ teaspoon ground ginger
½ cup broccoli, cut
2 scallion sprigs, chopped
Salt
Black pepper
For the sauce
½ cup low sodium soy sauce
2 teaspoons powdered stevia
1 tablespoon extra virgin olive oil
½ teaspoon ground ginger
Instructions
Boil a pot of water and cook the spaghetti according to the directions on the package.
Whisk sauce ingredients together in a bowl and set aside.
Place the olive oil in a pan and heat on medium heat.
Add the garlic and 1 teaspoon of ground ginger and sauté for about 2 minutes.
Add the carrot, broccoli, and scallions to the pan. Season with salt and black pepper. Cover the pan until broccoli is a bit more tender.
Season chicken pieces with salt and pepper and add to the pan. Cook chicken all the way through, after about 4-6 minutes.
Add 2 tablespoons of the sauce to the pan and stir.
Add the noodles and the rest of the sauce to the pan and toss gently to combine. Enjoy!
Notes
Calories: about 315 per serving out of 4 servings (about 1260 in entire recipe)
BRI Healthy https://brihealthy.com/