Mexican food is one of my absolute favorite cuisines. By scrolling down the list of recipes I've created for Bri Healthy, especially in the main courses category, you'll notice that I make quite a few Mexican-inspired dishes. This genre of cuisine can be easily manipulated to create filling, healthy dishes. All of the spices that are used in Mexican-style dishes allow clean eaters to experiment with flavors without too many extra calories.
The idea for this recipe came to me a while back, and if you check my Instagram story regularly, you may have noticed when I was testing this recipe originally. I finally decided to photograph and perfect it and let me tell you: my taste buds had a fiesta after tasting this dish. It was pretty simple to throw together and makes a great dish to serve at a dinner party.
This dish paired with some of Mexican rice is an excellent combination. I cooked this Spanish rice recipe from PBS on the side but used olive oil instead of the vegetable oil. I love this recipe: it's so healthy and so delicious. Plus, you won't believe how easy it is to make. Although the rice is a wonderful addition, the Fajita Chicken is absolutely incredible by itself as well.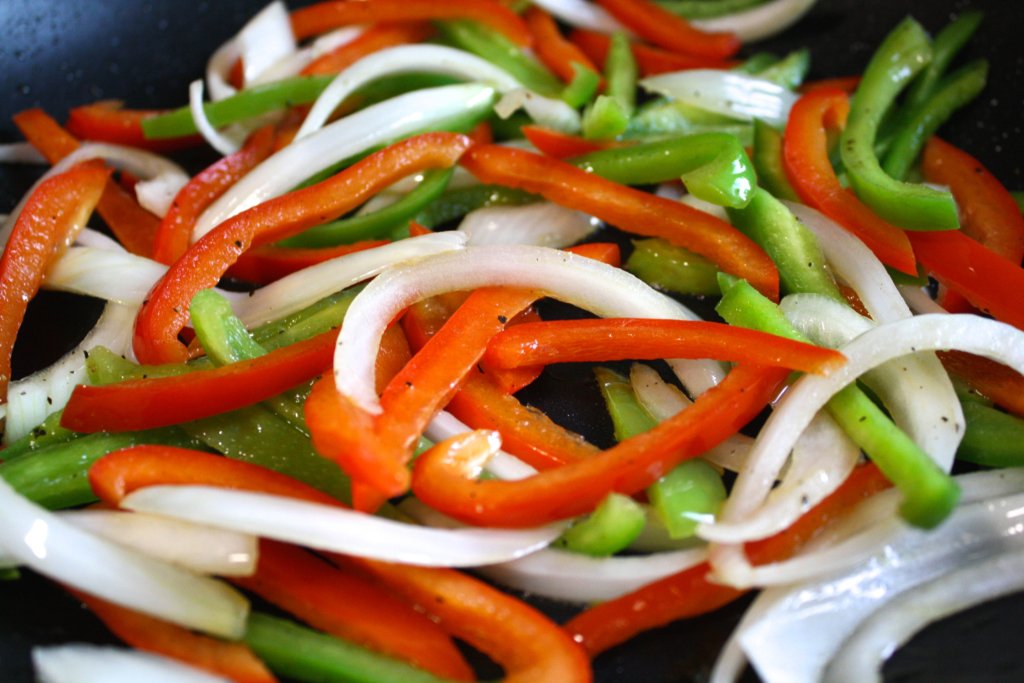 This dish is simple, yet extremely flavorful. When cooked correctly, the chicken is juicy, tender, and delicious from being baked with the salsa. The peppers and onions add the perfect touch with with their soft texture. This dish will definitely become a staple in my house. If you love the flavors of Mexican food, you'll love this!
Fajita Chicken with Sautéed Peppers and Onions
2016-09-19 13:29:33
Serves 3
Ingredients
3 boneless, skinless chicken breasts, about 5-6 oz each
1 jar salsa with no added sugar (I used Green Mountain Gringo brand)
1 red bell pepper, sliced
1 green bell pepper, sliced
½ yellow onion, sliced
1 tablespoon extra virgin olive oil
Salt
Black pepper
Crushed red pepper
Garlic powder
Optional: 1 lime
For the chicken breasts
Preheat oven to bake at 375ºF.
Trim fat off chicken and place on a baking sheet lined with tin foil.
Season with salt, pepper, garlic powder, and crushed red pepper.
Top chicken breasts with ¼ cup salsa each, placed evenly so that each piece is covered with salsa.
Bake for about 24-26 minutes, or until cooked through.
For the sautéed peppers and onions
Slice onion, red bell pepper, and green bell pepper into strips, removing pepper seeds.
While the chicken is cooking, add 1 tablespoon of olive oil to a sauce pan.
Add onions and peppers to the pan. Sprinkle with salt and black pepper. Sauté until veggies are soft and the onion is translucent.
To plate
Place each chicken breast on a plate and top with veggies. For extra flavor, squeeze fresh lime juice on top. Enjoy!
Notes
Calories: varies based on weight of chicken. With 5 oz of chicken, about 270 calories per serving.
BRI Healthy https://brihealthy.com/