On March 24, 2018, my life changed forever. I became a wife.
My now-husband, VJ, and I tied the knot in one of my favorite places in the world, Narragansett, Rhode Island. I lived in the quaint beach town for over two years while I attended the University of Rhode Island and I absolutely fell in love with its beauty and peace. I knew that this was the perfect place for us to elope.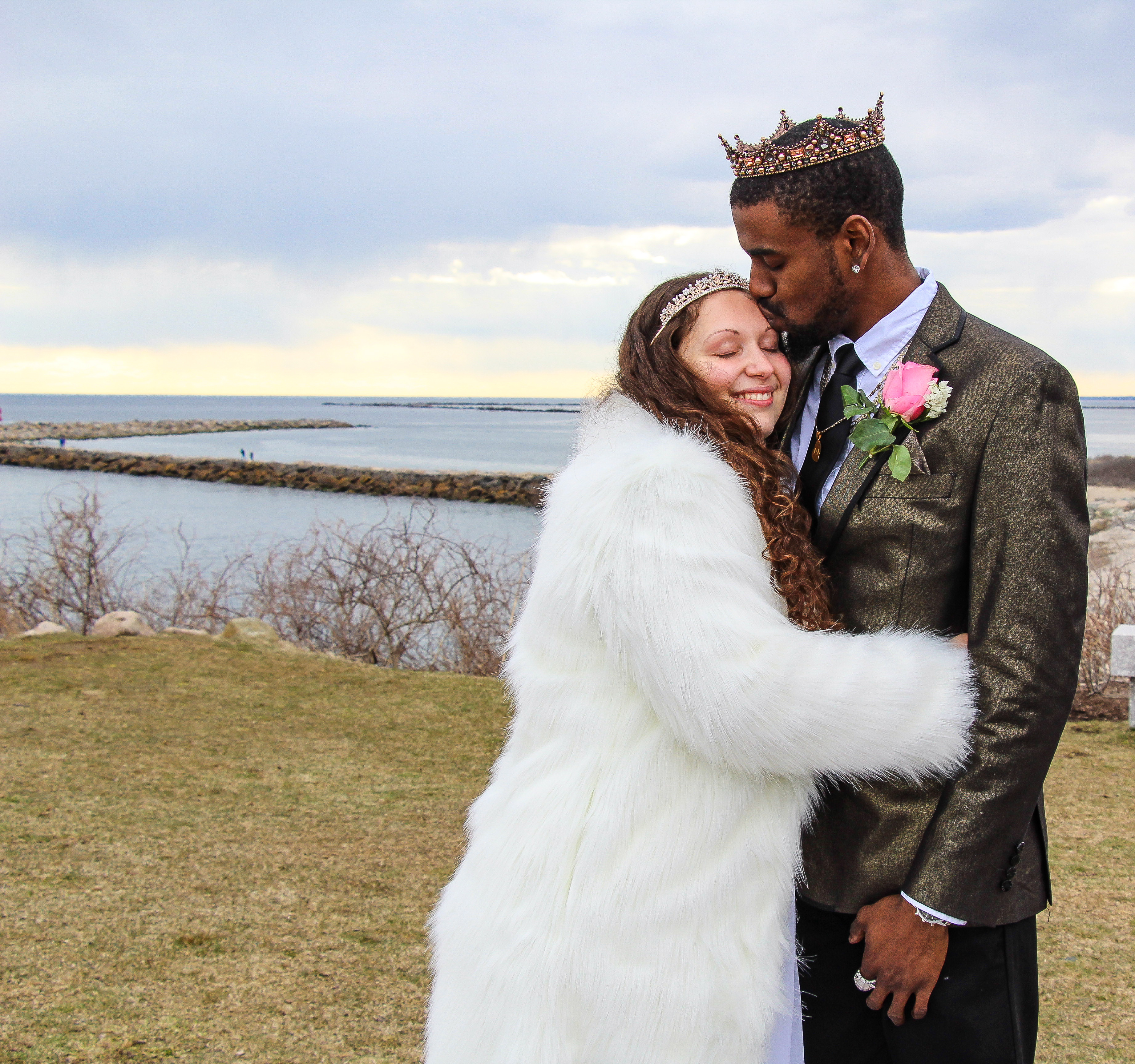 We decided to elope for a multitude of reasons. I wouldn't have had it any other way. Eloping allowed us the freedom to focus on what's most important – us – without all of the other distractions. We didn't have to think about making sure all of our bridesmaids and groomsmen were organized and ready. We didn't have to worry if the right songs came on at the right times. We weren't worried about everything being perfect. Thankfully, it was truly perfect anyway.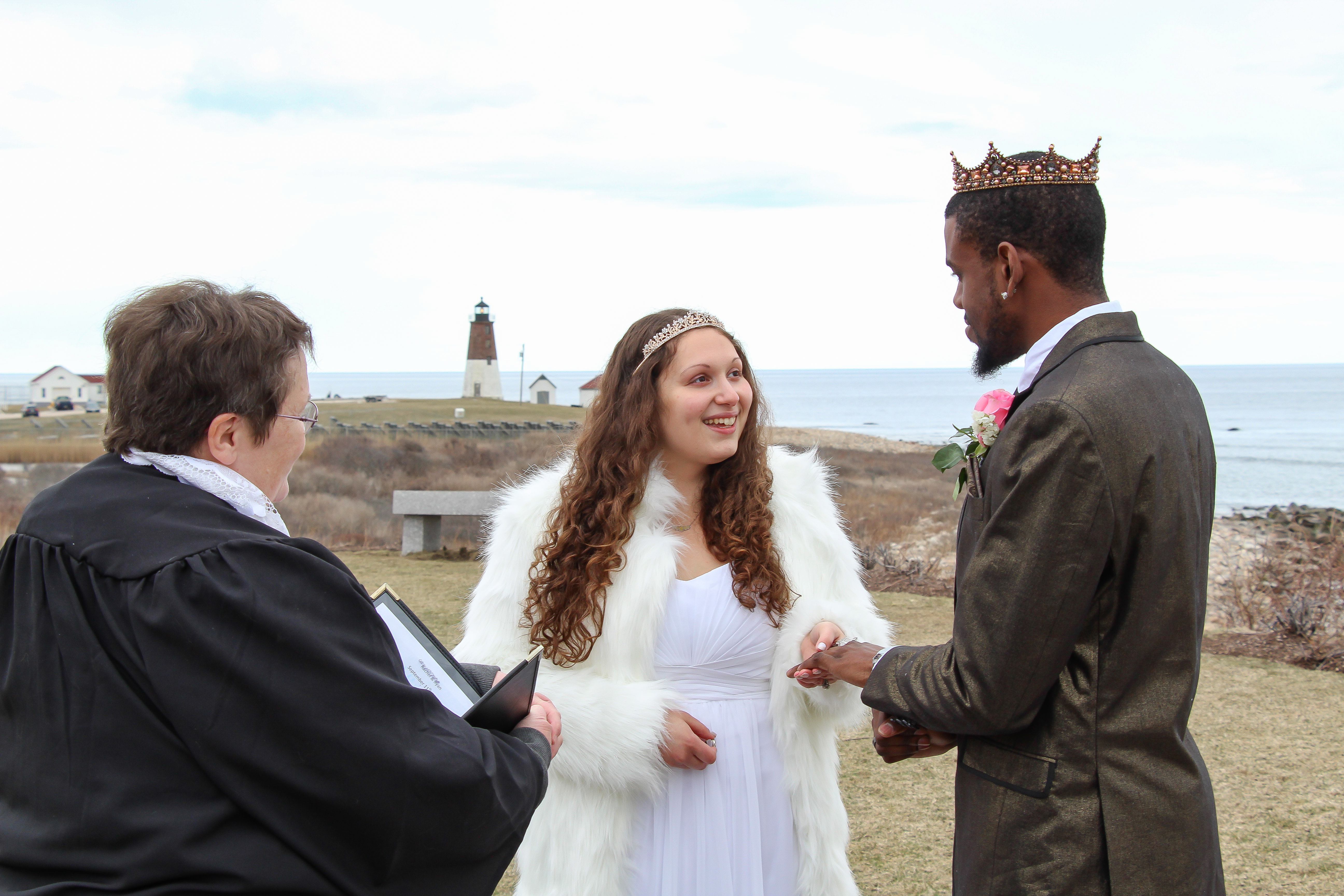 We eloped through a package from a bed and breakfast in Narragansett called Blueberry Cove Inn. The owner, Seely, is a justice of the peace, and she beautifully led our ceremony. Her personality was a perfect match for ours – super sweet with a hint of goofy. Just like us. Not only did she perform our ceremony, but our elopement package included a one-night stay in Blueberry Cove Inn's whirlpool suite, home-cooked breakfast in the morning, a two-tier wedding cake of our desired flavors (yes, really!), flowers in our desired colors, and a bottle of champagne to toast with. I can't even begin to explain how much money we saved by going this route, and it was all the more enjoyable since we were truly able to enjoy every moment. Not to mention that I bought my dress the day before – only $140 at David's Bridal! Such an unimaginable steal!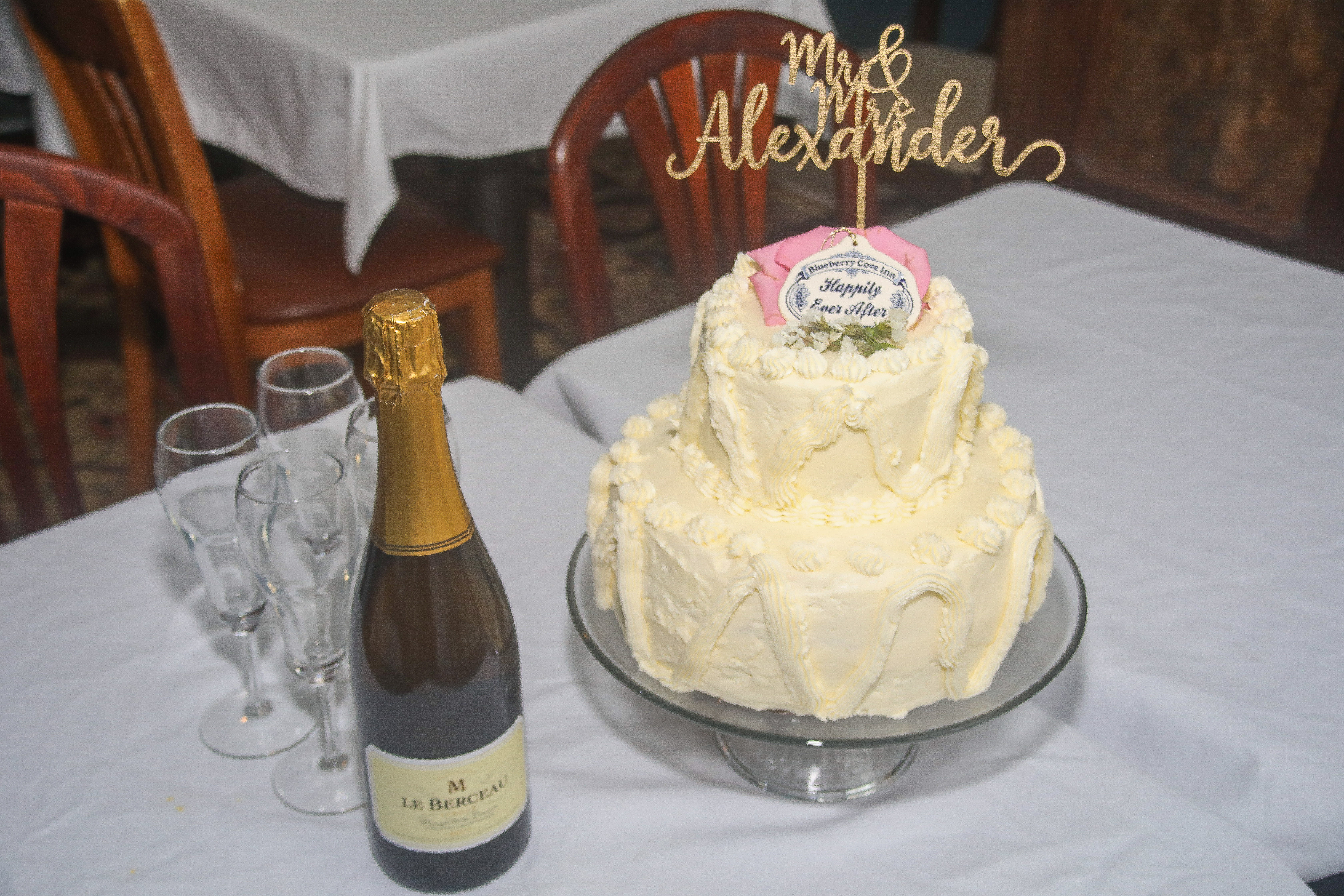 The weather was perfect. We were afraid it was going to rain, as the forecast had predicted, but thankfully, Mother Nature held off and allowed the sky to glow beautifully, making a gorgeous backdrop for our special day. Usually, the cliff area that we were married on is super windy, as it's completely surrounded by water, but for us, there was no wind at all. We feel so blessed that the elements were perfect for us. We originally chose to elope through the bed and breakfast so that we had an option of being inside in case of foul weather, but I believe it was a God-given gift that the weather was beautiful, just for us.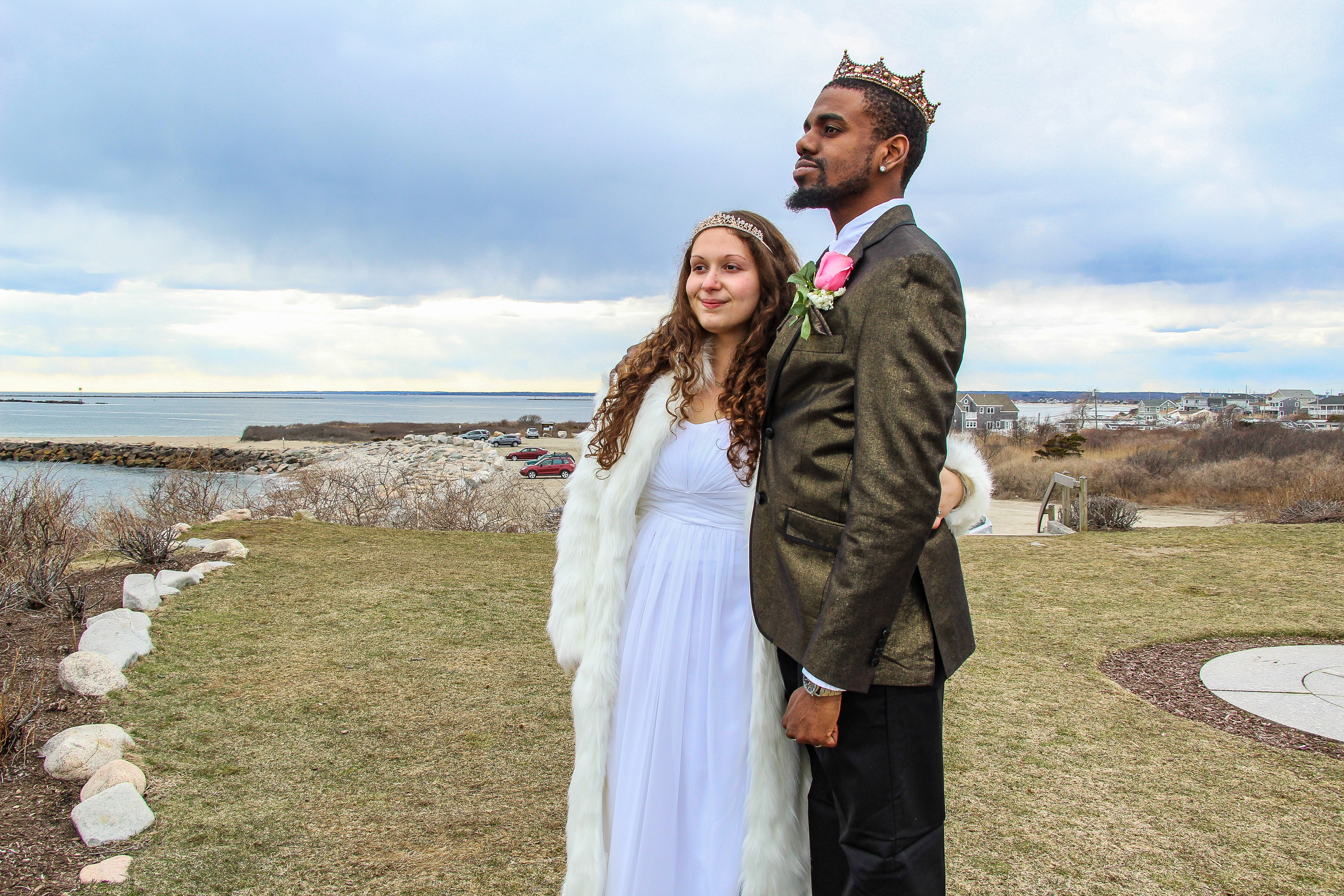 In Rhode Island, two witnesses are required to be present for the wedding. I asked two of my closest friends, one who is a professional photographer and one who took video for us, to fill those roles. I chose two friends that I've known since my freshman year of college, two people who have always looked out for me and that I know truly care about me. Having them there felt so right – the day was filled with incredible vibes and lots of love.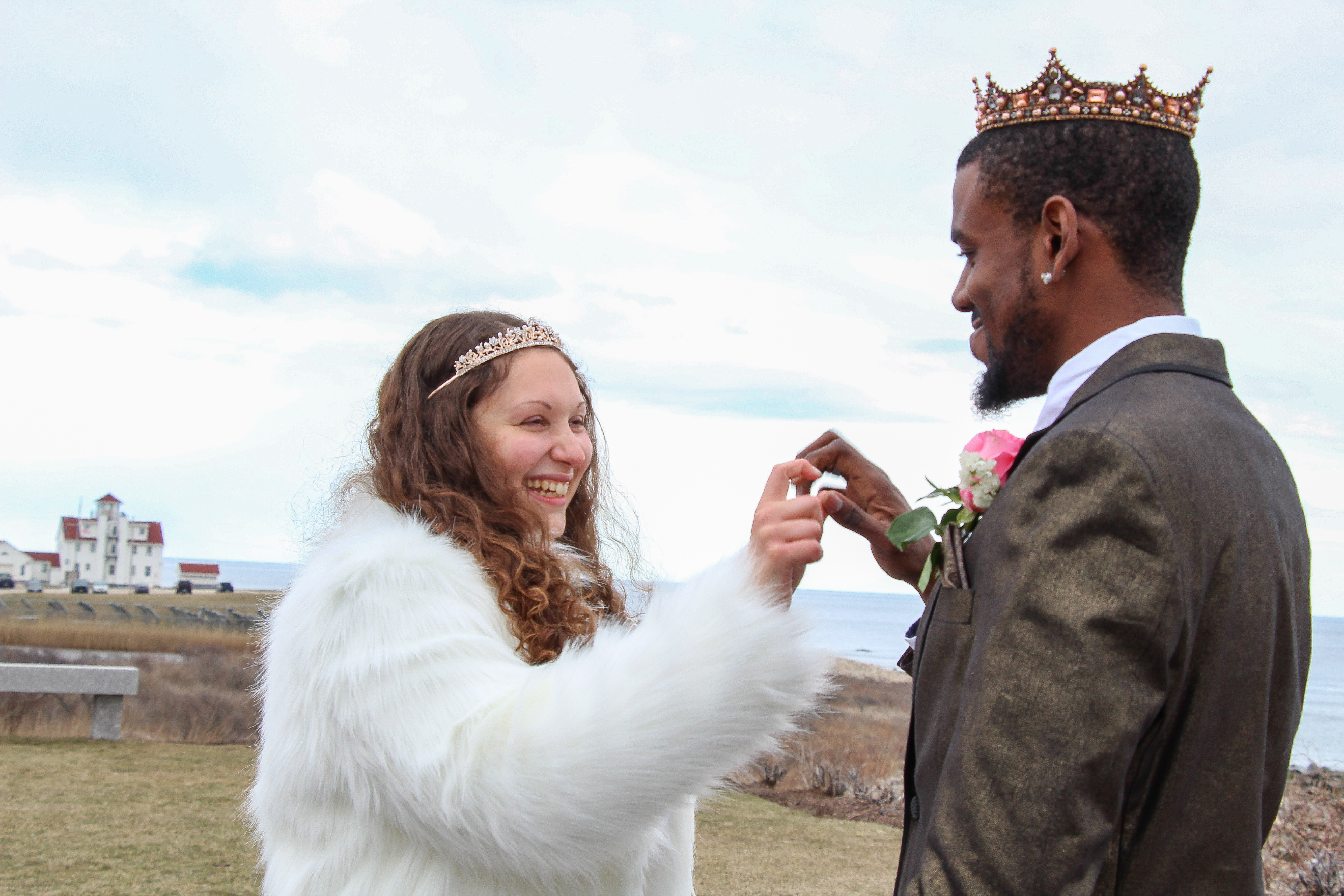 When I say that we included our goofy sides, I really mean it. When it was time for us to kiss, we sealed it with our secret handshake, which includes quite a few kisses at the end. I felt so happy that everything was so us. We weren't putting on a show to impress all of our guests. We lived happily in the moment and I remember everything about it. It was truly one of the best days of my life.
After we were officially declared man and wife, we had more pictures taken, then headed back to Blueberry Cove Inn to enjoy our wedding cake and have our champagne toast. Seely's cake was absolutely amazing and so much more than we could have asked for. We chose white cake with buttercream frosting and it was so delicious. Elopement bonus: we actually were able to enjoy our cake on our wedding day! The champagne was high quality as well. Seely made us feel so comfortable, it felt like a home away from home. I rarely use the word perfect, but this day truly was.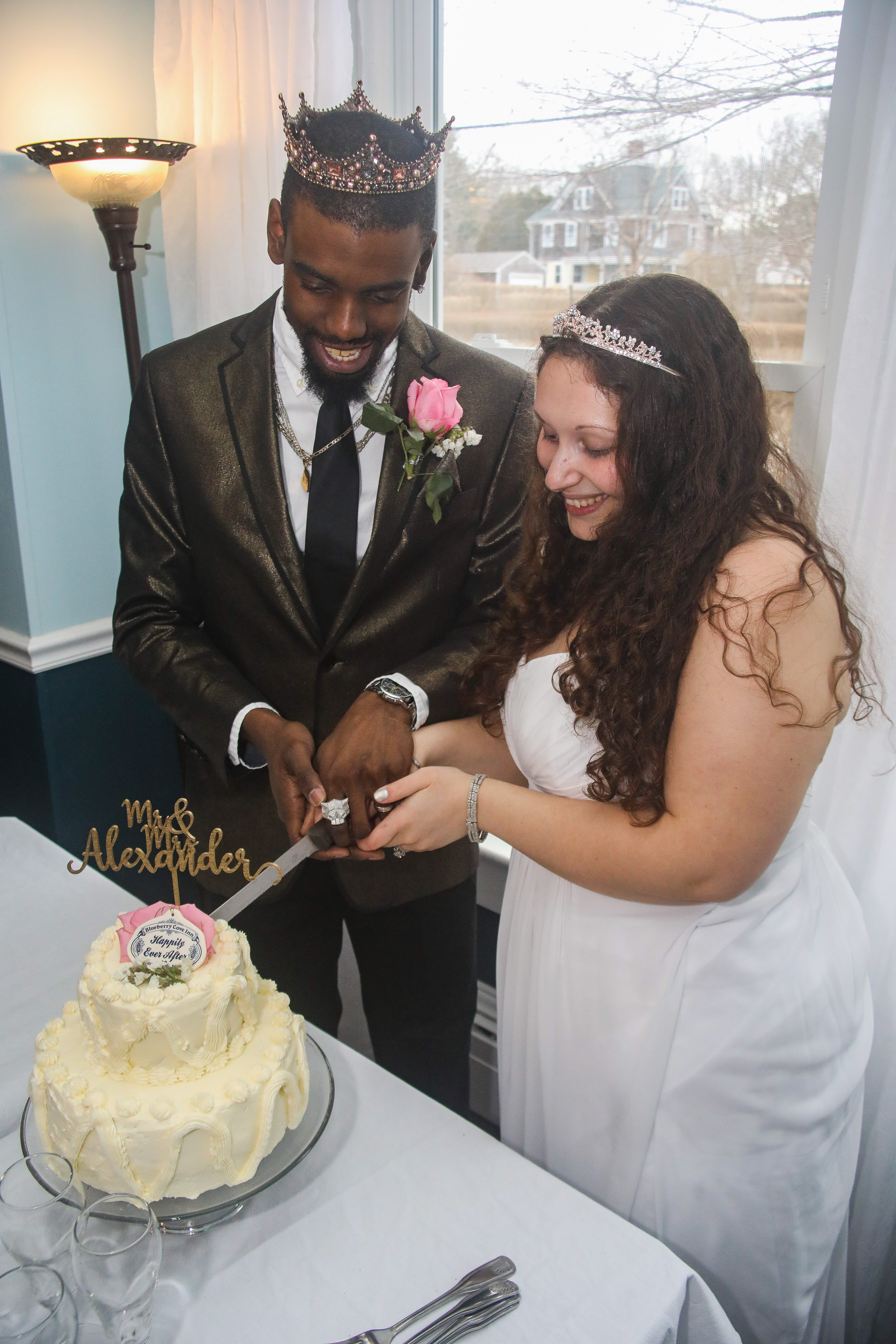 That night, we went out to dinner at a restaurant called Trio that was walking distance from the B&B. It was a fancy establishment that took our coats upon entry and welcomed us generously. We told them that we just got married and they congratulated us and sent us two glasses champagne over to our table. We thought that was so kind, and then our waiter came over to tell us that someone in the restaurant had overheard our good news and decided to pay for our dinner! We couldn't believe it! There were so many beautiful blessings that day, and it continued to get better. The food was incredible, the dessert was out of this world (that creme brulée!), and the service was absolutely amazing. We already can't wait to go back!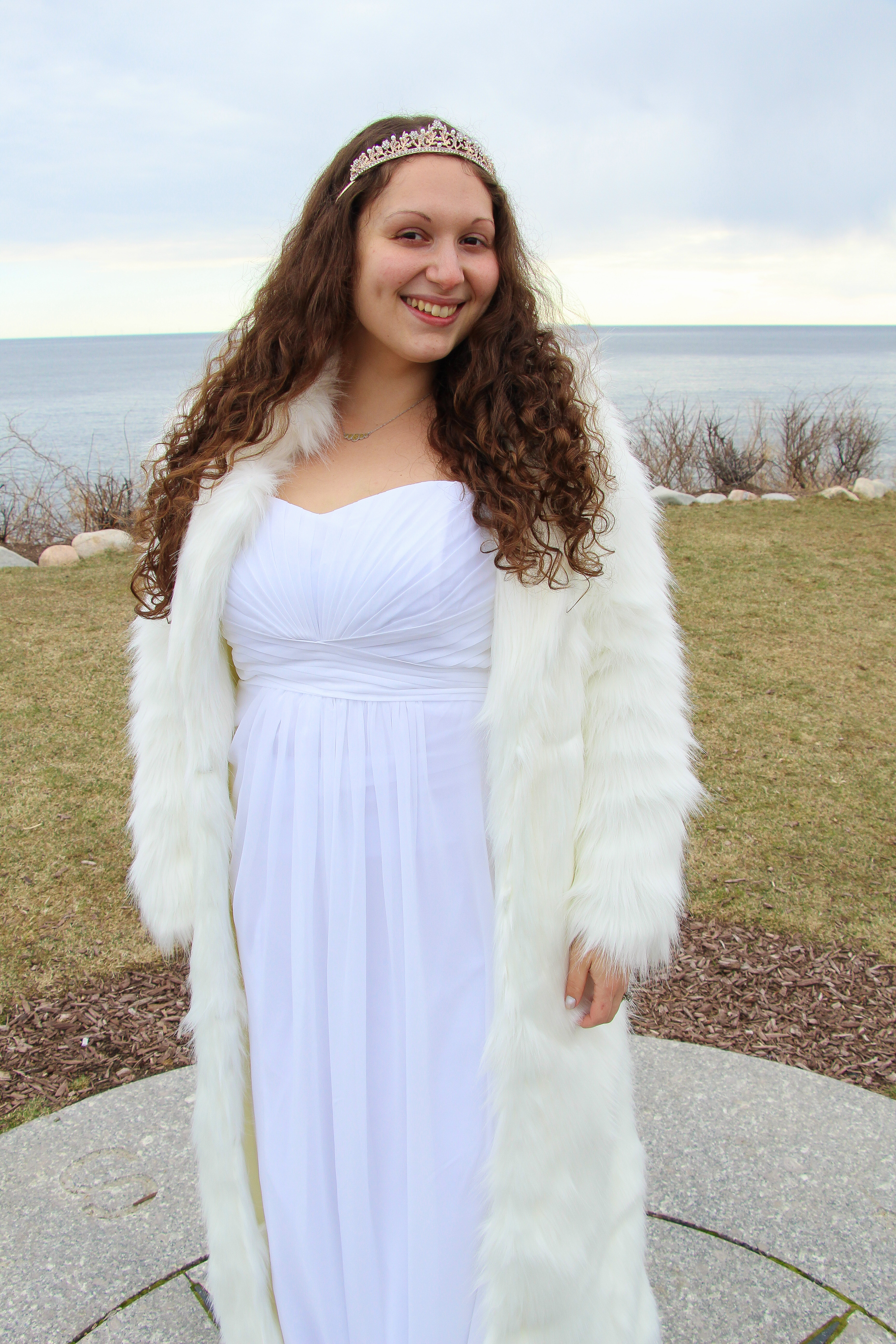 We walked back to the B&B and appreciated being able to see the stars, something that's not always easy to do when living in New York City. We retired for the night and had an incredibly delicious breakfast the following morning, prepared by Seely. I highly recommend Blueberry Cove Inn, especially for their elopement package, but also for a great place to stay on vacation! They made our wedding so special and they will forever have a special place in our hearts.
We waited a little while to tell you for a couple of reasons. Mostly, it was because we wanted to wait for our edited photos to come back so we could post them (shout out to my guy Aaron Ferro), but also because we enjoyed keeping it our little secret for a little while. Both of us maintain a large presence on social media, and we liked keeping this to ourselves for a little bit. We told family members and best friends beforehand, then told some close friends afterward. But now, we're opening this up to the world. I'm so excited to finally fill you in and give you a piece of our favorite day.
No matter what you're doing today, I hope that our story can help you to feel grateful for the people in your life that love you, whether they be family members, a significant other, friends, or strangers. I believe life is all about love and how we can make the people around us feel. Today, I feel very happy to share this exciting news with all of you, and I'm so grateful for each and every one of you. Thank you for being you. Our love shines a bit brighter knowing that you're coming along for the ride with us.
xoxo
Bri Blank Alexander
---
All photography in this article taken by Aaron Ferro.