As you may already know from my previous posts, I just returned from an eleven-day trip to Germany. Before I embarked on my journey, I decided that I would search for healthy foods while in Germany to report back to you. I knew previously that German fare did not consist of the healthiest food options, learning that sausage and potatoes were popular there, but I did not realize exactly how difficult it would be to find healthy choices until I was there. This may not be the case for German citizens, but for tourists who eat at restaurants for most meals, it is a real challenge to find lean, low-calorie foods. However, it seems that people in Bavaria, Germany eat healthier when they prepare food at home.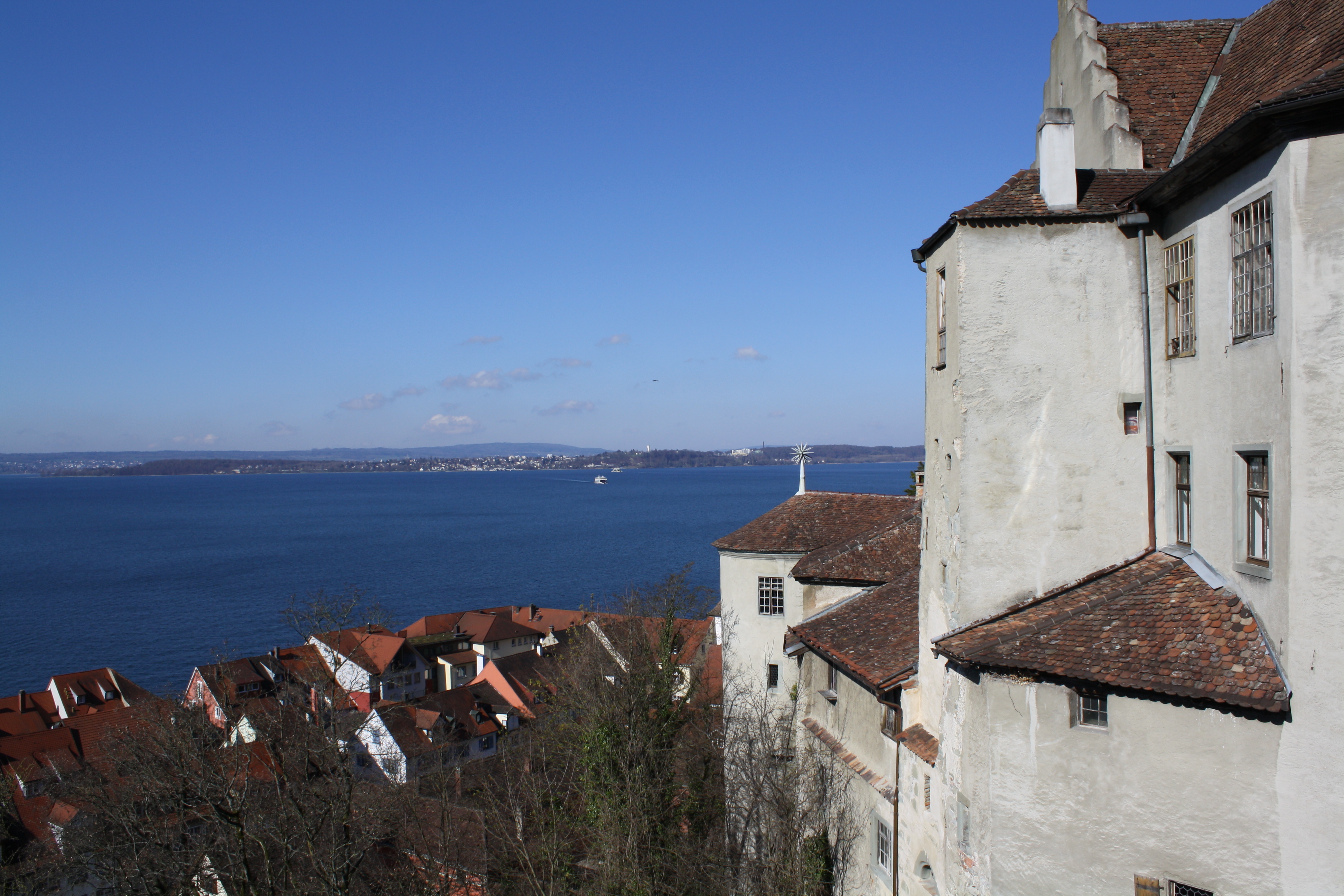 I went on this trip with a tour group. My mother, a high school science teacher, was invited by a German language teacher at the school to go on a tour of southern Germany with some of the students taking the language as a course. My mother happily agreed, and so did I when she offered me a chance to join. Since we were such a large group, about 22 adults and students total, our dinners were arranged in advance. At each restaurant, we were given a choice of two options: one with meat and one vegetarian choice. This limited menu made it very difficult for my mother and I to eat healthy.
The rumors were true: sausage and potatoes were extremely popular in Germany. On the first night, I chose the meat option, which consisted of roast pork with a potato dumpling and cabbage salad. The pork was tasty, but it was not lean and was doused in gravy. I didn't eat much of the dumpling, as it was bland to my tastebuds, and I was not much of a fan of the cabbage salad either.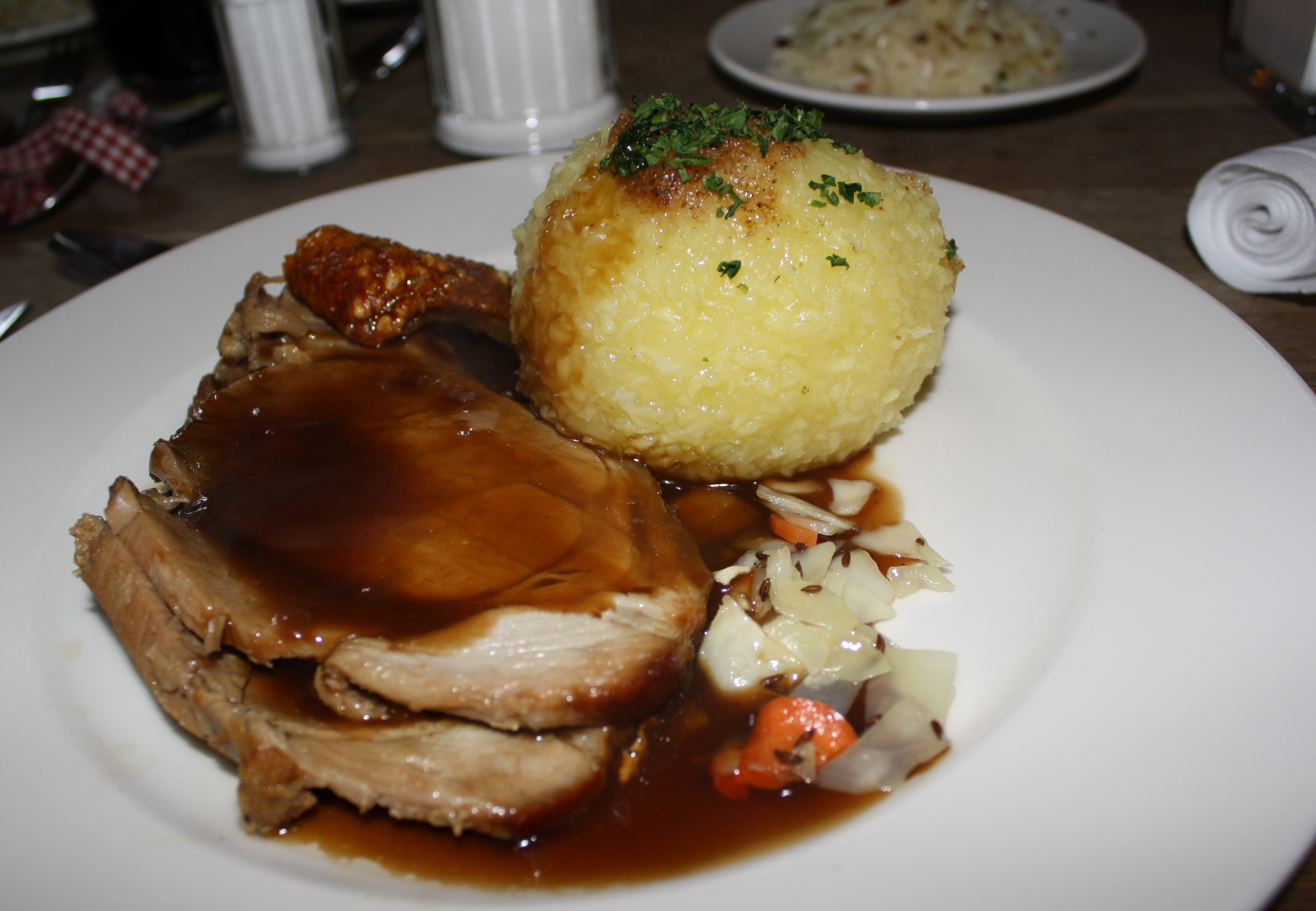 Another obstacle that came my way was the fact that every dinner came with a dessert. Dessert tends to be my weakness, and since I was traveling, I allowed myself to try whatever I desired; I just knew that I did not have to eat the whole thing. Although, if I enjoyed the dish, I often ate more than I would have liked to. Many of the German desserts were pastries, such as this cream strudel with berry purée and vanilla sauce. They were incredibly delicious and tested my willpower, but I allowed myself to enjoy them in moderation.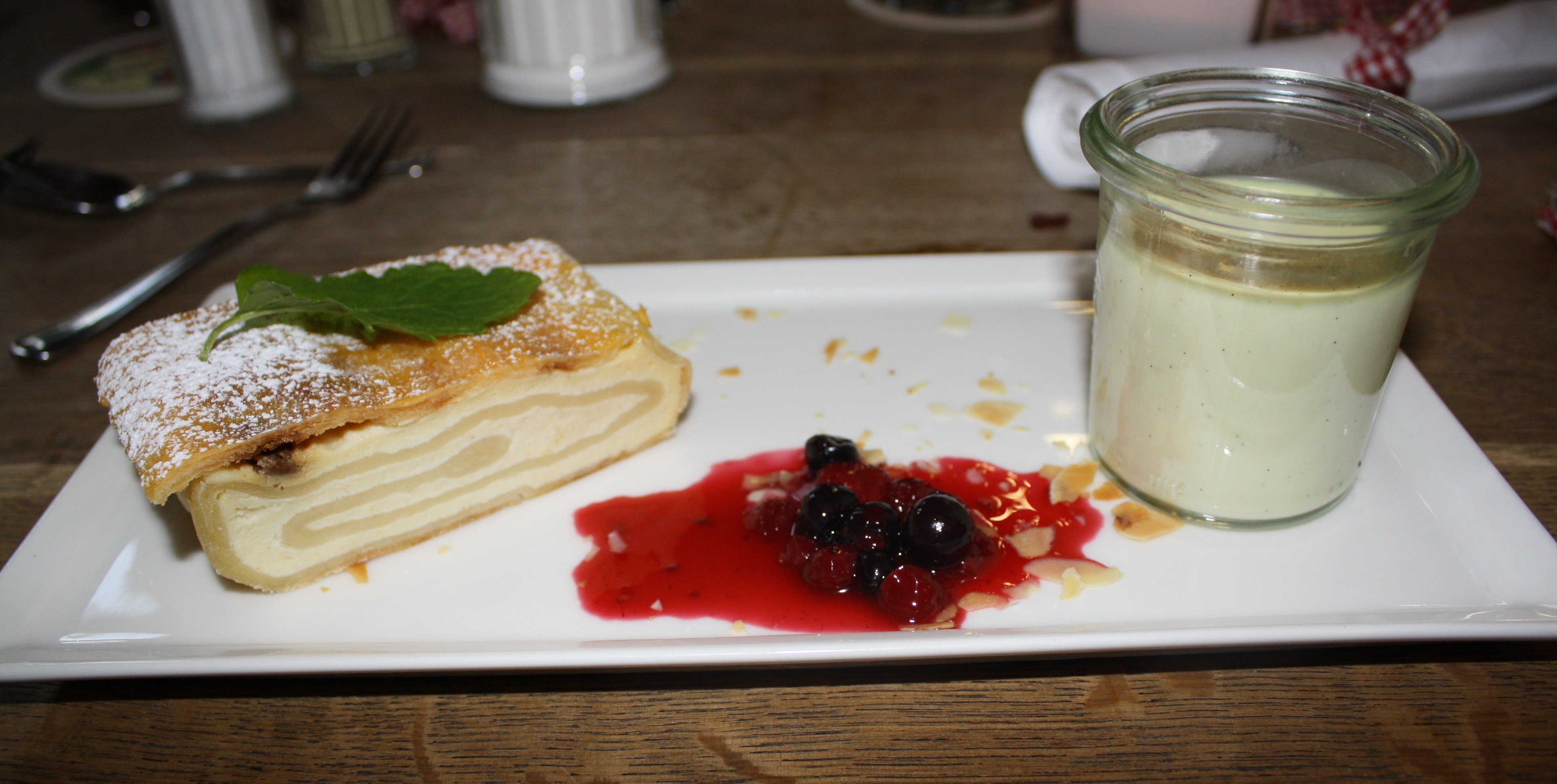 One day, I was excited that baked fish was one of the dinner options. When I received my plate, I discovered that it was fried. The side dish was an oily potato salad. I barely ate any of my dinner that night. I felt frustrated about the German fare, especially because I didn't have very many options at dinnertime.
After that night, my mother and I talked to our tour guide, Georg, and asked if we could order a salad instead on nights when the options were very unhealthy. Being the amazing person he is, he arranged a salad for us whenever we asked for one. We were extremely grateful that this was possible and felt much better about our eating habits.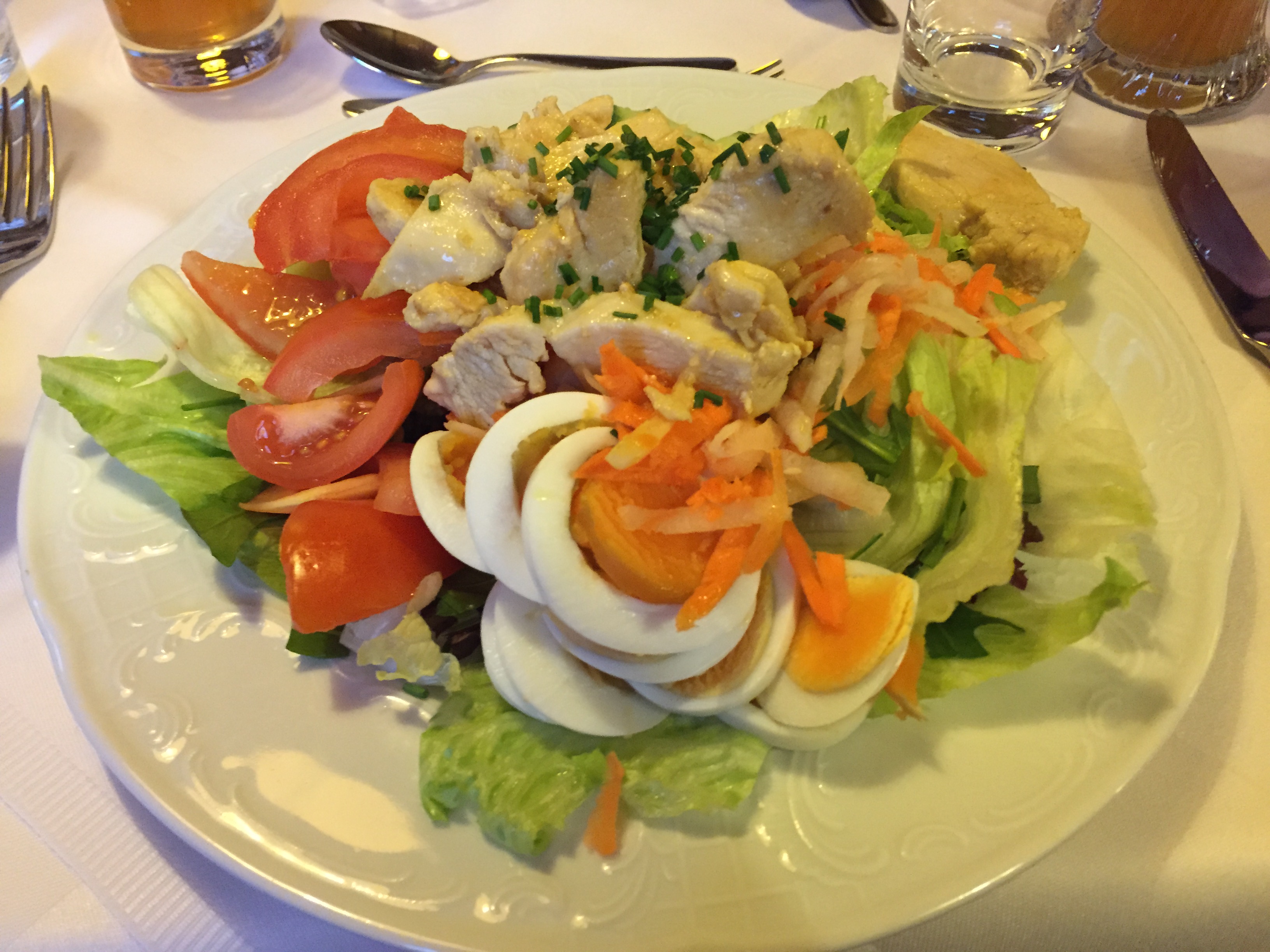 Something interesting about Germany is that I did not discover much lean meat anywhere. Even when I ordered chicken, it was still pretty greasy. I ordered a shrimp salad for lunch once that seemed to be the healthiest item on the menu, but the shrimp was very oily. It was delicious, but I didn't feel that it was a healthy dish.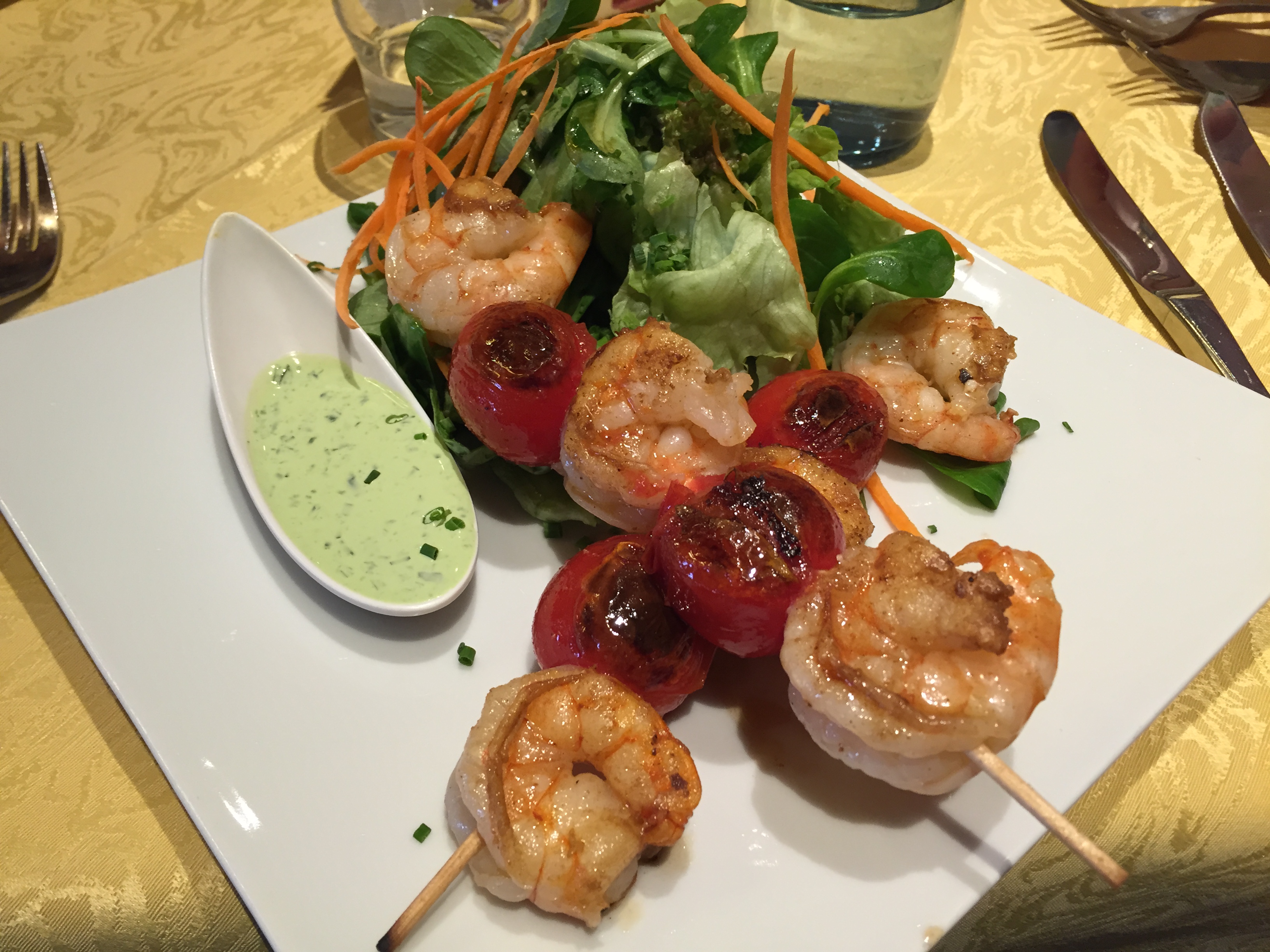 For breakfast, there were healthy options to choose from. We ate breakfast at our hotel every day, and although we moved to different hotels frequently, each place had a similar buffet-style breakfast selection. Every hotel offered hard or soft boiled eggs and sometimes scrambled eggs. I stayed away from the meat and cheese offered, but I often ate some of the tomatoes and cucumbers available. There were whole grain bread options, along with muesli, a food that I found myself extremely fond of. It seemed to be dry oats with some sort of puffed rice, pumpkin seeds, and dried fruit. With a splash of milk, it was fantastic. Some hotels even had options with chocolate in them. I was very pleased with the healthy breakfast options available.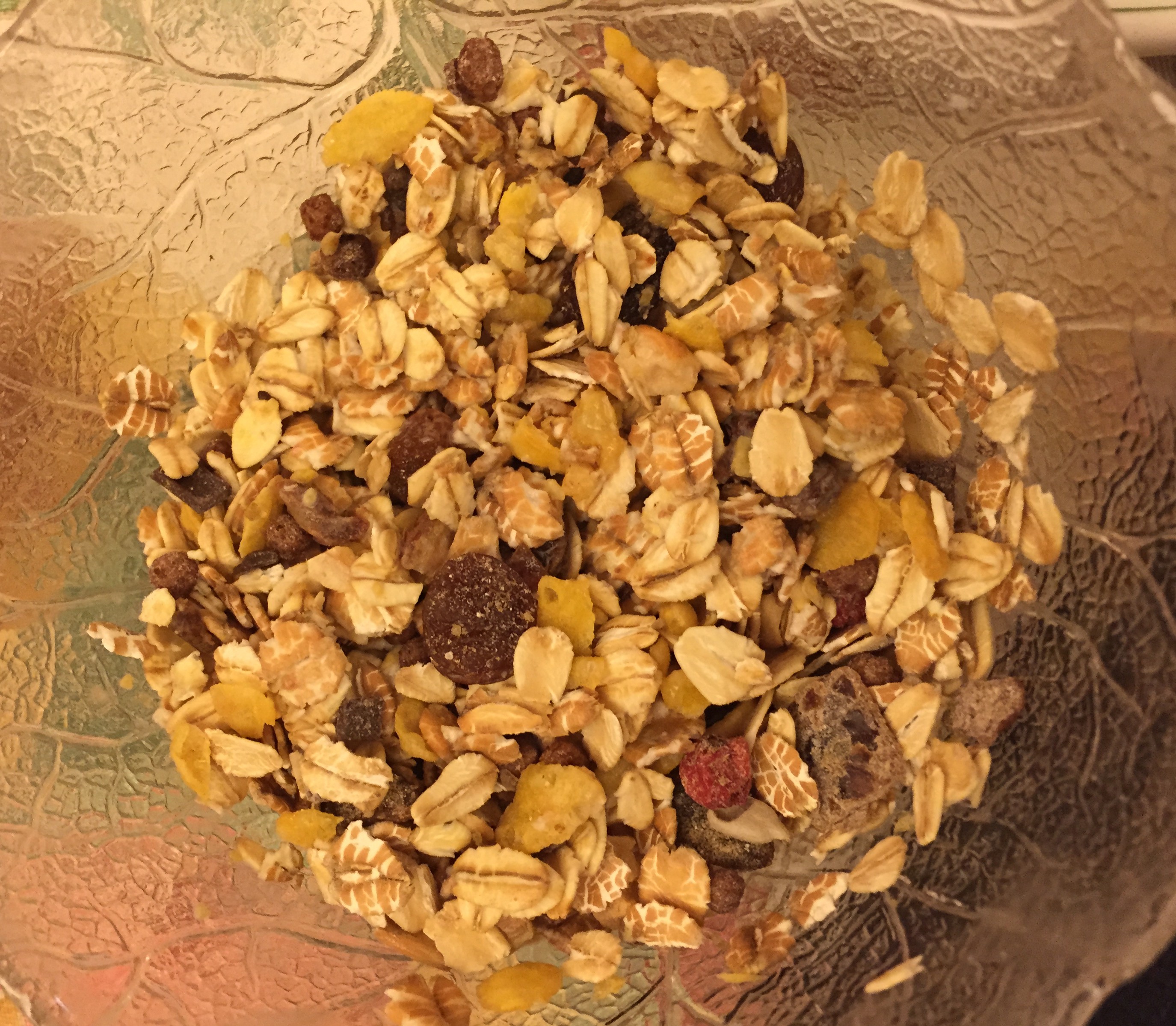 Upon venturing to various cities, I discovered outdoor markets that sold healthy, natural foods. There were numerous produce stands, fresh meat trucks, prepared foods (for example, hummus), dairy, breads, dried fruit, and more. I bought some fresh snacks at these stands to take with me, which made me feel great. This leads me to believe that German citizens must frequently prepare healthier meals at home with fresh ingredients and that they don't eat pork and dumplings every night at dinnertime, contrary to the options we had available at restaurants. Here are some pictures I took of the outdoor market in Nuremberg.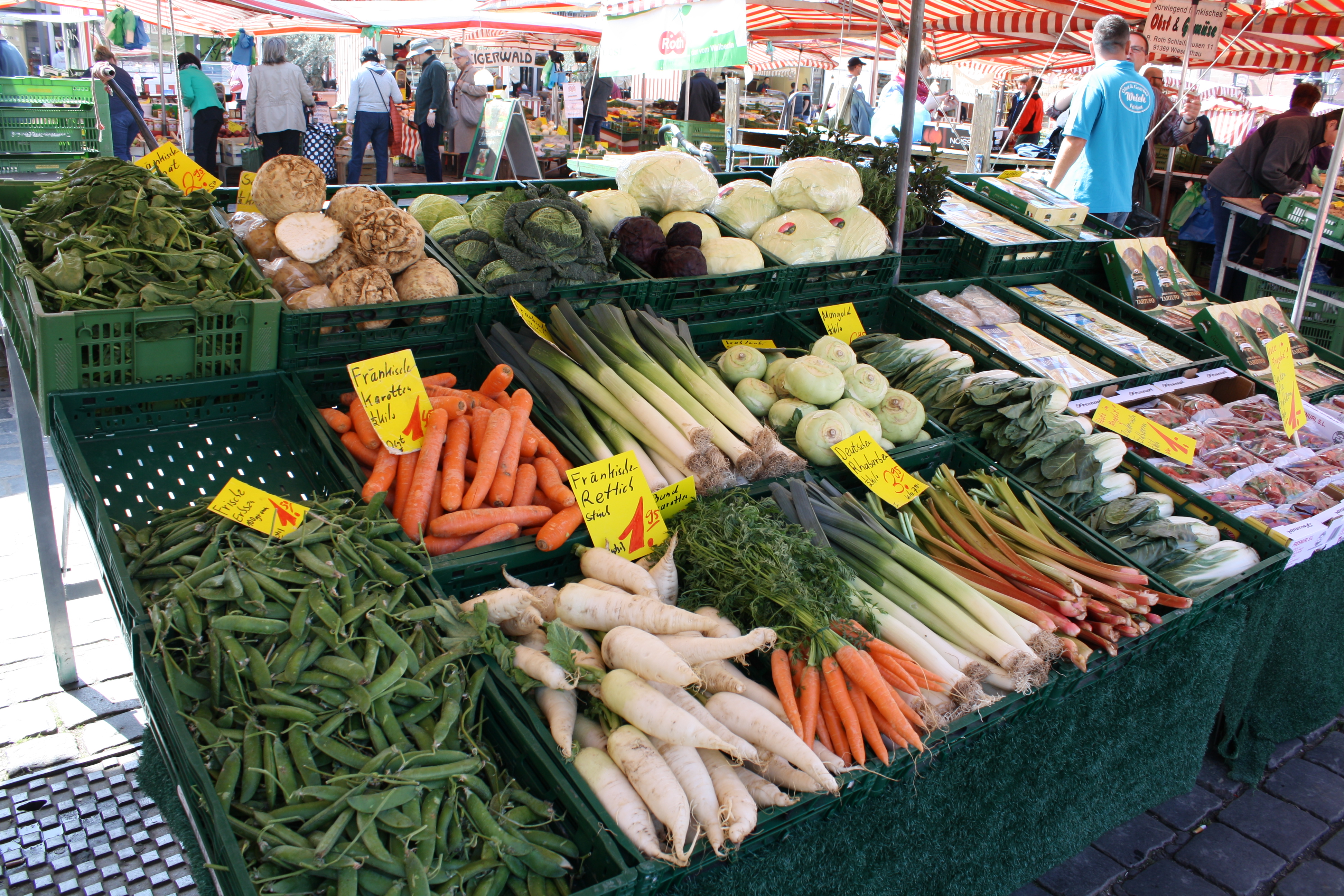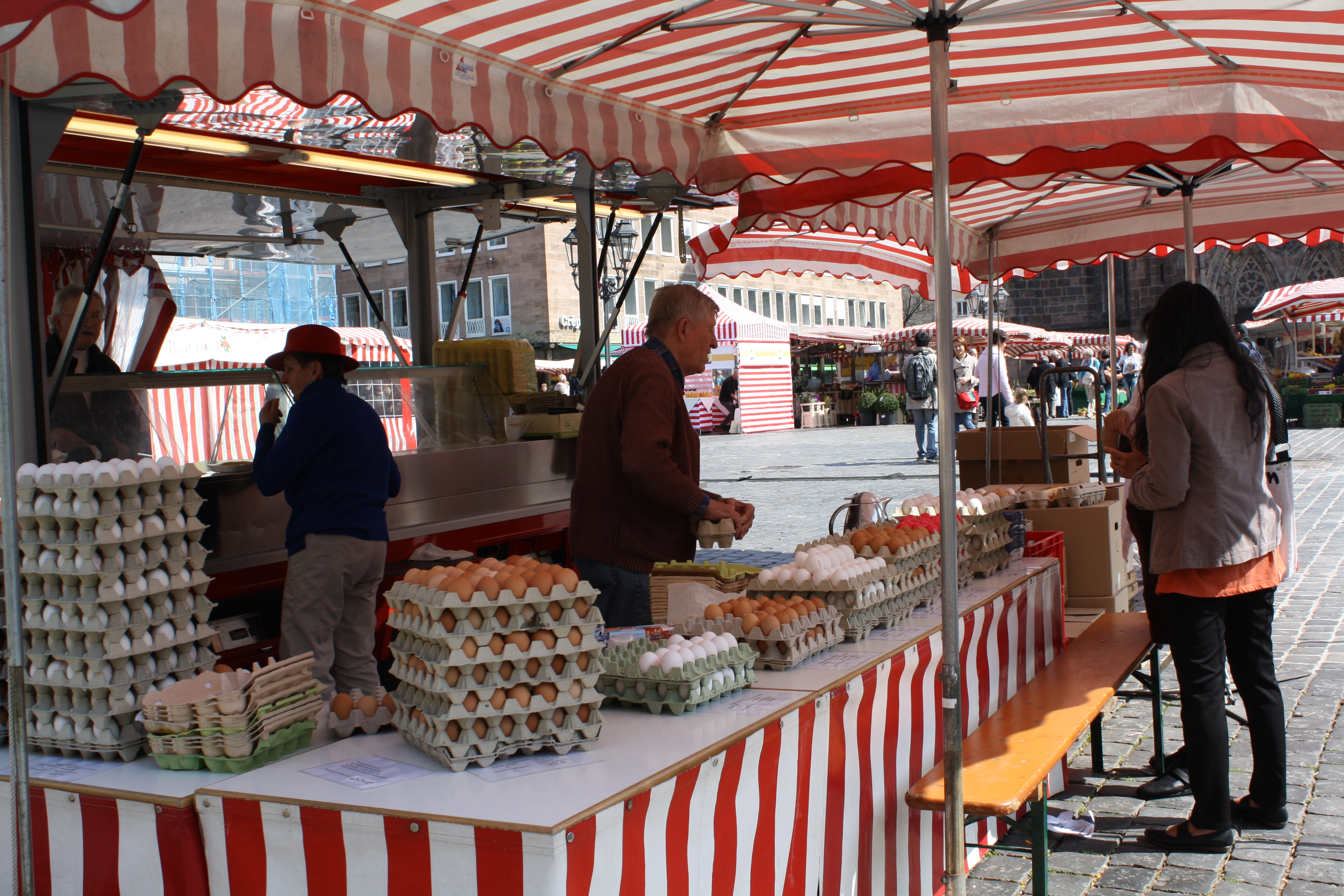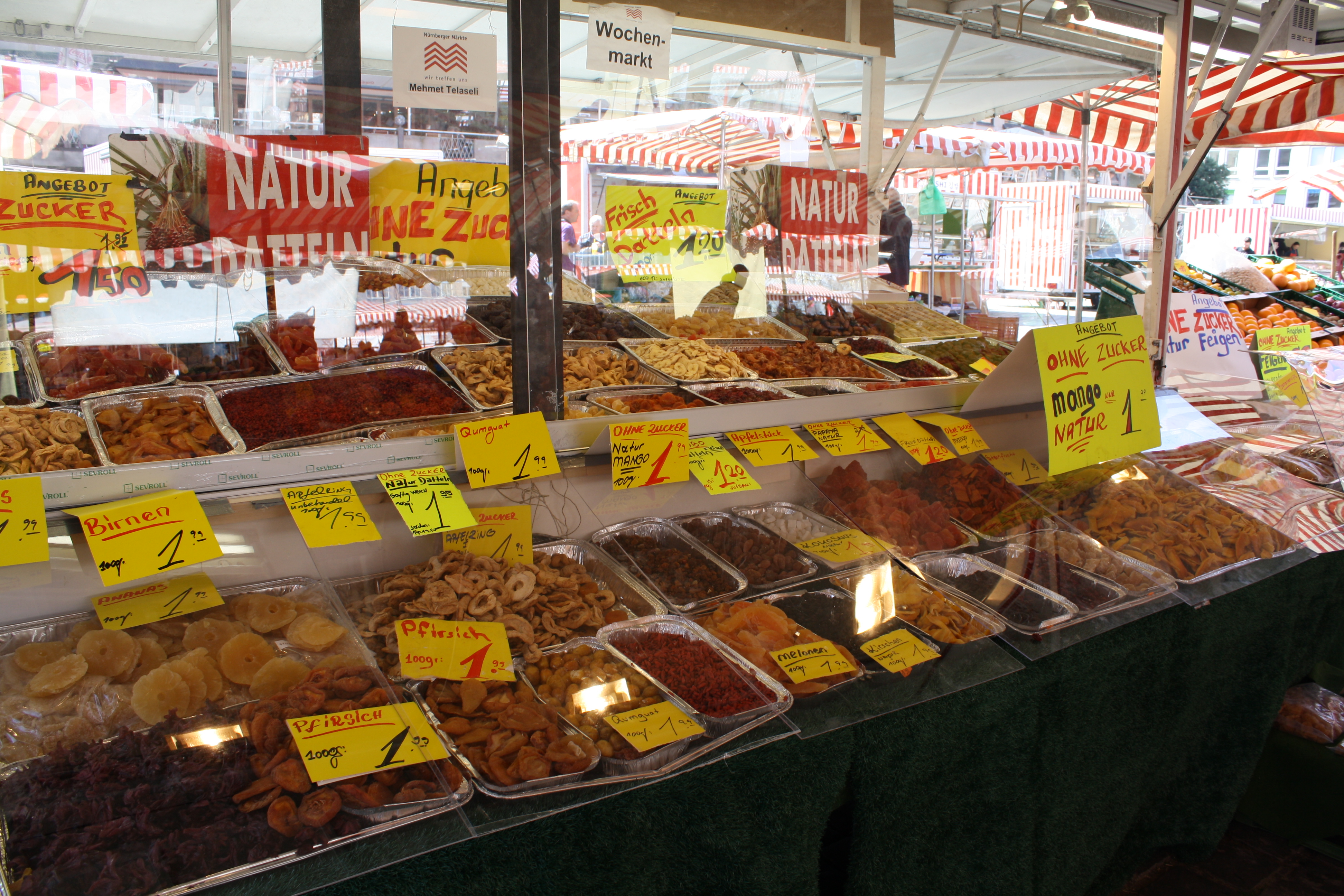 A popular ingredient in Bavaria was white asparagus. Some salads I ordered came with this vegetable. Many restaurants also offered spargelsuppe, which was typically a cream of white asparagus soup.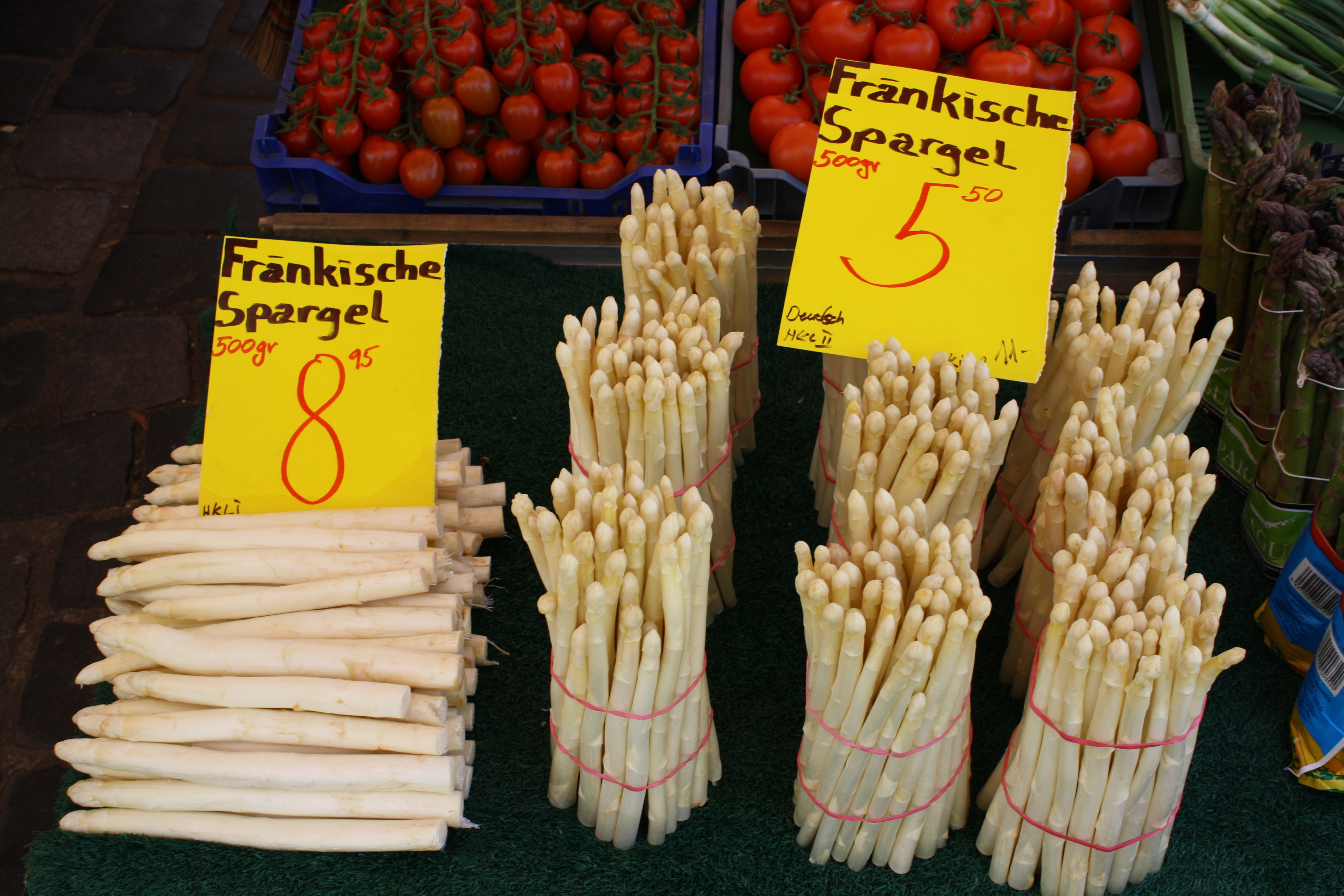 At the end of my trip, I was sad to leave the beautiful country of Germany, but I was very excited to get back home to eat healthy again. Without going to the gym during this vacation, I still did a ton of walking and took many flights of stairs instead of elevators whenever I could. I tried my best not to overindulge in the unhealthy German foods and treats, and I am extremely proud of myself for my efforts. Now I'm back into the swing of things and living my healthy lifestyle. Until next time, Germany. Auf wiedersehen!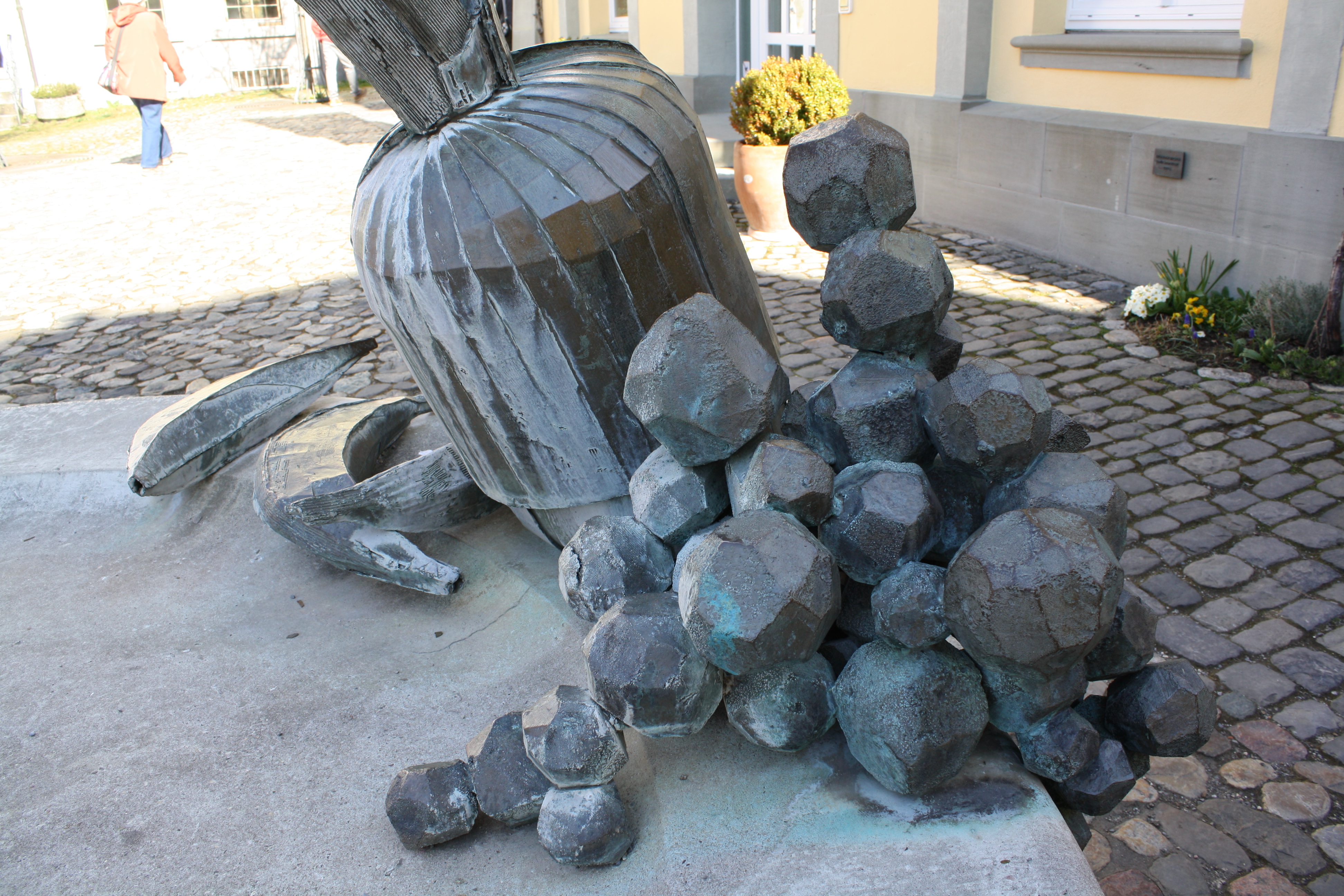 All photos taken by me, Bri Blank.