New recipe! This one is unbelievably delicious! I decided I wanted some nachos, but of course, I wanted to make them healthy. I baked some of my healthy tortilla chips made out of a Food For Life brand tortilla and loaded it with shredded chicken, reduced-fat Mexican cheese, veggies, avocado, and topped it with some hot salsa. This recipe is seriously so delicious, you won't even believe it's a healthy variation! It's so filling too! This is a perfect single serving. It consists of lean protein, complex carbohydrates, and beneficial nutrients. Give this a try! You can even double the recipe and serve it as an appetizer at a party. Prepare yourself for this incredible recipe!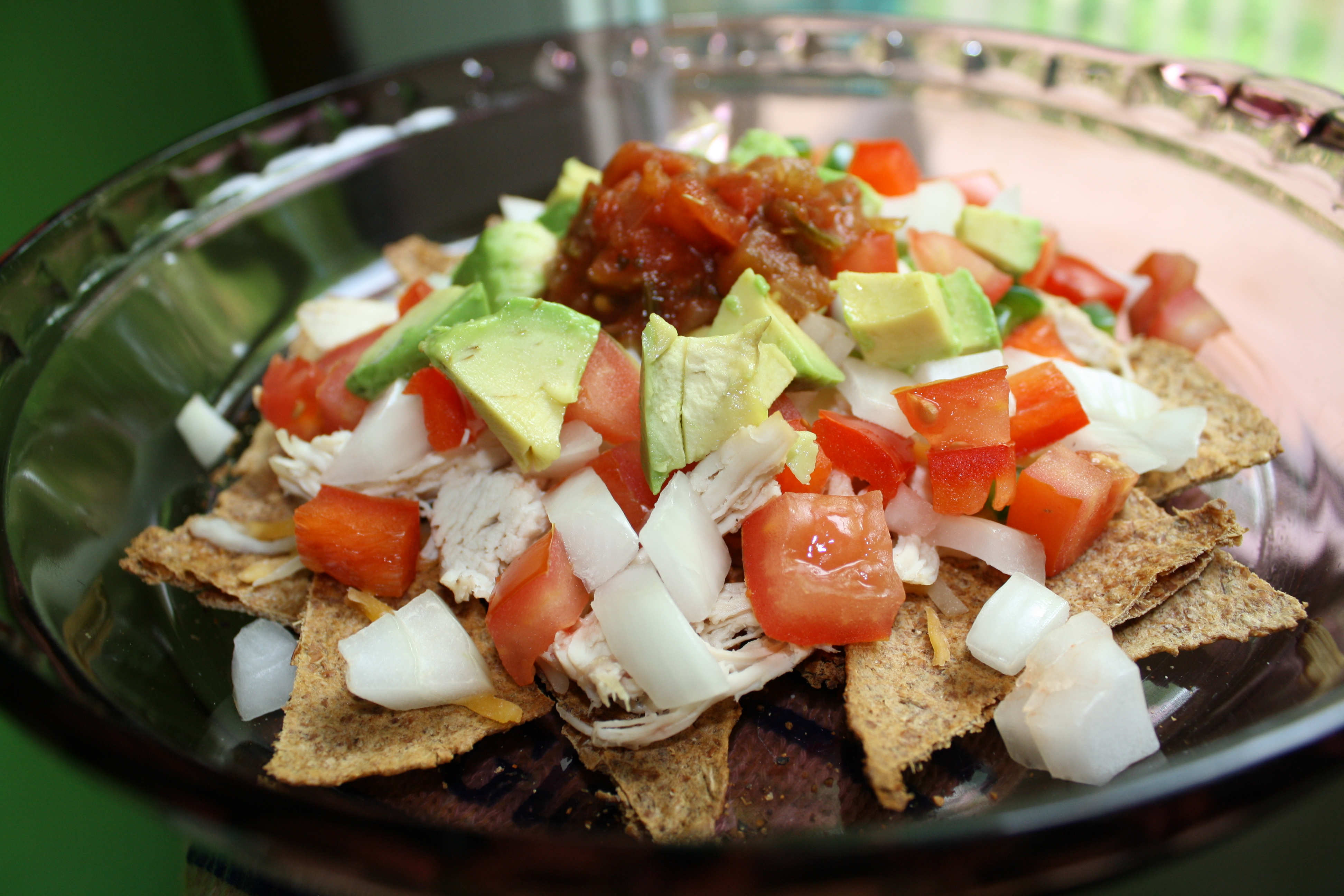 You're going to be baking both the chicken and the tortilla chips at the same time, so please review both of the instructions before cooking. Put the chicken in first, then start working on the tortilla chips.
Makes 1 serving
Ingredients
1 Food For Life Ezekiel Sprouted Whole Grain Tortilla
4 oz boneless skinless chicken breast
¼ cup reduced fat shredded Mexican cheese (I used Sargento)
¼ of a hass avocado
Diced onion
Diced tomato
Diced red bell pepper
Diced jalapeño pepper
Salt, pepper, garlic powder
½ lime
Instructions: Shredded Chicken
Preheat oven to 375°F.
Season chicken with salt, pepper, and garlic powder. Squeeze fresh lime juice on top of chicken.
Bake for 22-26 minutes, depending on the size of the chicken breasts. Cut into them to make sure they're cooked all the way through. I bought a pack of chicken and cooked it all at once, saving the rest as leftovers.
Instructions: Tortilla Chips
Cut tortilla into triangular pieces and place evenly spaced on a baking sheet lined with tin foil.
While chicken is cooking, bake for about 8 minutes until crispy. Watch them so they don't overcook and/or burn.
Let cool while you prepare other ingredients and wait for chicken to be done.
Turn the oven off when both of these sets of instructions are completed. When the chips are done, they should look like this:
Instructions: Remaining Ingredients
Dice the vegetables and the avocado.
Take 4 oz of chicken and pull apart with the grain. Cut into it and see which way the lines are going and use a fork to pull the meat apart. It should look like this:
Place chips in a glass baking dish or a foil lined pan. Sprinkle half the cheese on top, then layer the chicken, tomato, onion, peppers, and remaining cheese. Don't add the avocado just yet.
Switch the oven to a low broil. Place the nachos in the oven until the cheese is melted.
Top with avocado and salsa and enjoy!
Calories: About 450 in entire recipe.