Here's a new dessert recipe just in time for the 4th of July! I wanted to design a patriotic treat that was not only healthy, but indulgent and sweet as well. Let me tell you: these are incredible! If you're a fan of fruit tarts, you will absolutely love this. I've wanted to recreate a healthier version of fruit tarts for a while now and I took the opportunity today. I am so glad I did!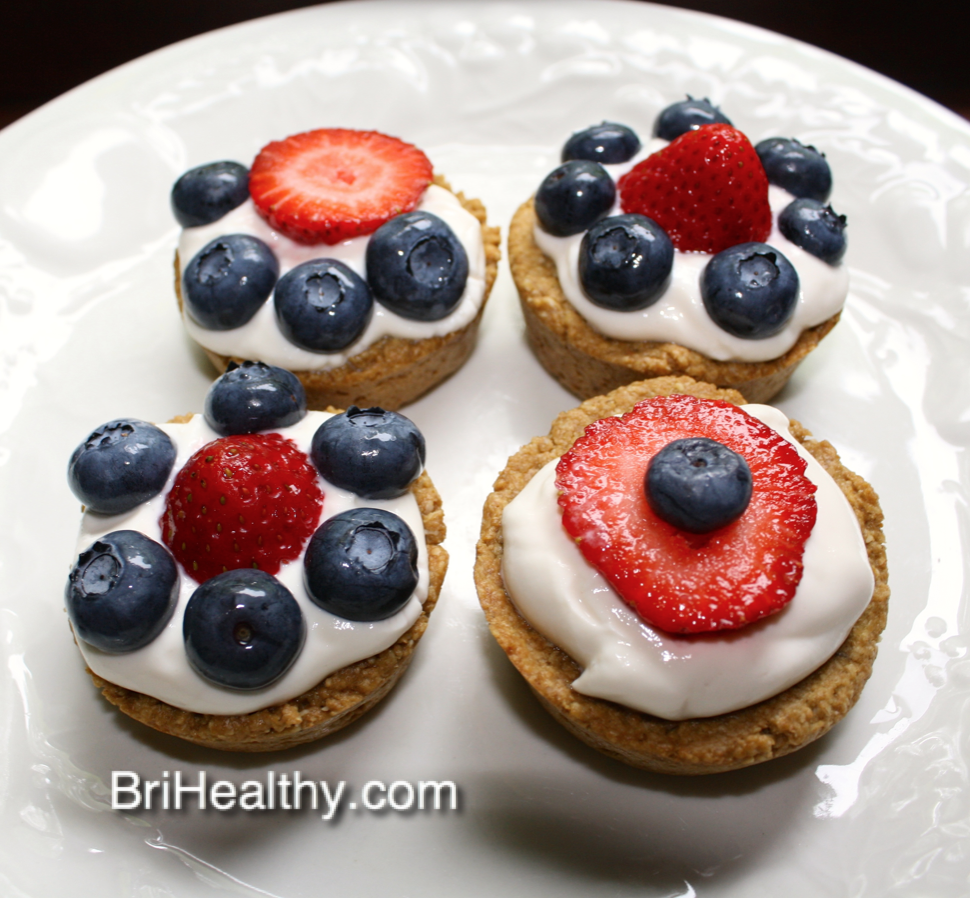 I created a crust based off of a recipe for Paleo Blueberry Scones that I absolutely adored from Greatist. I had modified the ingredients of the scones when I made them, so I carried over my modifications and omitted the blueberries to create a crust that is crisp, dense, and savory. The crust perfectly balances the sweet vanilla Greek yogurt topping, as well as the fresh fruit.
Whether you're attending or hosting a 4th of July picnic or relaxing in the comfort of your own home on the holiday, these will be an absolute hit. They are simple to put together and are also made with all natural ingredients. They're low calorie as well! These are great for any time of year too. I used just strawberries and blueberries for the patriotic holiday, but you can also include other fruits if you desire. Give these a try, they're like fireworks for your taste buds!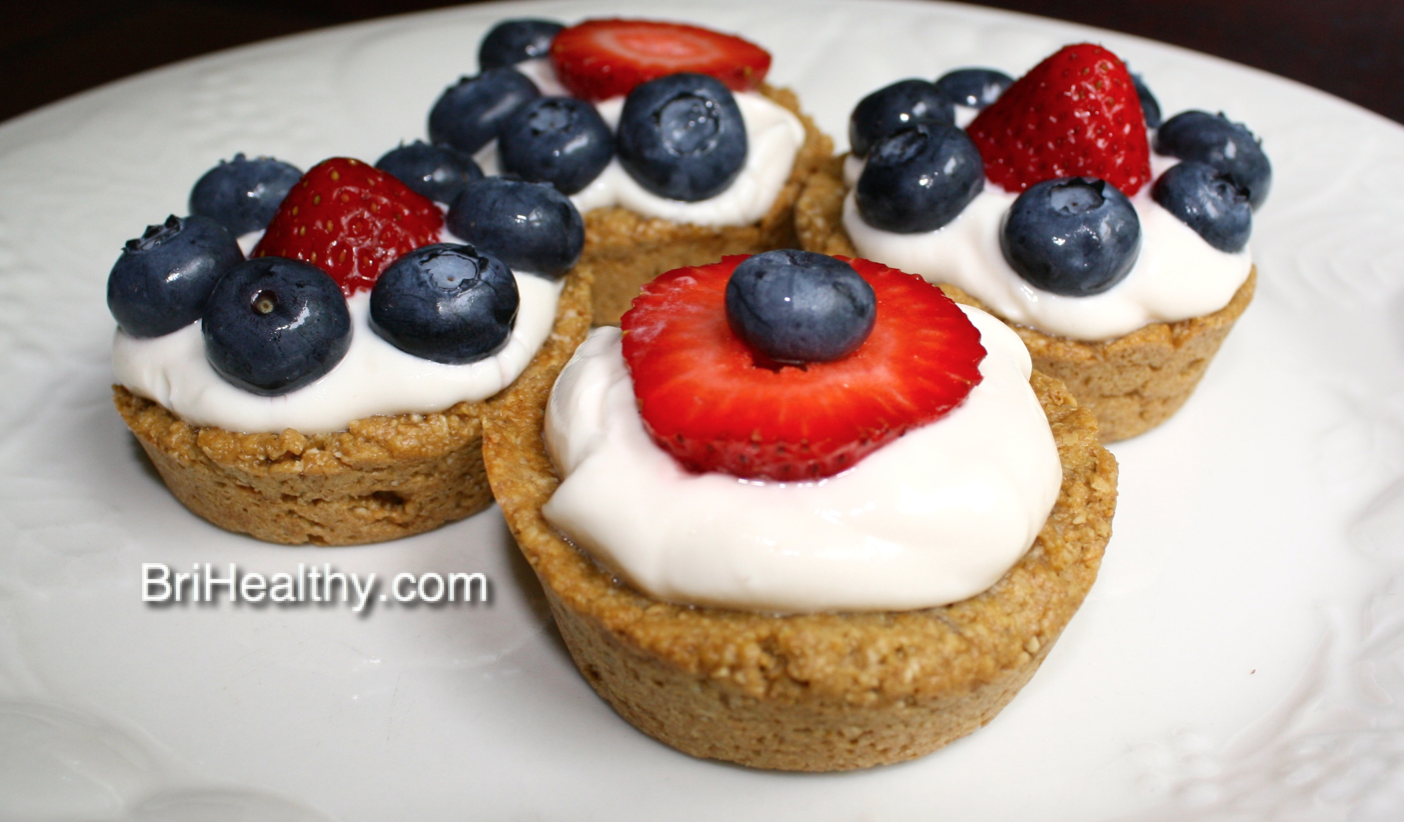 Makes about 8 thick-crust tarts
Ingredients
For the crust:
2 cups of oat flour (fully ground whole grain oats, place in a blender or food processor until completely ground)
1 egg
2 teaspoons pure vanilla extract
1 tbsp pure maple syrup
¼ cup coconut oil (liquid/melted)
1 teaspoon baking soda
A pinch of salt
For the topping:
1 container of Fage Total 0% Greek Yogurt (6 oz container)
1 teaspoon vanilla extract
1 packet stevia
Fresh blueberries and strawberries
Instructions
Preheat oven to 350°F.
Combine all ingredients for the crust in a bowl and mix well. It will produce a very thick dough, so make sure it is mixed well.
Spray a muffin pan with nonstick cooking spray (I used Pam Coconut Oil spray).
Evenly distribute the dough into the pan's indents. I made 8 of them which came out very thick, so if you use a little less, you may be able to produce more crusts.
Using your thumb, press the dough from the center outward against the muffin pan to make the dough cup shaped. Press down firmly because they may rise a bit after baking.
Bake until firm and golden, or about 20-25 minutes. I used my convection oven and they were perfect after 20 minutes.
Let them cool for at least 15 minutes before adding the toppings.
Add the packet of stevia and the teaspoon of vanilla extract to the Greek yogurt container and mix well.
Once the crusts are cooled, top each crust evenly with the Greek yogurt cream.
Decorate with fruit. Enjoy as is or refrigerate for at least an hour and enjoy with the yogurt topping more firm.
Since they came out small (typical muffin width), there wasn't as much room for a creatively designed fruit presentation as I had anticipated, so I made do with what space I had. I will leave the decorating up to you, have fun with it! Regardless of how "perfect" they look, they will taste incredible! Try these for the holiday or any time of year!
Calories: I made 8 tarts, each containing around 170 calories.