Buffalo-style dishes are some of my absolute favorites to indulge in. Thankfully, I've found it super easy to make healthy, delicious meals with the classic Buffalo sauce and bleu cheese combo. During my weight loss journey, I made Buffalo chicken sandwiches and wraps all the time. When I used a low calorie wrap, they fit perfectly within my daily calorie goal. Now that I'm typing this, my mouth is starting to water and I'm thinking that I need to make wraps like these again very soon – it's been way too long! However, I just made this amazing Buffalo Brussels Sprouts recipe and the veggie game has been changed forever.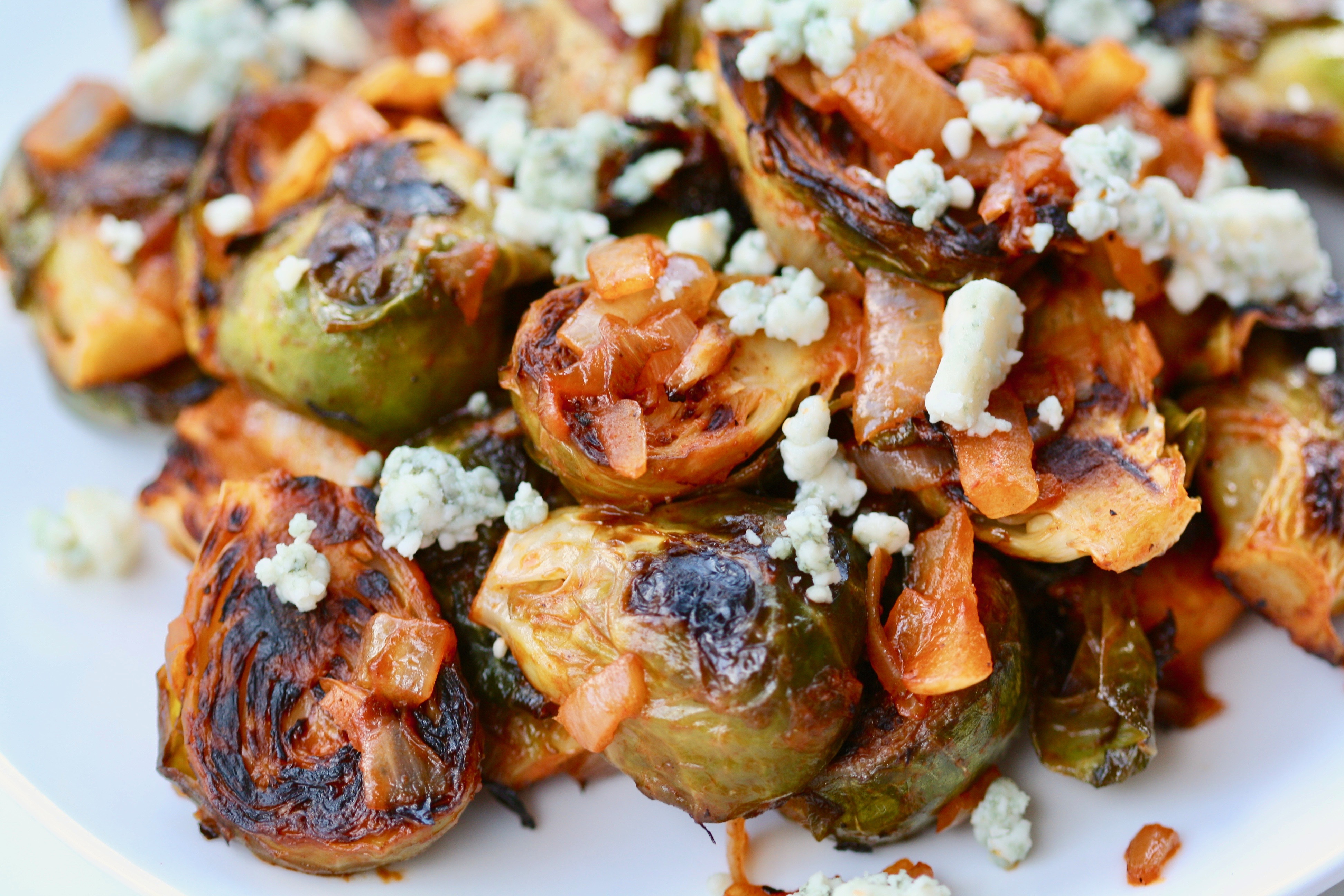 Imagine your favorite round, green, leafy yet cruciferous vegetable coated just like classic Buffalo wings. They're exactly as delicious as they sound. They possess a pleasant hot kick and are simultaneously cooled down by the sprinkled gorgonzola. They're soft, yet still crunchy, and are satisfying, filling, and still healthy and clean. This trend-setting take on an already trendy vegetable is guaranteed to be a huge hit. I can see it already – this dish will soon enough take the world by storm.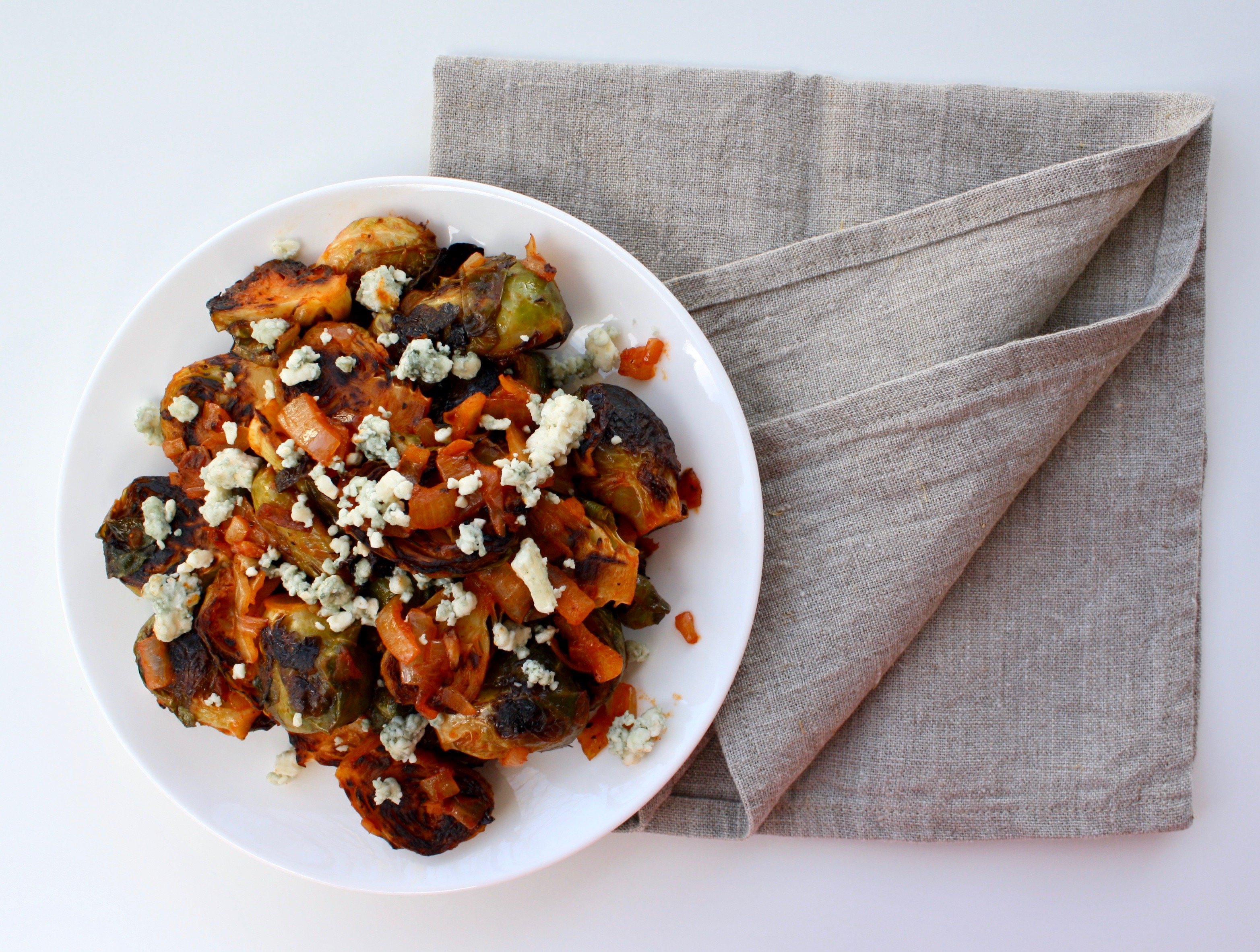 The Brussels sprouts are first halved and pan seared in olive oil until they soften and achieve a gorgeous, charred appearance. Diced onions are then added into the equation, followed by ghee (clarified butter), and then the star of the dish: the sauce. Once they're all coated, you get to make it rain with bleu cheese crumbles. Now, that's my kind of rain.
This dish is not only perfect for vegetarians, but for absolutely anyone. Even my husband, VJ, tasted them and liked them, even though he doesn't typically enjoy Buffalo sauce or Brussels sprouts! They're incredibly easy to throw together as a part of your weekly meal prep menu, as a side dish at a dinner party, or as an addition to your weekday meals. However you choose to enjoy them, they'll be sure to turn heads when you post them on your social media! They're incredibly Instagrammable. Please tag me when you make these, I would love to share your beautiful creation! Enjoy these bad boys (or bad girls. I'm all about girl power here)!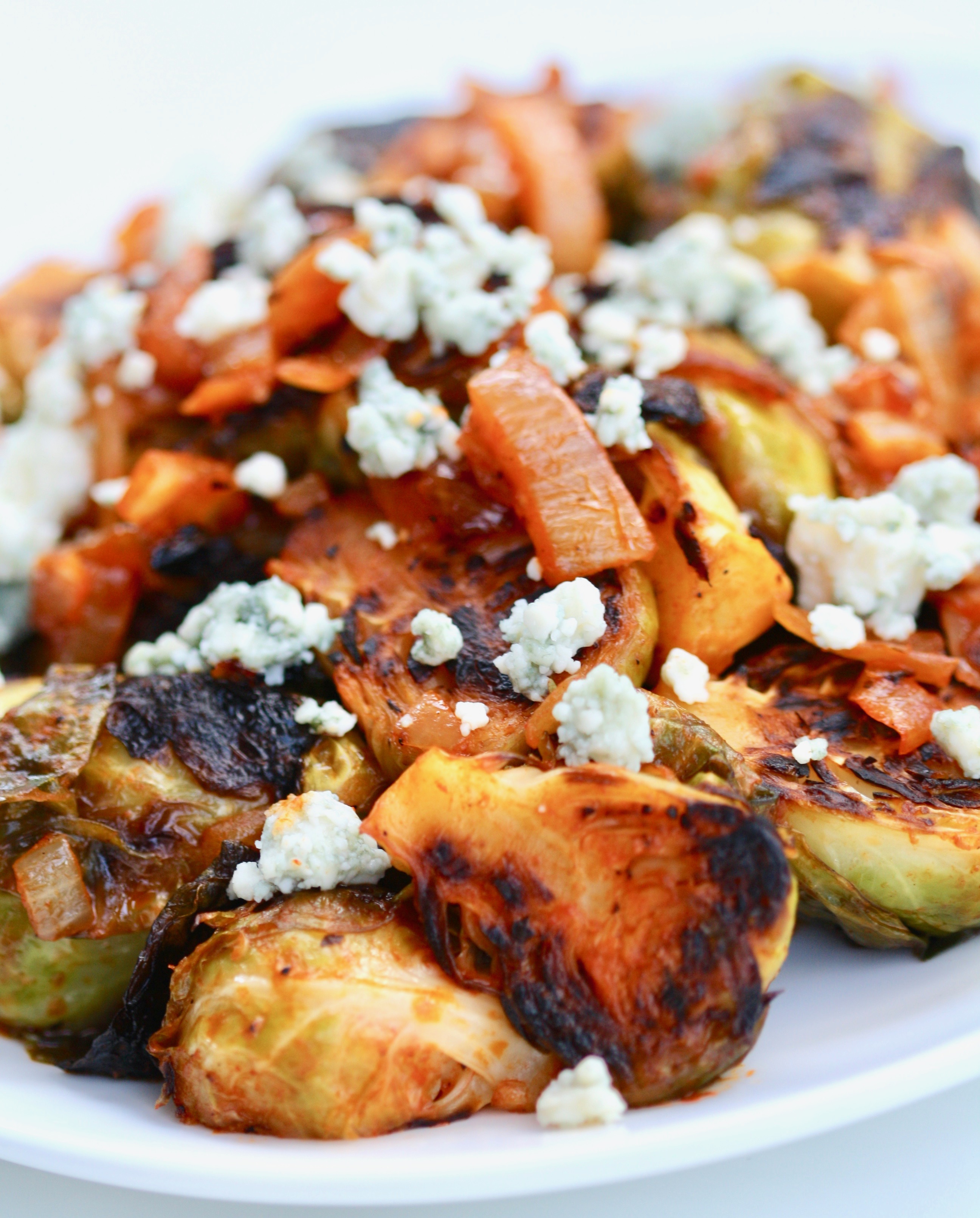 Buffalo Brussels Sprouts
2018-04-09 19:50:24
Serves 2
Ingredients
1 pound Brussels sprouts, halved
1½ tablespoons extra virgin olive oil
1 teaspoon ghee (clarified butter) - If you can't find this, use 1 teaspoon olive oil
½ medium yellow onion, diced
¼ cup hot sauce (I used Frank's Red Hot)
¼ cup crumbled gorgonzola (bleu cheese)
Salt
Black pepper
Instructions
Add 1 tablespoon of olive oil to a pan and heat on medium-high heat.
When the olive oil has warmed up, place halved Brussels sprouts flat side down in the pan. Season with salt and black pepper and cover. Sear for about 5 minutes.
Uncover the pan and, using tongs, flip the Brussels sprouts over onto their back side (round side), season with salt and pepper, and cover the pan again. Sear for 3 more minutes, or until the sprouts are fork-tender.
Turn the stovetop heat down to medium-low. Add the remaining ½ tablespoon of olive oil to the pan, immediately followed by the diced onion. Season with a pinch more salt and pepper. Mix around in the pan to coat all of the onion in oil. Sauté onions and Brussels sprouts until the onion starts to become translucent.
Turn the stovetop heat down to a simmer. Using tongs, clear a space in the center of the pan and add the teaspoon of ghee. When the ghee is melted (it will melt quickly), turn the heat off.
Immediately add the hot sauce and toss well to coat.
Plate the Brussels sprouts and onions and top with crumbled gorgonzola. Enjoy!
Notes
Calories: (2 servings) about 195 per serving. About 390 calories in entire recipe.
Bri Healthy™ https://brihealthy.com/