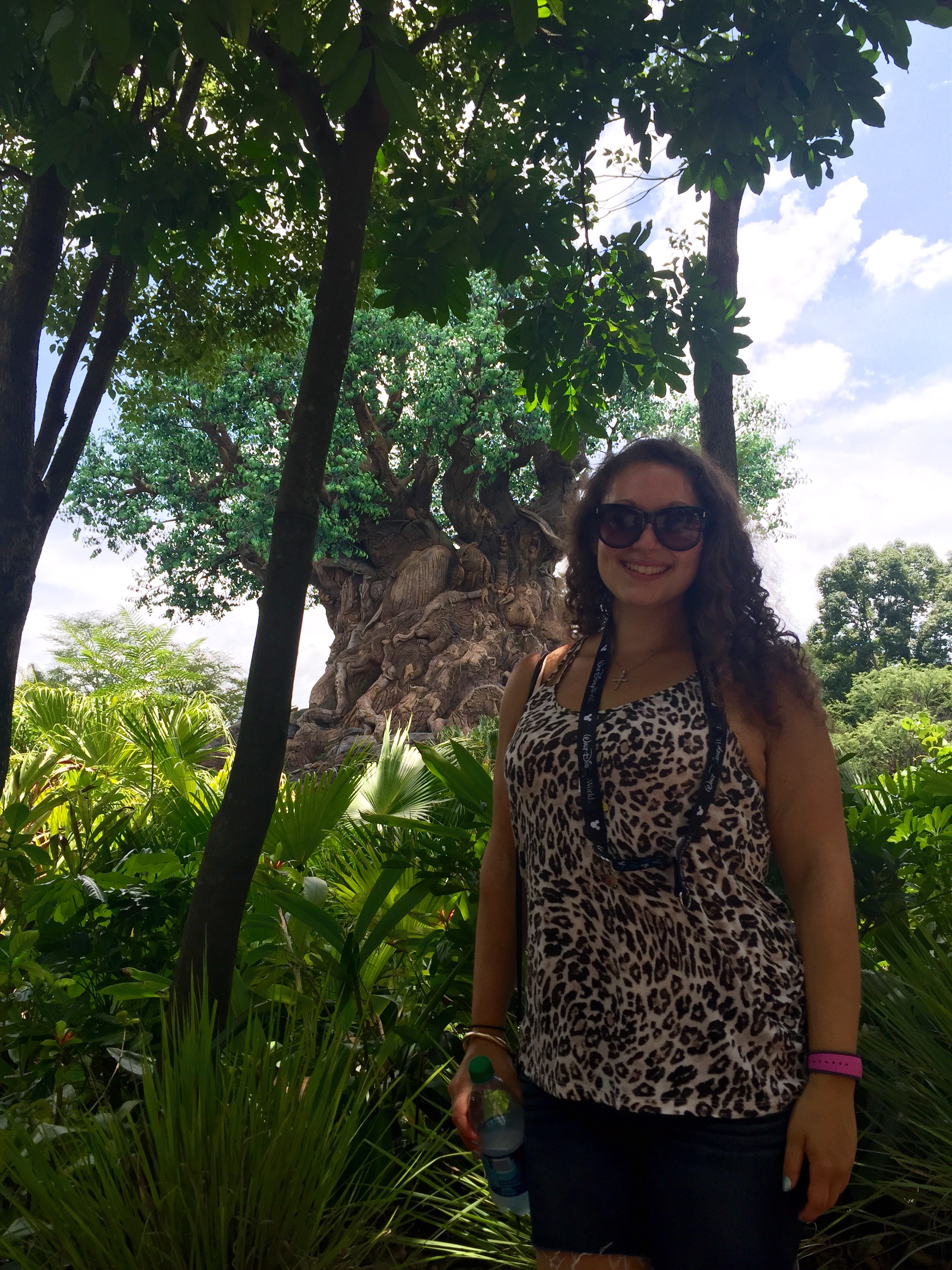 Hi everyone! If you didn't see on Instagram, I spent this past weekend at Walt Disney World in Orlando, Florida. I had such an amazing time with some of my friends. I am so thankful that the weather turned out to be beautiful. We spent a day at each of the following parks: Hollywood Studios, Magic Kingdom, and Animal Kingdom, in that order. It was my first time at Hollywood Studios and Animal Kingdom and I absolutely fell in love. Before I left for my trip, I decided to pinpoint various ways to stay healthy at the parks. Here is a list of a few tips to stay on track while at the "happiest place on Earth."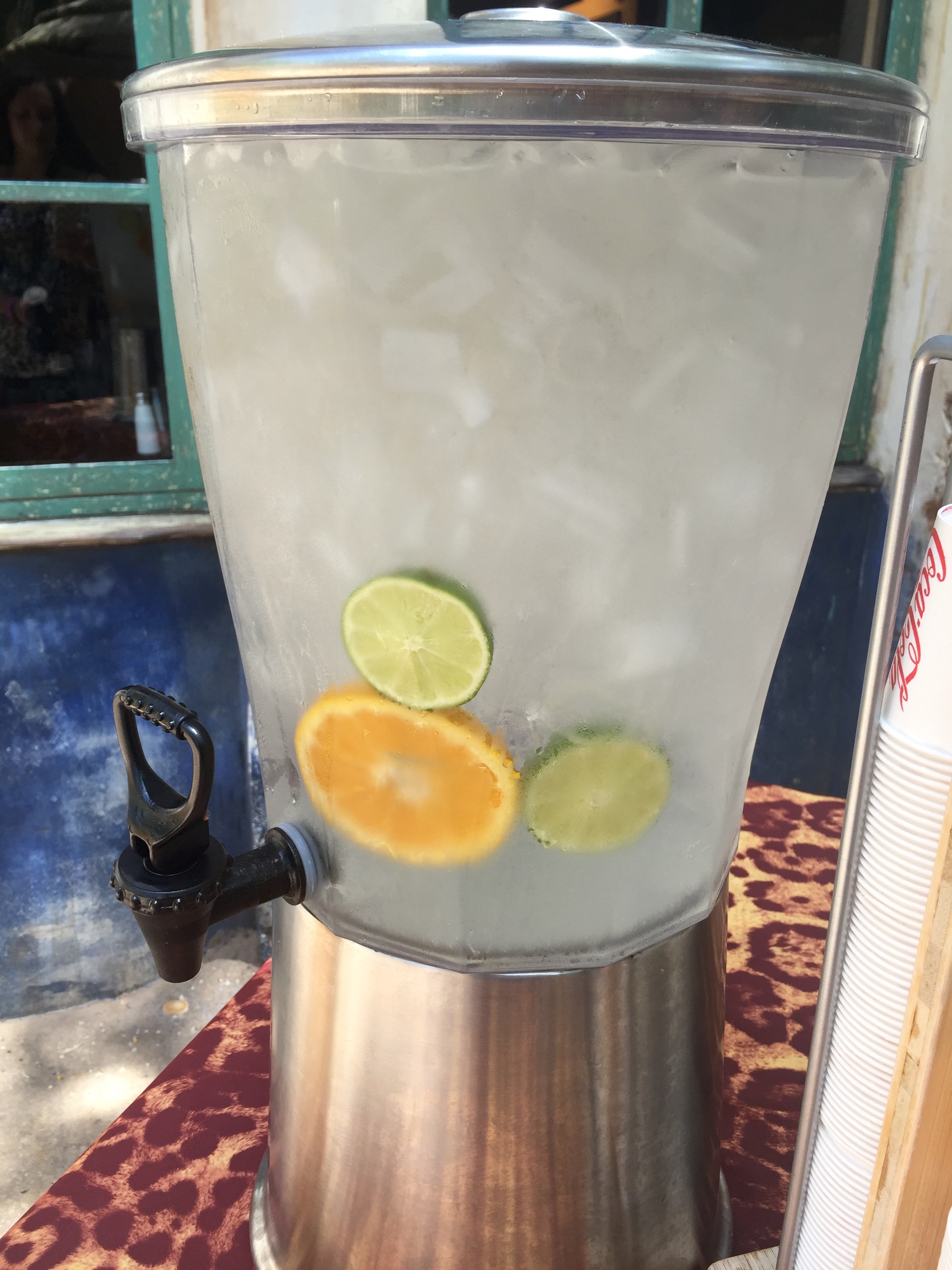 You will get your exercise in and you might not realize it. I love going to Disney World for many reasons, but one of them is that I know I will be active and not sedentary during my stay. With so much to do and so much ground to cover in each of the parks, you can guarantee you will be walking a ton. This alone will help you to stay on track because you'll be burning calories throughout the day. My friends and I walked on average 10 miles per day. Truthfully, it didn't feel like we did that much walking! Of course, we were tired from walking all day in the heat, but the mileage adds up quickly when you're having fun. In the parks, there are so many different areas to explore that you'll undoubtedly get great exercise in. This can help outweigh any treats you indulge in during your trip and help you to return home feeling great about yourself!
Pack your own snacks. I posted about this on my Instagram account before I flew to Orlando. Disney World allows you to bring in certain foods and snacks. Not only will this help you to stay on track if you pack healthy snacks, but it will also save you money. I packed some Quest Nutrition Protein Bars and some Seapoint Farms Dry Roasted Edamame. I brought one of each to the parks every day in my little bag, which helped me to make better choices.
Locate vendors that sell healthy snacks. Around the parks, there are many ice cream carts, but there are also areas that sell healthy snacks. In fact, one ice cream cart in Animal Kingdom sold fresh fruit as well! In Animal Kingdom, I came across the Harambe Fruit Market, which sold bananas, oranges, apples, carrots, celery, and more.

Harambe Fruit Market in Animal Kingdom.

In Magic Kingdom, I found the Liberty Square Market, which offered similar options.

Liberty Square Market selections in Magic Kingdom.

These markets were very reasonably priced and are extremely helpful when vacationing while living a healthy lifestyle. I was very impressed that these areas were available to guests.

Choose healthier meals and side dishes. If you are dining at a Disney World restaurant, healthy dishes may not be abundant. However, food spots at Disney World often offer healthy options for sides. For example, the last time I went to Disney World, we ate at Cosmic Ray's Starlight Café in Magic Kingdom. I ordered the grilled chicken sandwich without bacon, which came with apple slices, green beans, or French fries. I opted for the green beans, which were delicious. It makes me happy when the majority of the side dish options are healthy choices! Disney World has various healthy options available for their guests.
Ask to make your meal healthier. Disney tends to be extremely accommodating to its guests. On our first day of this trip, we dined at the 50's Prime Time Café in Hollywood Studios. Aside from the atmosphere being incredible and servers acting as "your cousin", reminding you to keep your elbows off the table and to stay off your "walkie talkies" (cell phones), this spot was extremely accommodating to my requests as well. I wanted the salmon, but I wanted it to not be cooked in the butter as it was listed on the menu. I could tell it wasn't the simplest request, but they still did it for me. I was very pleased with how understanding they were. I highly suggest asking your server at Disney World for healthy substitutions. They want you to be happy, so don't feel bad asking!

My modified salmon dish from 50's Prime Time Café in Hollywood Studios.

Be mindful at buffets.If you are visiting a buffet during your trip, it's extremely important to stay mindful of your portions. We ate at a buffet twice during our stay. Everything was extremely delicious, and I definitely indulged in certain unhealthier dishes, but I made sure to keep those portions to a minimum. A good idea is to limit yourself to one plate of main course food and try a little dessert. It can also be helpful to scan the entire buffet before putting any food on your plate to strategize exactly what you want to eat. When you're doing so much walking, a filling meal like this can help you to snack less throughout the day while you continue to burn calories moving around the parks. I felt free of guilt after these buffet meals, even though I indulged a bit. Also, always make sure to stop when you're full. Not only for your health reasons, but because it may not settle well on roller coasters too! 🙂
Treat yourself in moderation. You're still living a healthy lifestyle even if you allow yourself to indulge in moderation. I allowed myself one or two small treats per day. There are so many delicious desserts at Disney World and you should permit yourself to enjoy some of them. Remember how much walking you're doing, leading to more calories being burned, but also remember to not go too crazy on the desserts. Some treats are way too indulgent there, but one cupcake, one Mickey ice cream bar, or any small treat won't hurt.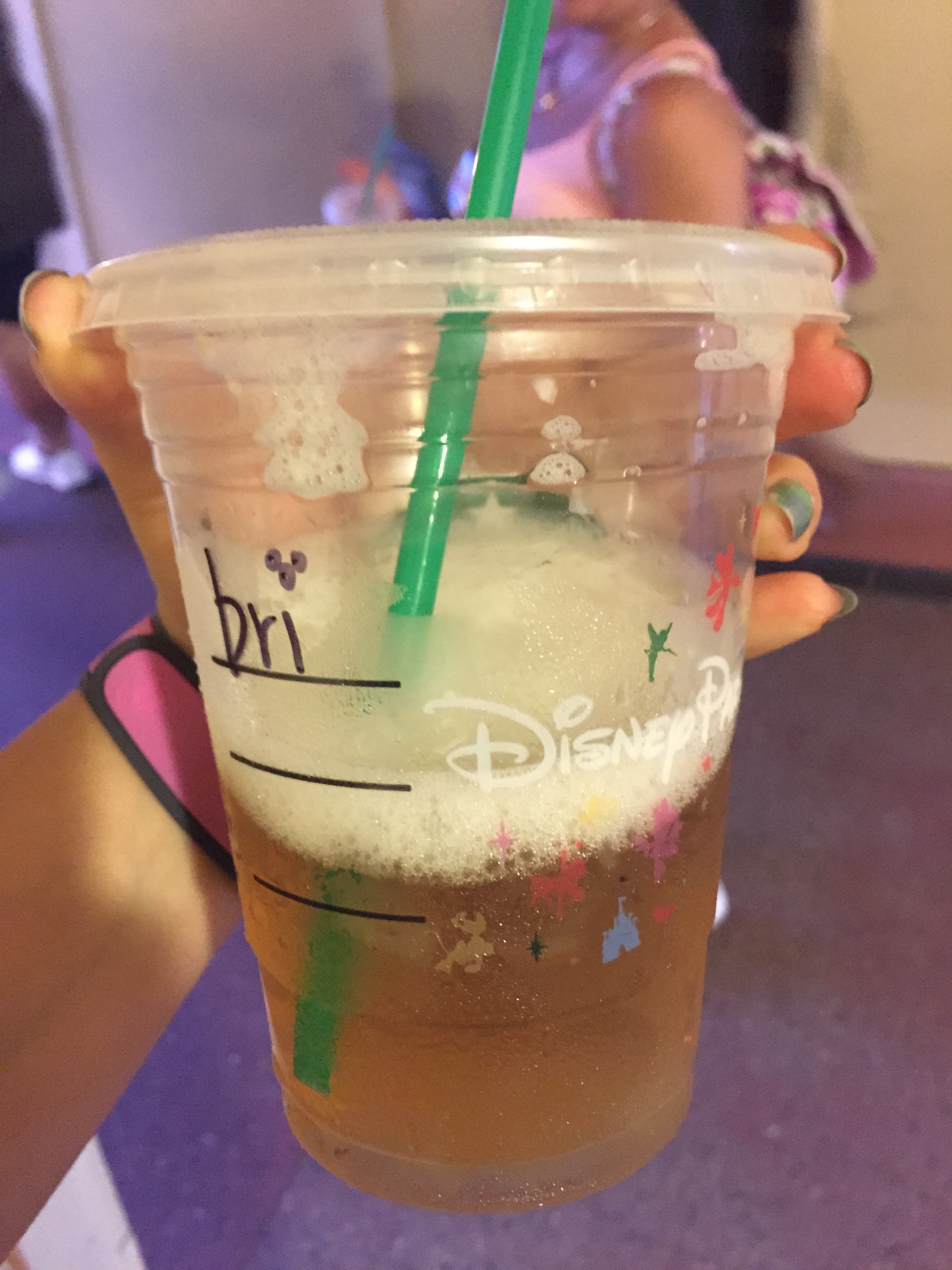 These tips can also apply to other theme parks and other places as well. As long as you keep your goals in mind, you will be likely to make great choices. Viewing menus in advance and preparing yourself for mealtimes will also make staying on track easy. There are also Starbucks around some of the parks, where you can get healthy beverages like black unsweetened iced coffee or iced unsweetened green tea. Look at how cute they wrote my name on the cup! The most important thing is to enjoy your trip, so enjoy it in a healthy, happy way!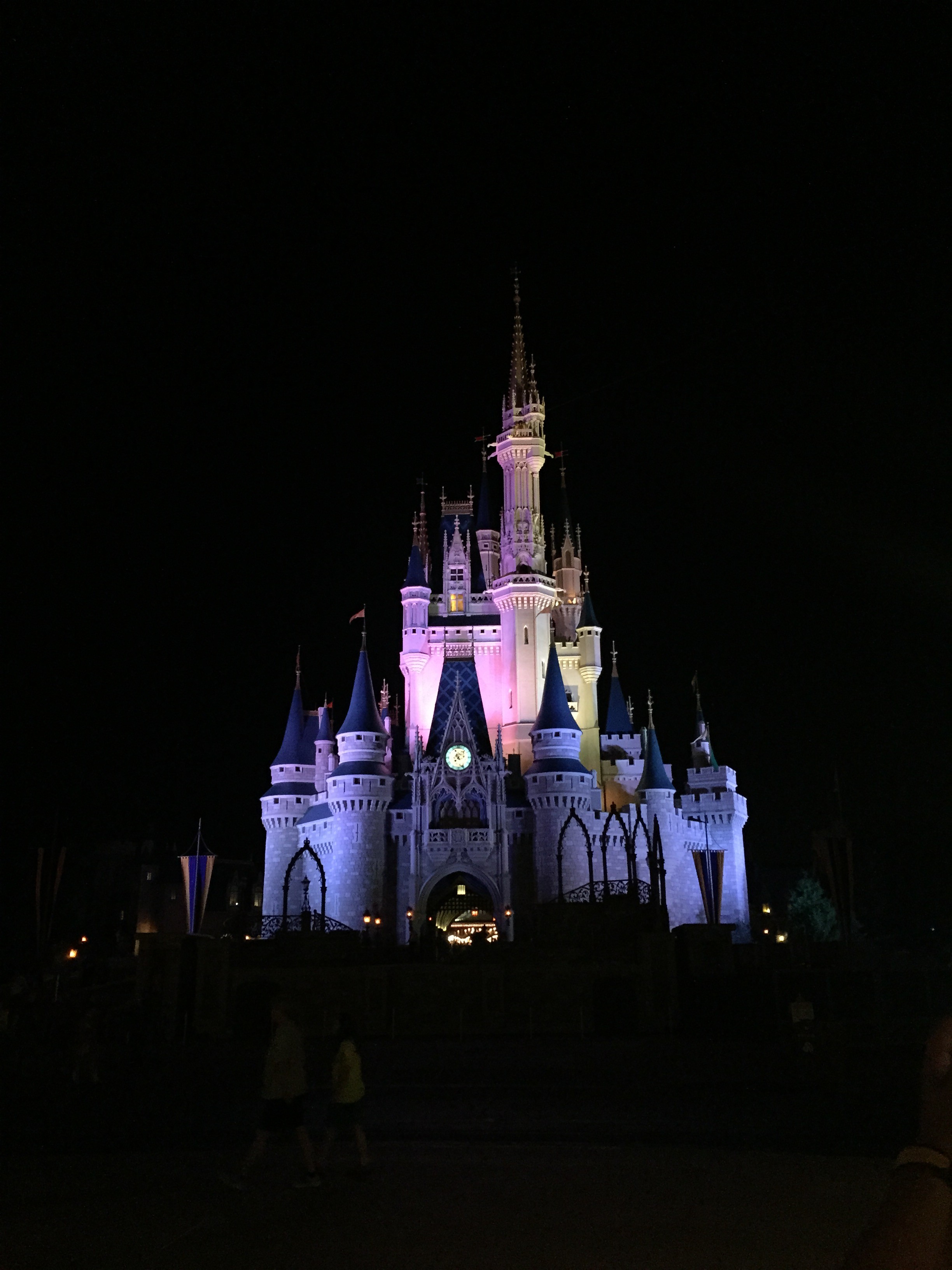 All photos taken by me.