Mozzarella sticks are a delicious treat for any party. They're a snack that most picky eaters love. The problem with typical mozzarella sticks is that they're fried and the ingredients that go into the frozen commercial brands' or restaurant-made varieties are not the healthiest choices. These healthified mozzarella sticks were pretty easy to make and they came out absolutely delicious!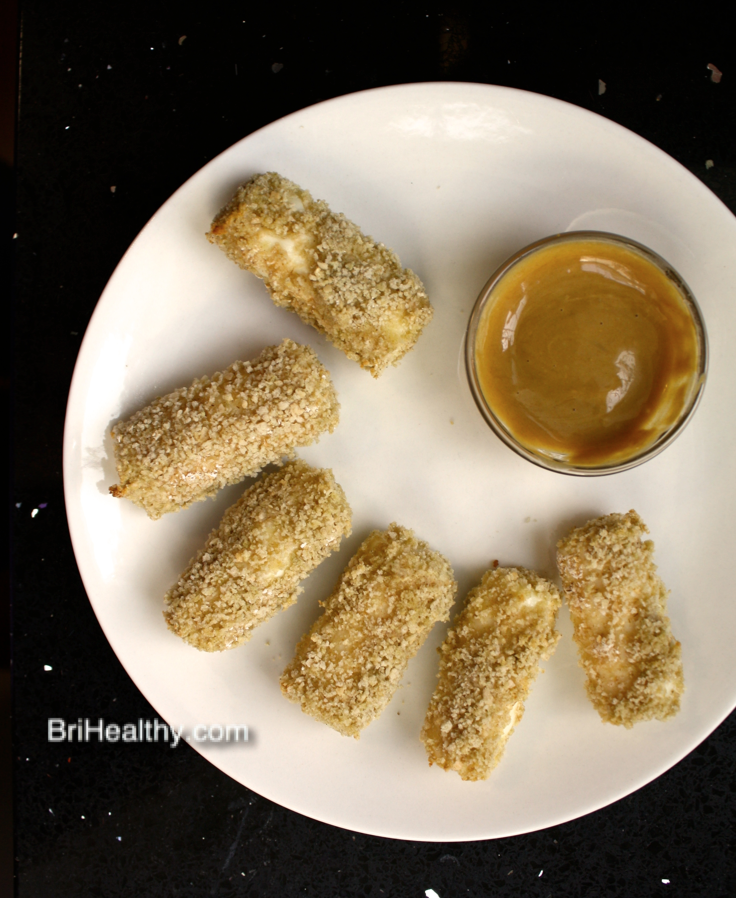 The crucial part of this recipe is to freeze the string cheese beforehand. If you don't, the cheese may melt too quickly in the oven and you'll have a mozzarella puddle instead of sticks. Freeze them for an hour or two, or however long it takes for them to be firmly frozen. I froze mine overnight to ensure they were as solid as ice.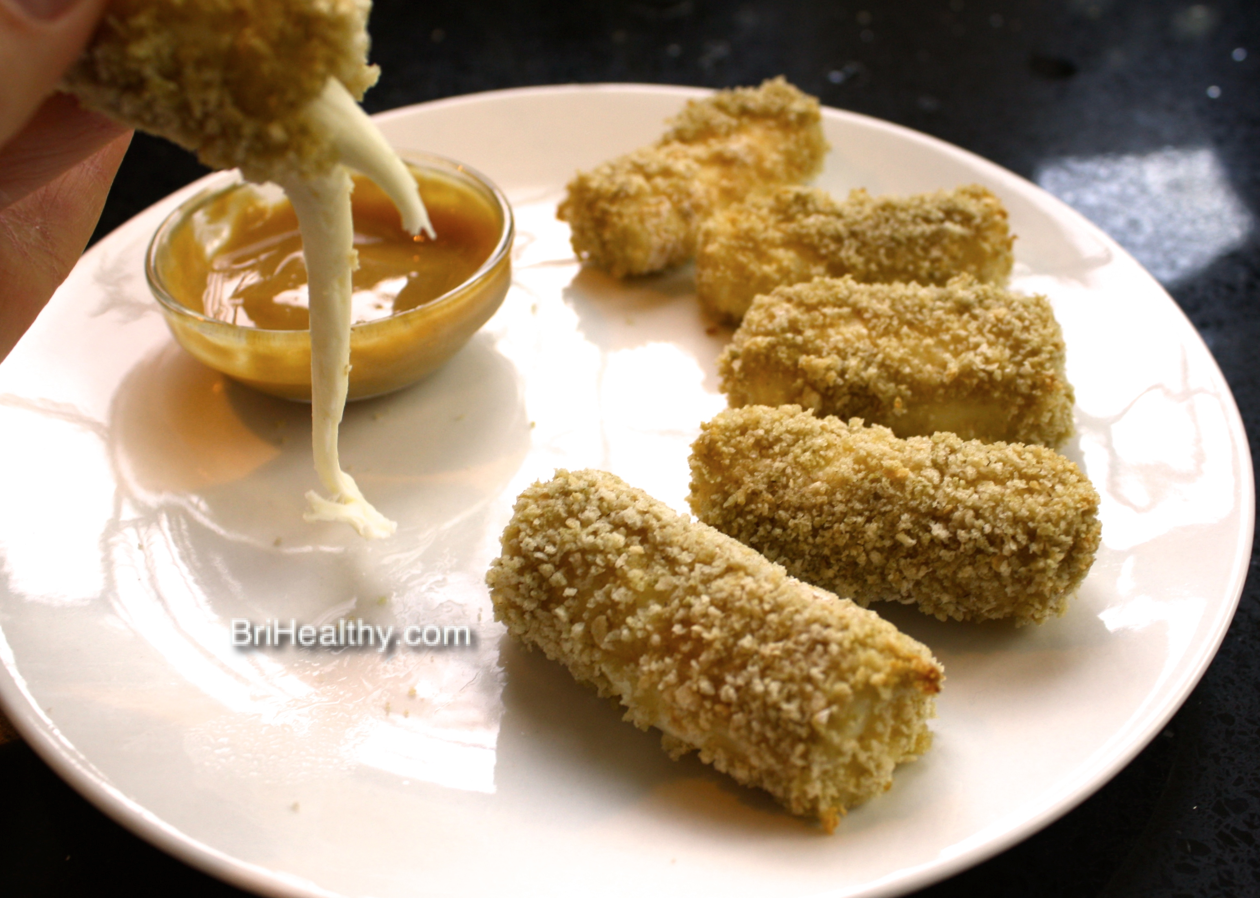 You can make these at any time, whether it be part of a dinner, a midday snack, a midnight snack, or as a party treat. At about 55 calories per mozzarella stick, you can indulge in these without an ounce of guilt! They also are a good source of protein. They don't take very long to prepare and they're entirely worth it. Instead of ordering a fried plate of them or reheating a store-bought selection, make these!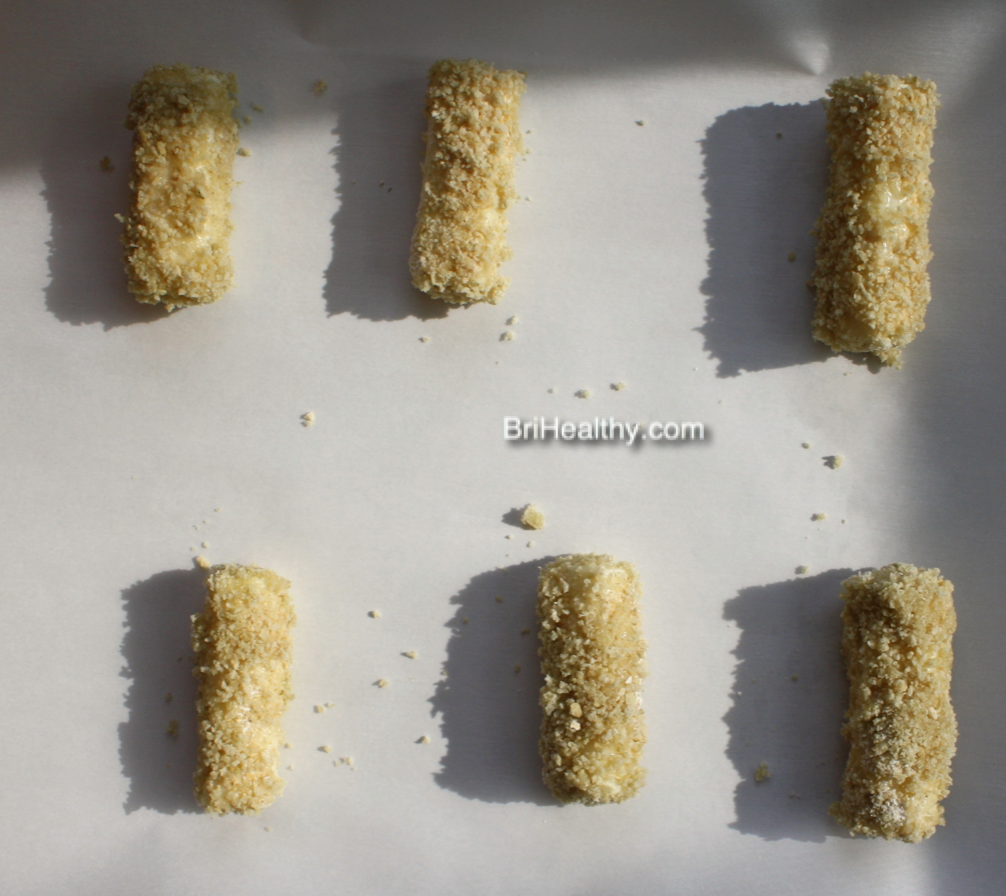 I've never been a big fan of marinara sauce, so I created my own honey mustard as a dipping sauce. It took about 15 seconds total. All I did was mix one tablespoon of dijon mustard with ¼ tablespoon of raw honey. It tastes exactly like any commercial honey mustard, except it's completely clean. Try this recipe as soon as you can!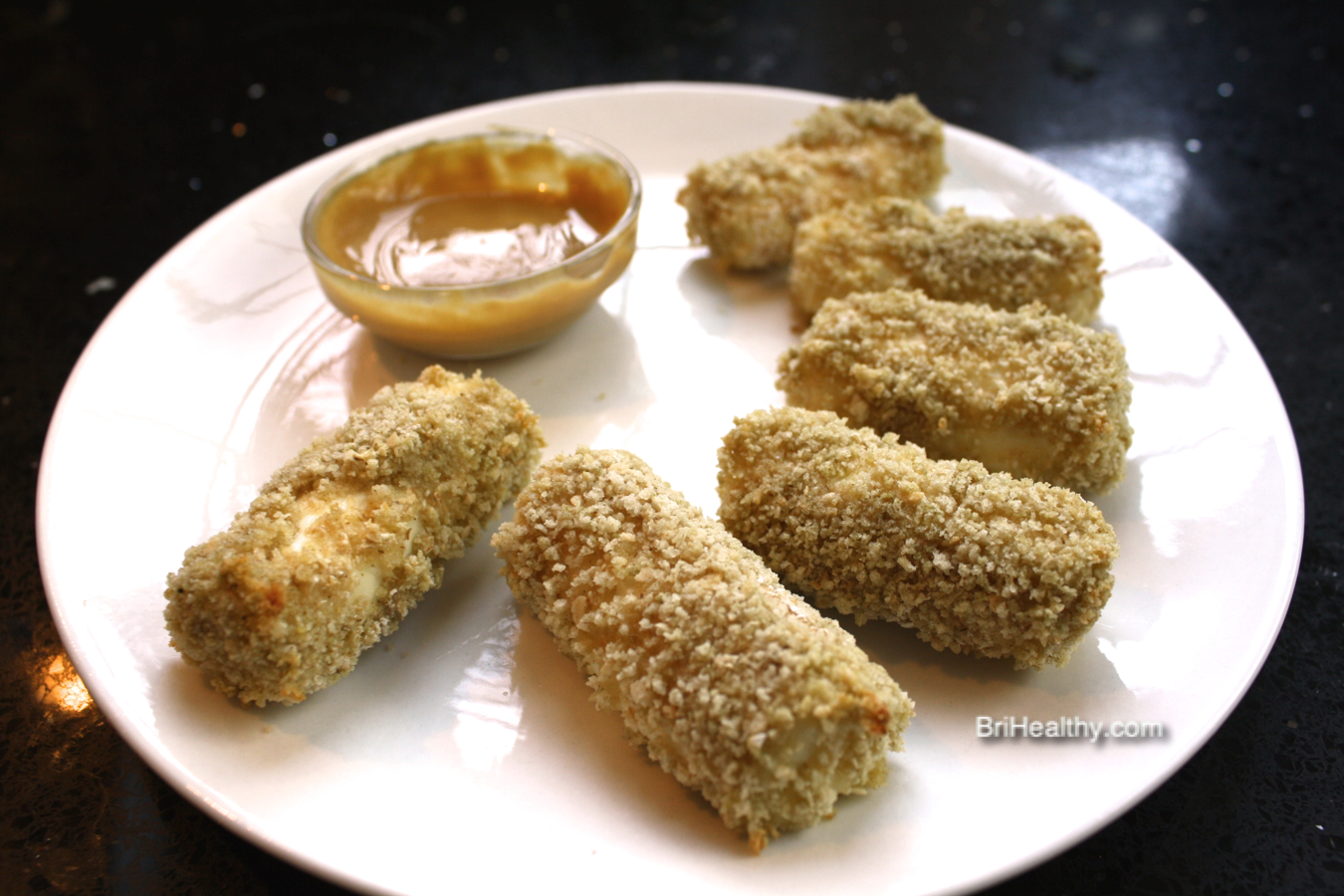 Lightened-Up 4-Ingredient Mozzarella Sticks
Makes 12 sticks
Ingredients
6 reduced fat string cheese sticks, cut in half
⅓ cup whole wheat bread crumbs
4 tablespoons liquid egg whites
4 tablespoons oat flour (whole grain oats ground in a food processor)
Instructions
Cut mozzarella sticks in half and freeze them in advance. Make sure they're firmly frozen before using, which may take an hour or more.
When ready to cook, preheat oven to bake at 400°F.
Lay a pile of bread crumbs and a separate pile of oat flour on a plate. Put egg whites in a bowl.
Line a baking sheet with parchment paper.
Dunk a piece of frozen cheese in the egg whites, then roll it in the oat flour. Dunk it in the egg whites again and roll it in the breadcrumbs. Make sure all of the cheese is coated with bread crumbs. Repeat this process for an extra crunchy coating. Place on baking sheet.
Repeat with all frozen pieces of cheese until they are all coated.
Spray a small amount of nonstick cooking spray (preferably olive oil spray) over the mozzarella sticks.
Bake mozzarella sticks for about 5 minutes, then turn them. Put them back in for another 5-7 minutes, or until they begin to become more golden. Watch them to make sure they don't melt.
Enjoy!
Calories: about 55 per mozzarella stick
Clean Honey Mustard Dipping Sauce
Ingredients
1 tablespoon dijon mustard
¼ tablespoon raw honey
Instructions
Mix both ingredients together. Enjoy!
Calories: 15 total