I've been wanting to make a healthy pie recipe for a while now and I realized that Thanksgiving was the perfect time to create one for you! The plan for my Thanksgiving Menu was to make these into pumpkin pies instead of apple, but as I made the Autumn Pumpkin Soup for yesterday's recipe, I decided to experiment with another beloved fall ingredient. My boyfriend brought home quite a few apples yesterday, so I figured that since I already had the necessary ingredients, it was the perfect time to switch up the recipe and try something new.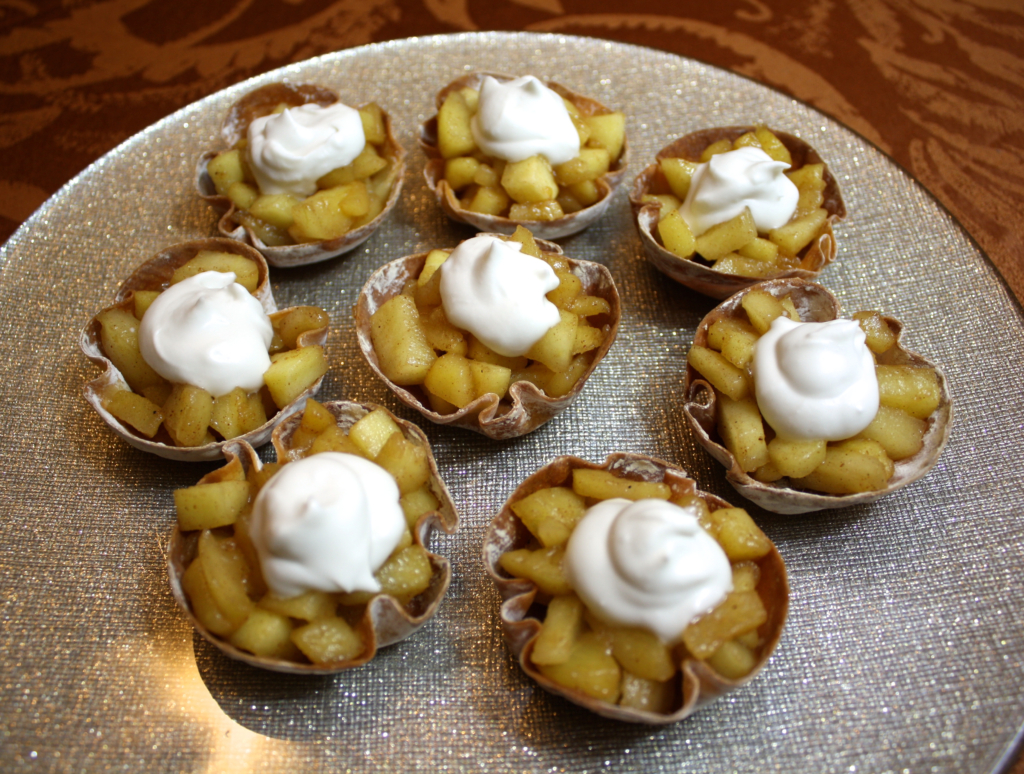 This recipe was honestly very simple to make, especially for someone who has less baking experience (me) than others. I've been thinking about ways to make a healthier pie crust − since I absolutely love pie − but a thought popped into my head: I can try it with wonton wrappers! I looked online and other people had beat me to the punch, but I put my own spin on it. I researched traditional apple pie filling recipes and created my own healthified, yet still absolutely delicious filling. In my opinion, the apples and honey deliver plenty of sweetness so that there's no real need for refined sugar. These are light and sweet and a perfect addition to the dessert menu of any meal.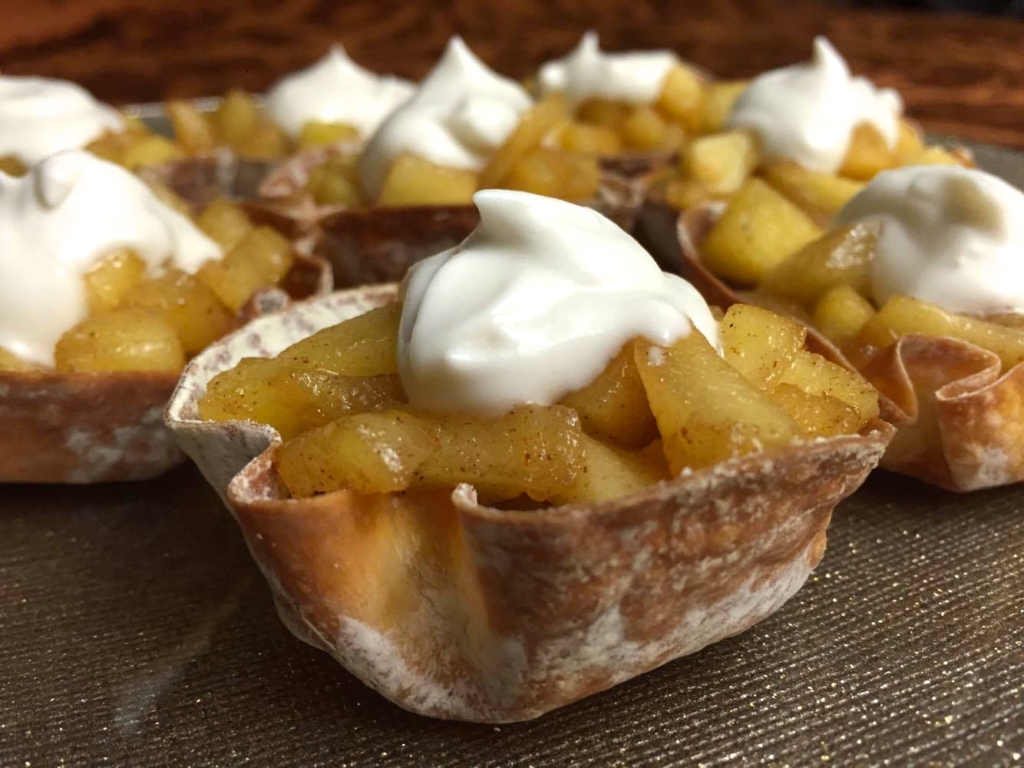 When baked as a pie crust, the wonton wrappers deliver a perfect crispy crunch and complement the taste of the apples and whipped cream perfectly. Spraying the muffin pan again on top of the wrappers ensures that the crusts will be golden, firm, and crispy. They maintain their crispiness for a while as well; the filling doesn't make them soggy or weak. The coconut whipped cream topping is a perfect addition and completes the presentation. It's easy to make (there are only two ingredients required) and it's thick, fluffy, and contains the right hint of sweetness. These can be served without the whipped cream if desired, but why skip on the whip?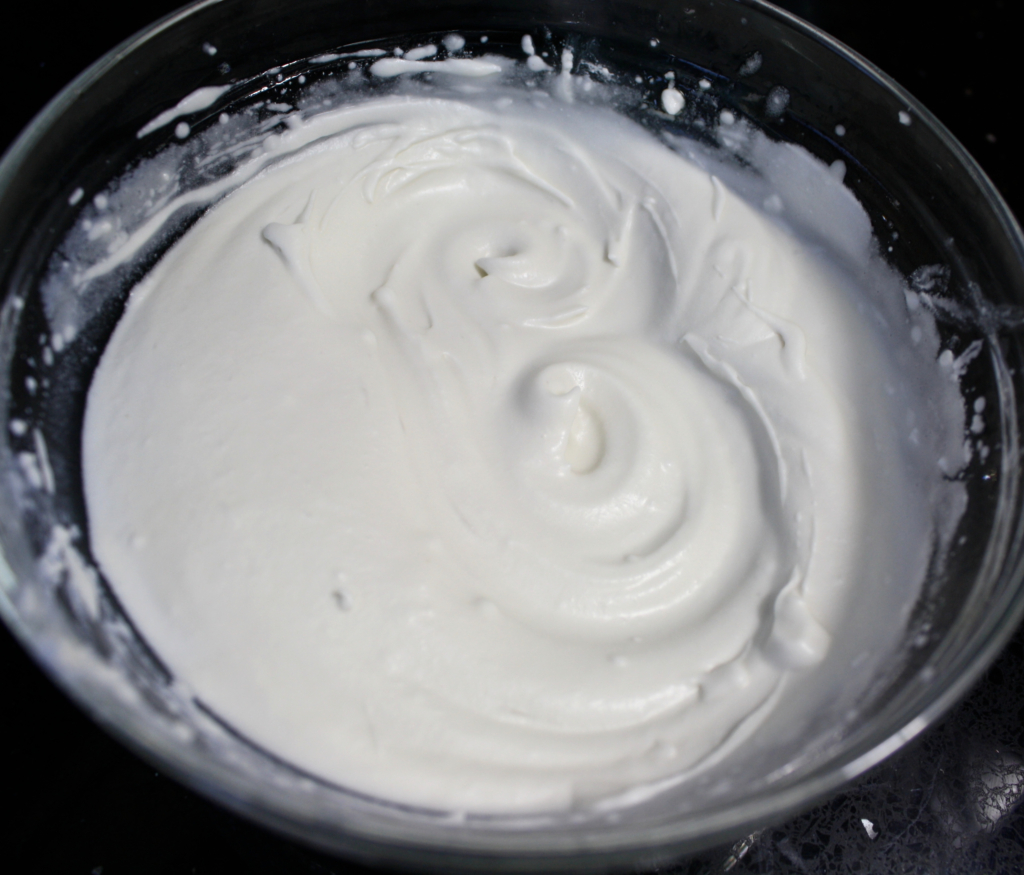 These will be a favorite at any time of year, but they're an excellent dish to serve beside sugary pies, cakes, and other sweets on Thanksgiving. Each pie is only about 70 calories and with a bit of whipped cream, they're only about 90 calories. That means you can have a few and feel free of guilt! If you're hosting a larger amount of guests, you can (and should) double the recipe, because these will surely go fast. Bake these up and enjoy them for the finishing touch of your feast!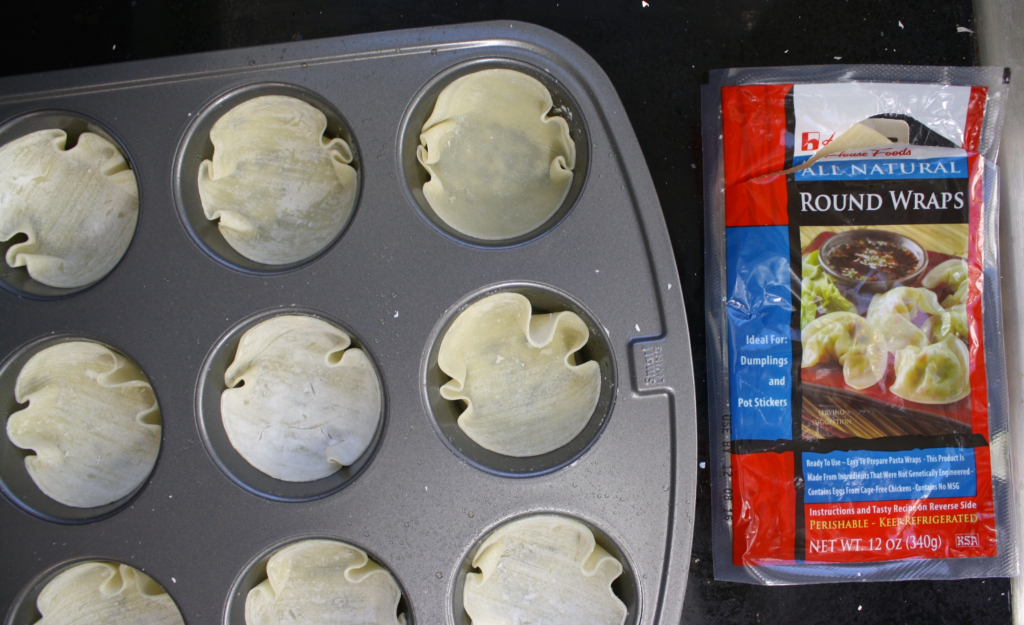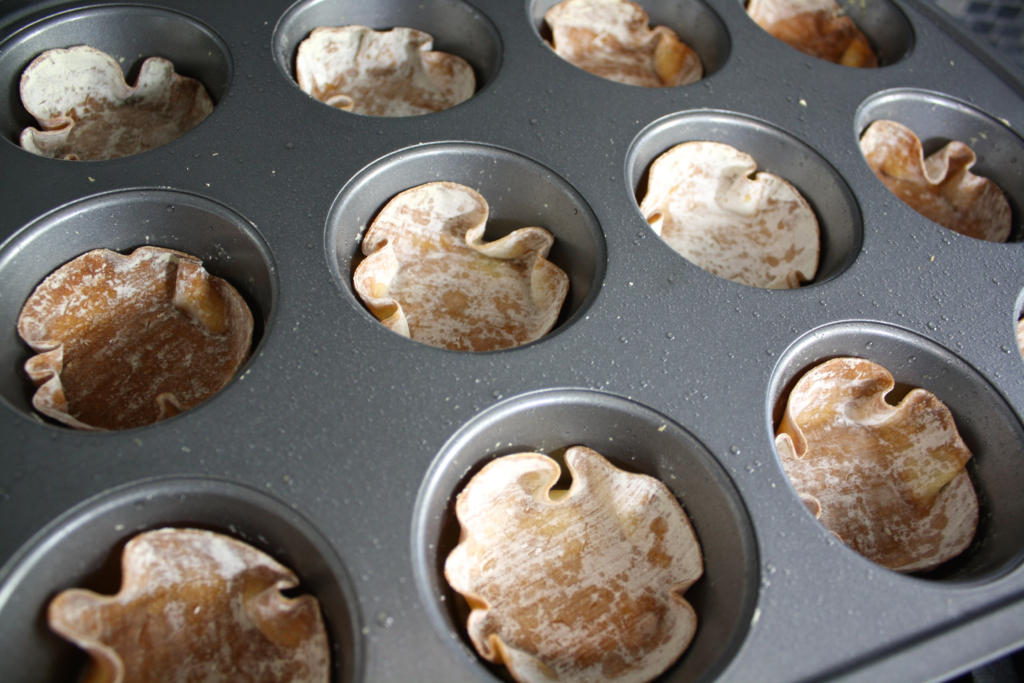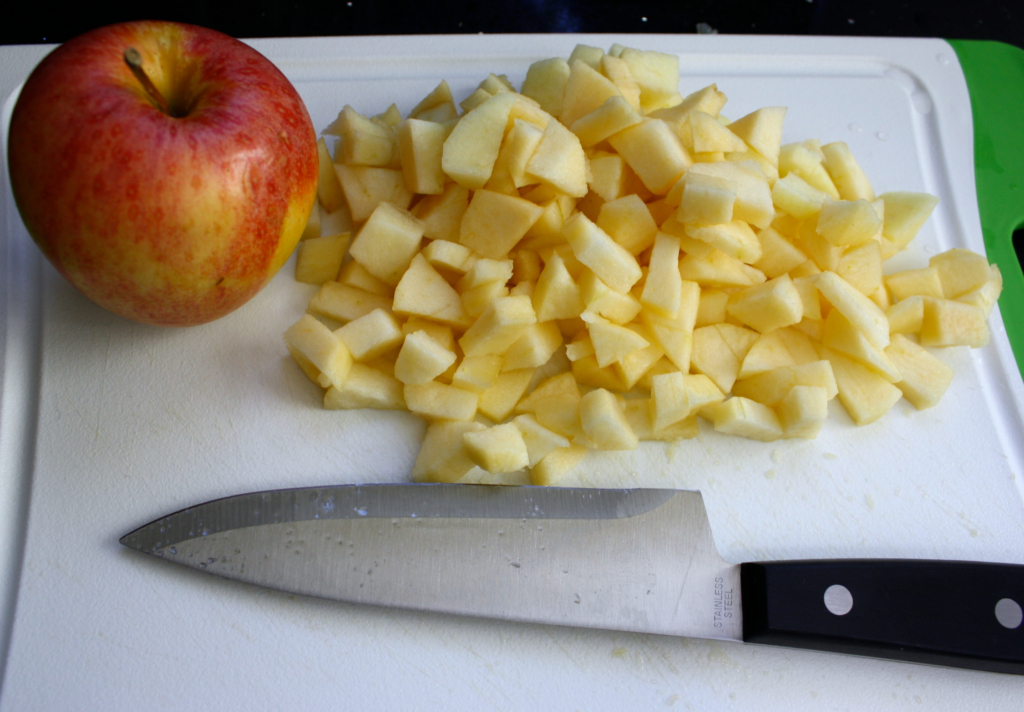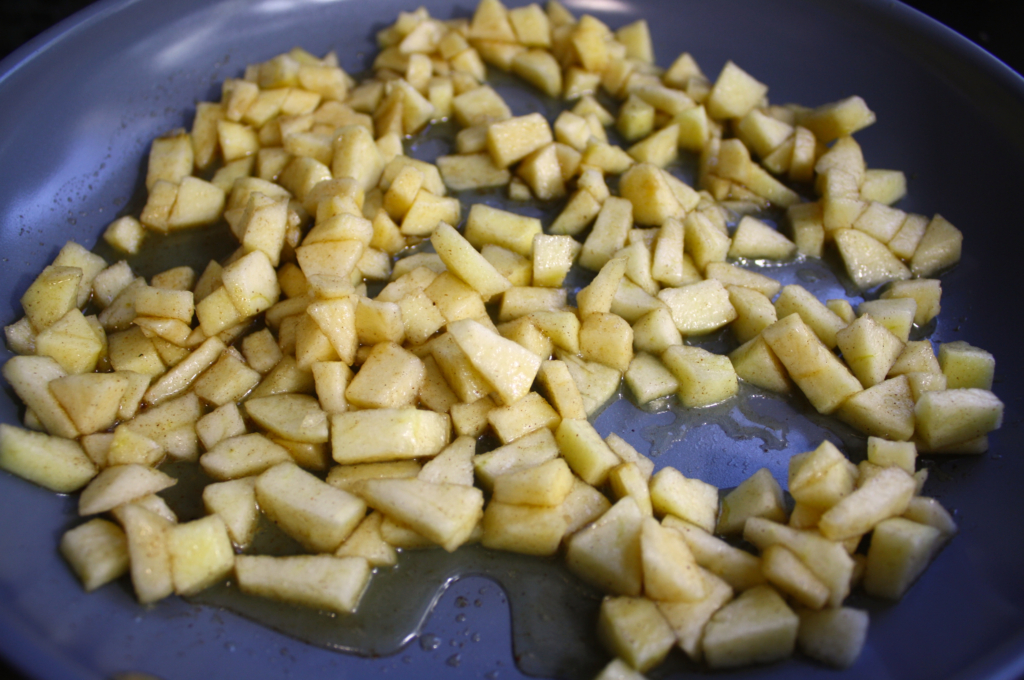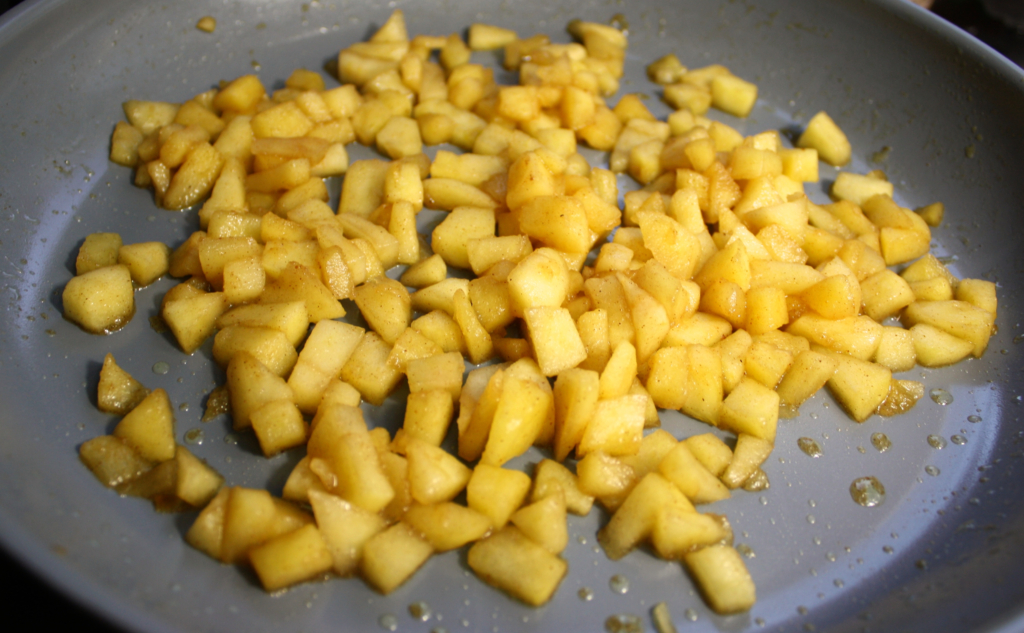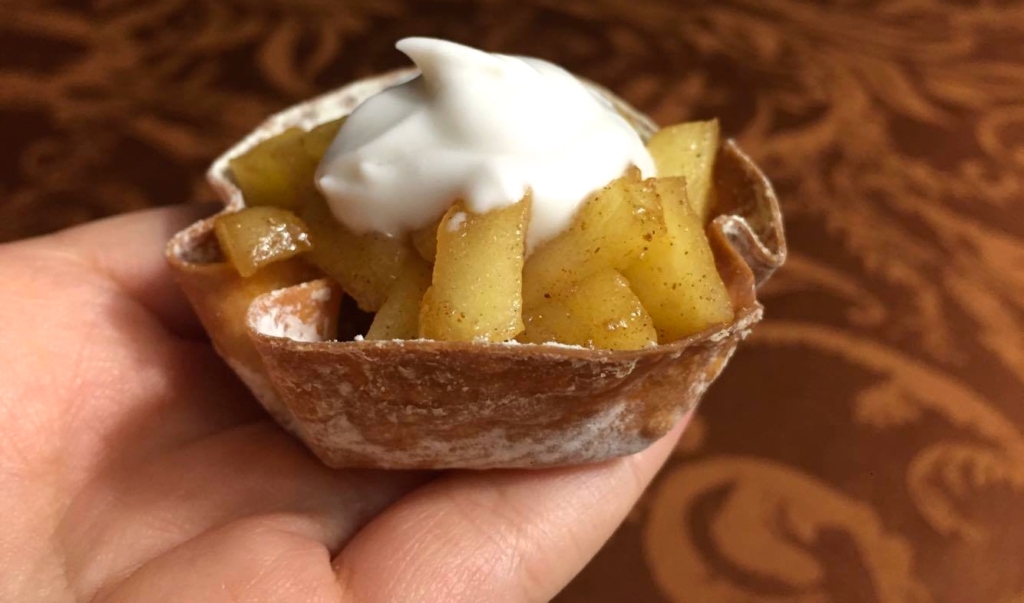 Mini Apple Pies with Wonton Pie Crust and Whipped Cream
2016-11-18 14:14:28
Serves 12
For the apple pies
12 round wonton wrappers (you can use square ones and trim the edges)
4 medium apples (or 3 large), peeled and diced
2 tablespoons liquid coconut oil
1 tablespoon honey
¼ cup water
1 teaspoon fresh lemon juice
½ teaspoon cinnamon
Pinch of salt
Pinch of nutmeg
For the whipped cream topping
1 5-6 oz can of unsweetened coconut cream (or 6 tablespoons)
1 tablespoon pure maple syrup
For the apple pies
Preheat oven to 350ºF.
Spray a muffin pan with nonstick cooking spray. Press a wonton wrapper in each indent. Once they're all in, spray the top of the wrappers with more nonstick cooking spray and bake for about 10-15 minutes, or until crispy. Let them cool while you prepare the apple filling.
Peel and dice apples. Place apples in a mixing bowl and add coconut oil, honey, water, lemon juice, cinnamon, salt, and nutmeg. Toss well to make sure all apple pieces are evenly coated.
Add apple mixture to a pan on medium-low heat. Once it starts to sizzle, turn the heat down to a simmer, stirring occasionally for about 10 minutes.
Once apples are fork-tender, remove from heat and let them cool until they're warm.
Place each wonton crust on a serving plate and fill each with the apple filling. Top with a dollop of homemade whipped cream (recipe below) and enjoy!
For the whipped cream
Have a refrigerated can of coconut cream ready. Refrigerate for at least 2 hours before. It's also helpful to freeze a mixing bowl for at least a half hour as well so the whipped cream better holds its shape.
Add coconut cream and maple syrup to the mixing bowl and using a hand mixer or stand mixer, start mixing on a low speed and gradually increase the speed until it's on its highest setting. The whipped cream will begin to get fluffy.
As soon as the whipped cream is ready, top each apple pie with a dollop of it.
Notes
Pie with whipped cream: about 90 calories each.
Pie calories (without whipped cream): about 845 total. Per pie: about 70.
Whipped cream calories: 350 total. Calories will vary based on how much you use, but with a teaspoon-sized drop, it should be no more than 20 calories.
Note: you will have leftover whipped cream, so save it for later use!
Bri Healthy™ https://brihealthy.com/