Today is National Spaghetti Day, so I decided to whip up a dish using an ingredient that I had never tried cooking with before. I've heard of mascarpone cheese and I knew that it's a very versatile ingredient. It can be used in sweet and savory dishes alike. In preparation for today's food holiday, I decided to use mascarpone to create a creamy tomato sauce to coat my Banza spaghetti, and it came out absolutely delicious! The fiancé was loving it (and he's a seriously picky eater)!
Throwing together this recipe was extremely easy. I used a jar of store-bought tomato sauce, making it super simple and cutting down a lot of cooking time. When I buy store-bought tomato sauce, I always make sure to choose a brand that does not add sugar to their products. You might be surprised to learn that most commercial brands of tomato sauce contain quite a bit of added sugar! It's unnecessary and honestly doesn't make the sauce taste any better. However, there are plenty of brands that exclude any sweeteners. My favorite brand to use is Monte Bene (click here to buy), but any sauce without sugar or preservatives should be clean and perfect for this recipe.


All this recipe really requires is to boil the pasta, heat the sauce in a pot, add a couple of extra ingredients, and mix them all together. This dish can be easily thrown together for any family dinner, a date night meal, a dinner party, a potluck, or really any occasion. There are only about 335 calories per serving, so you can make this for your weekly meal prep, too. No matter when you make it, it's guaranteed to be delicious!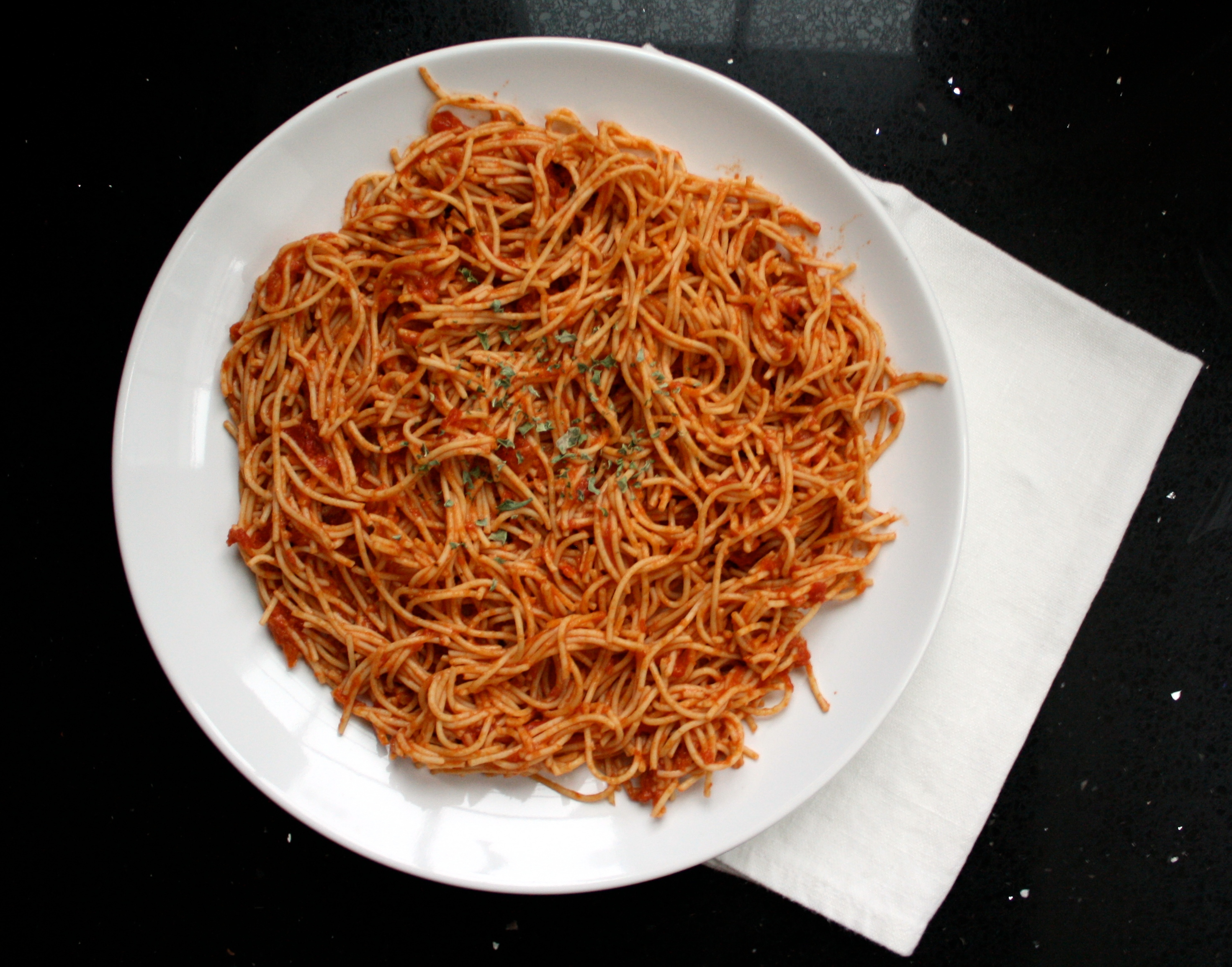 Spaghetti with Creamy Mascarpone Tomato Sauce
2018-01-04 15:50:05
Serves 4
Ingredients
1 8-oz box of bean/lentil spaghetti (I used Banza's spaghetti)
1 24-oz jar of no-sugar-added tomato sauce (I used Monte Bene)
1 teaspoon balsamic vinegar
¼ cup mascarpone cheese
Optional: basil (fresh or dried)
Instructions
Set a large pot of water to boil. Cook spaghetti according to the instructions on the box. Drain (and rinse, if directed) and place the spaghetti back in the empty, large pot.
In a medium-sized saucepan, add the tomato sauce and the balsamic vinegar and cook on low heat, stirring occasionally when you notice the sauce bubbling on the sides. Continue until the sauce is heated all the way through. (Tip: To see if it's fully heated, spoon a small bit, blow on it to cool it, and taste it to see if it's warm enough. Be careful to not burn your tongue!)
When the sauce is warmed all the way through, add the mascarpone. Stir until the cheese is fully melted and the sauce is mixed well.
Add the sauce to the pot with the spaghetti and mix gently, so that the noodles do not break.
Garnish with basil if you'd like. Enjoy!
Notes
Calories: 335 per serving (4 servings per recipe)
BRI Healthy https://brihealthy.com/