Happy National Pancake Day! In honor of this very random, possibly illegitimate, yet very delicious holiday, I decided to put together a few different styles of my Protein Pancakes (Without Protein Powder!) recipe for you to indulge in today or any day! I've made these with fresh blueberries a lot recently, but I had other ingredients around my kitchen today, so I decided to do something special for the holiday. If someone tells me I should celebrate by eating pancakes, I will not refuse, especially since I have a healthy and amazing way to make them!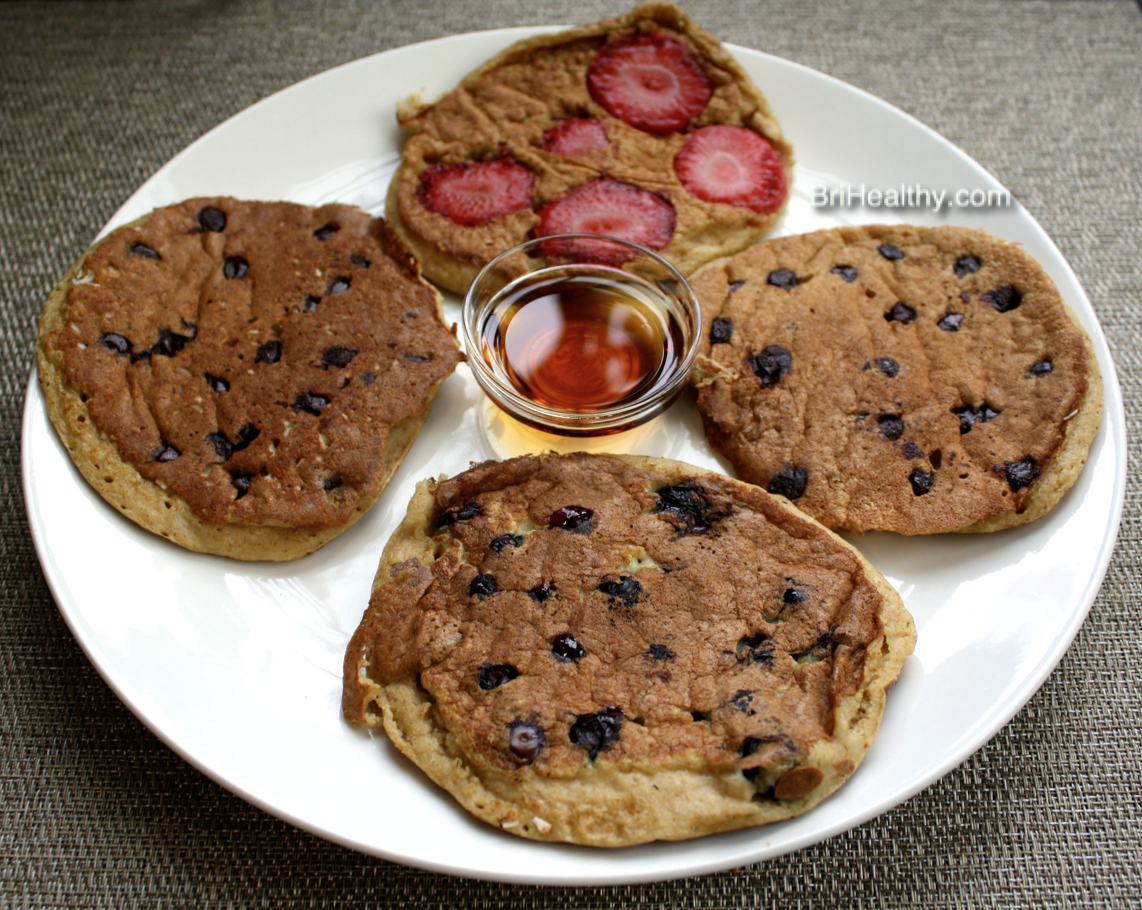 There's a diner in my hometown in Connecticut that serves up over forty different varieties of pancakes. In my opinion (and most locals' opinions), they are, without a doubt, the best pancakes in the world. I decided to try some of the options that I've seen frequently on their menu and recreate them in a healthy, protein-filled way.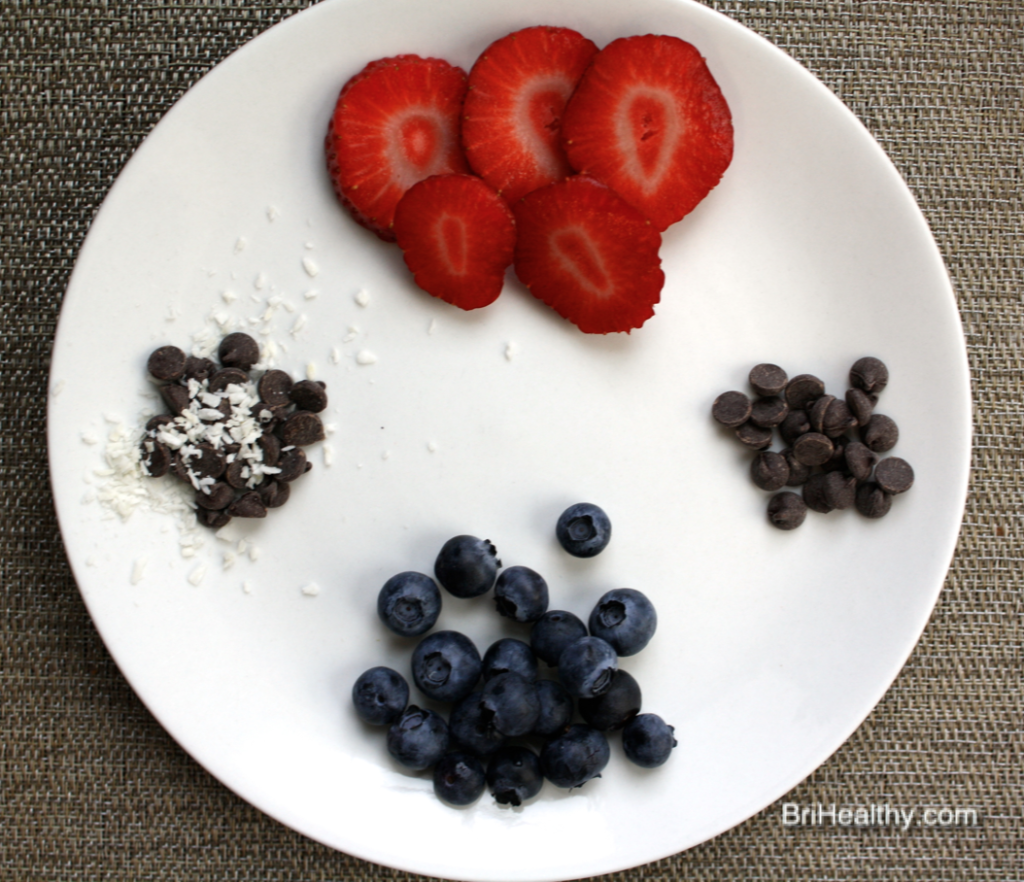 I chose four different pancake varieties: strawberry, blueberry, chocolate chip, and coconut chocolate chip. I can't lie to you. Each of them came out absolutely amazing. I made these a little bigger than I previously have, so the recipe yielded four instead of the original recipe's five, but it was well worth the larger cakes. Plus, the ingredients I used didn't add very many calories to the recipe, but they added lots of flavor. The additions are all natural ingredients as well! I used Lily's Dark Chocolate Baking Chips that are sweetened with stevia, not refined sugar, and I used unsweetened, shredded coconut. I used about 1 tablespoon of the chocolate chips, which is a little under 40 calories. With such a low amount of calories, you absolutely need to try these!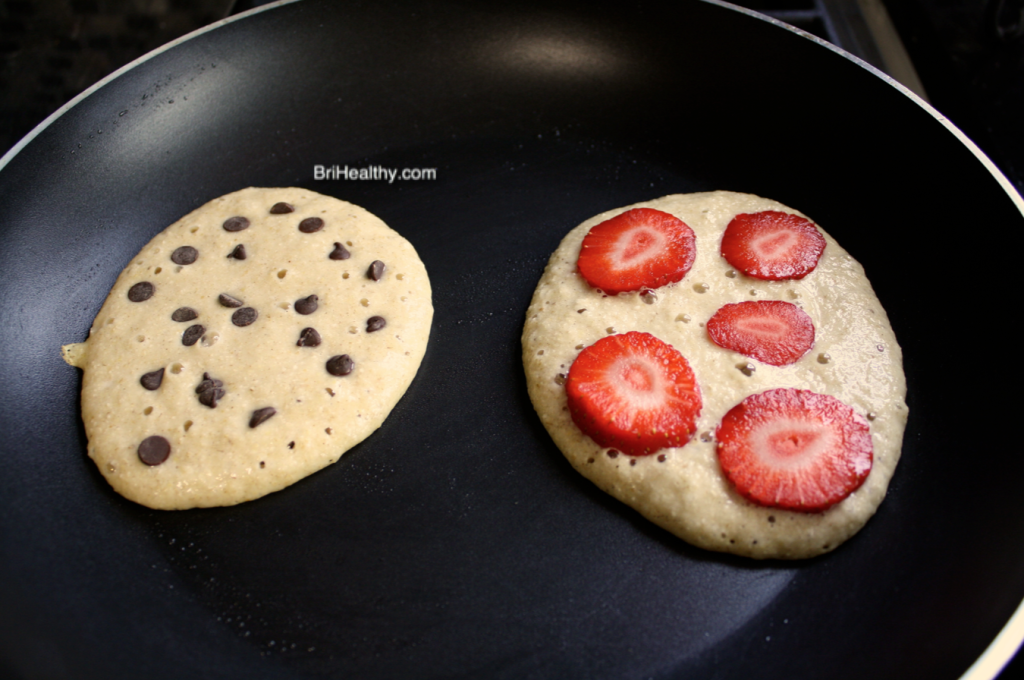 You can make all of them one particular flavor, or you can do a variety like I did! All you have to do is lay out the batter and place your desired topping(s) on top. When you flip the pancake, the toppings will become embedded in the pancake and, depending on the ingredients, they'll get all warm, melty, and delicious!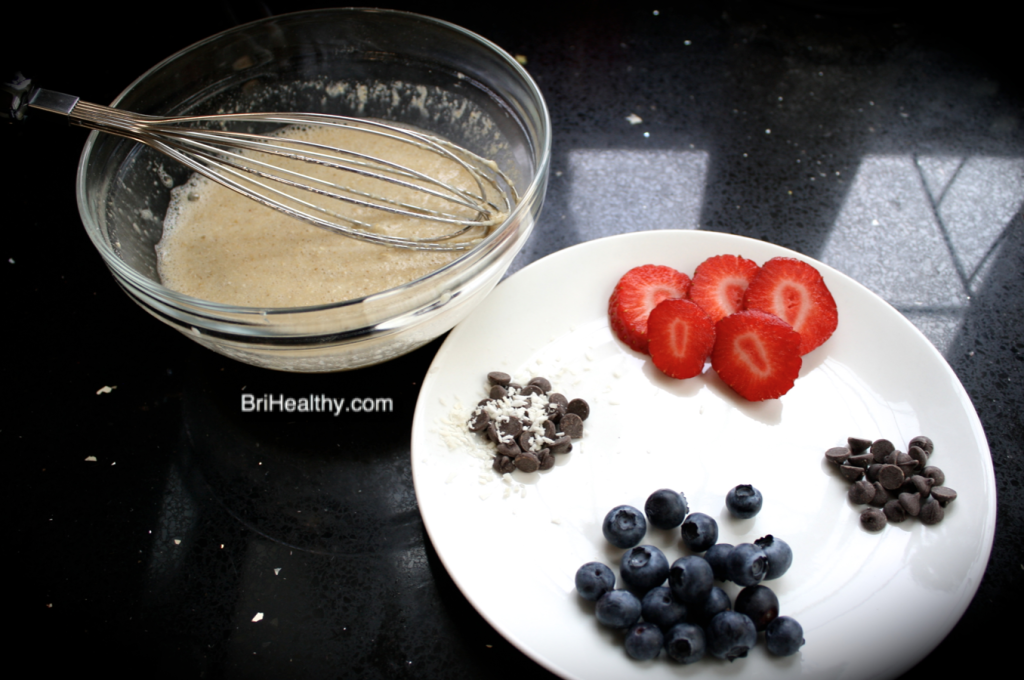 Test out different varieties with this. Some other ingredients you might decide to try could be:
bananas
peaches
apples
walnuts
raspberries
blackberries
a combination of any of the above
and more!
You can really have so much fun with this recipe and make it your own personal masterpiece! Let me know what creation you made and send me a picture of it. I'd love to feature it on my social media! Also, feel free to enjoy these with one tablespoon of pure maple syrup. Have fun and enjoy!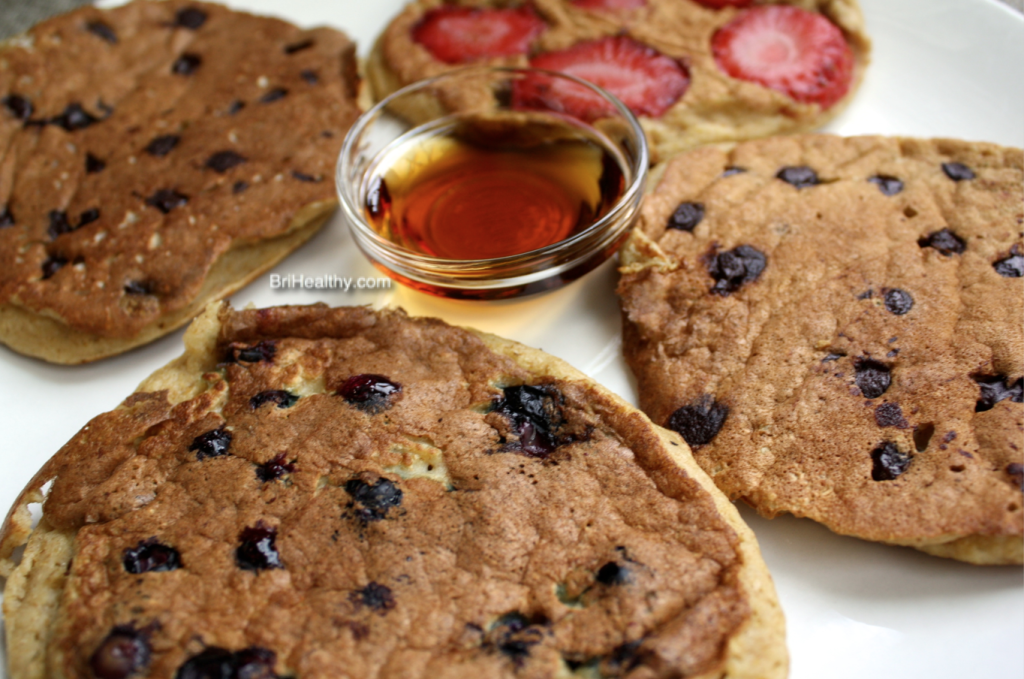 Protein Pancakes (Without Protein Powder!) Variations
2016-03-08 10:00:19
Serves 1
Ingredients
½ cup oat flour (measure oats and grind finely in a food processor)
½ cup liquid egg whites
1 tbsp baking powder
4 packets pure stevia
4 oz unsweetened applesauce (I used Nature's Promise brand)
Desired toppings (I used 1 sliced strawberry in one, ¼ cup blueberries in one, ½ tbsp Lily's chocolate chips in one, and ½ tbsp Lily's chocolate chips and 1 tbsp unsweetened shredded coconut in one)
Optional: a dash of cinnamon
Instructions
Mix egg whites and applesauce in a bowl well.
In a separate bowl, mix the remaining ingredients.
Add the dry ingredients to the bowl with the wet ingredients. Mix well.
Spray a griddle or a pan with nonstick cooking spray. Heat on medium low heat.
Slowly pour the batter onto the griddle or pan into round pancake shapes.
Immediately top with desired toppings.
When the batter starts to bubble, flip them over using a spatula.
Repeat steps 5 to 7 with the remaining batter and enjoy!
Notes
Calories: (with ingredients I used) about 340
BRI Healthy https://brihealthy.com/