As a kid, chicken nuggets were one of my favorite foods. I'd be lying if I said that they aren't still one of my favorite foods right now. Since I partake in a healthy eating lifestyle, fried chicken nuggets don't appeal to me as much as they used to. Too much fried food just isn't enjoyable to me anymore. However, if you gave me some delicious, baked chicken nuggets, count me in! Nuggets were on my mind all morning, so I decided to test them out. Hallelujah, they came out exactly as I'd hoped. It's always an amazing day when I test a recipe and it comes out great on the first try.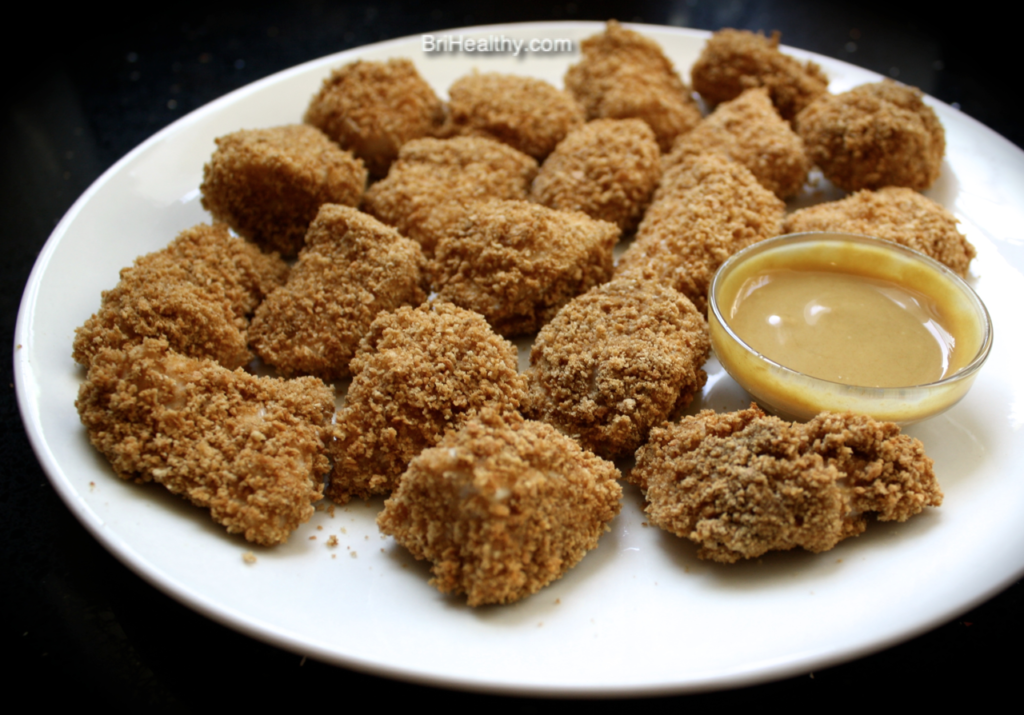 These chicken nuggets are everything you could ask for in a lightened-up version of the classic dish. These are perfect for kids, but also for adults! They were easy to make, and honestly, they were fun too. Your hands might get a little messy, but it's entirely worth it. I was inspired by this Martha Stewart recipe to bake the breadcrumbs first to get them crispier and golden. This step made a huge difference. They look and taste incredible!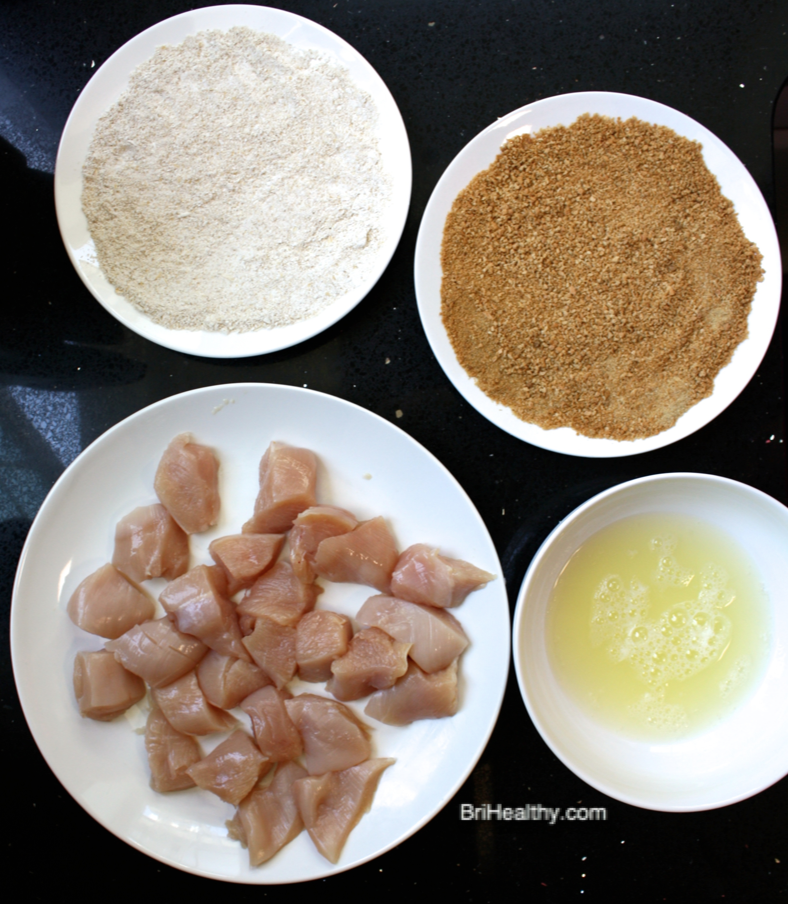 I paired my nuggets with my 5-second homemade honey mustard sauce, which I've included at the bottom of this page. The best part of this recipe is the crispiness of the breading and the juiciness of the meat. But the true best part is that they're entirely healthy! Give these a try ASAP!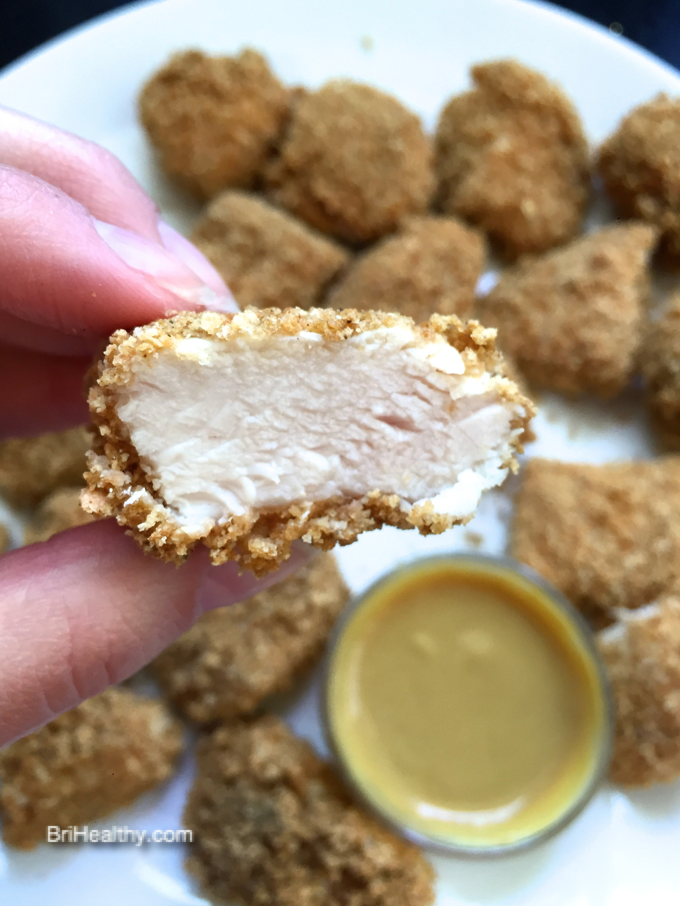 Healthy Baked Chicken Nuggets
2016-05-12 10:58:03
Serves 4
Ingredients
2 boneless skinless chicken breasts (about 1 lb of meat)
⅔ cup whole wheat breadcrumbs
½ cup oat flour
6 tbsp liquid egg whites
Salt
Black pepper
Garlic powder
Instructions
Preheat oven to convection bake at 375ºF. If your oven does not have a convection setting, set it to bake at 400ºF.
Line a baking sheet with tin foil. Spread breadcrumbs across baking sheet and bake for about 4 minutes, or until lightly golden. (Hint: you can reuse the tin foil later in the recipe, so don't throw it out!)
Carefully transfer breadcrumbs to a small flat dish (don't burn yourself!). Add a pinch of salt and some black pepper and garlic powder. Mix well.
Grind oats and place on a small dish. Put egg whites in a shallow bowl.
Cut chicken into 2-inch pieces, trimming any visible fat.
Take a piece of chicken and dredge it in the oat flour.
Dunk the piece of chicken into the egg whites, then immediately coat in breadcrumbs until entirely coated. Place on baking sheet.
Repeat steps 6 and 7 with the remaining pieces of chicken.
Bake for 7-9 minutes, or until cooked through. Cut through a thick nugget to test.
Enjoy!
Notes
Calories: about 210 per serving. I accounted for the materials used, since there was some leftover flour and egg whites.
Bri Healthy™ https://brihealthy.com/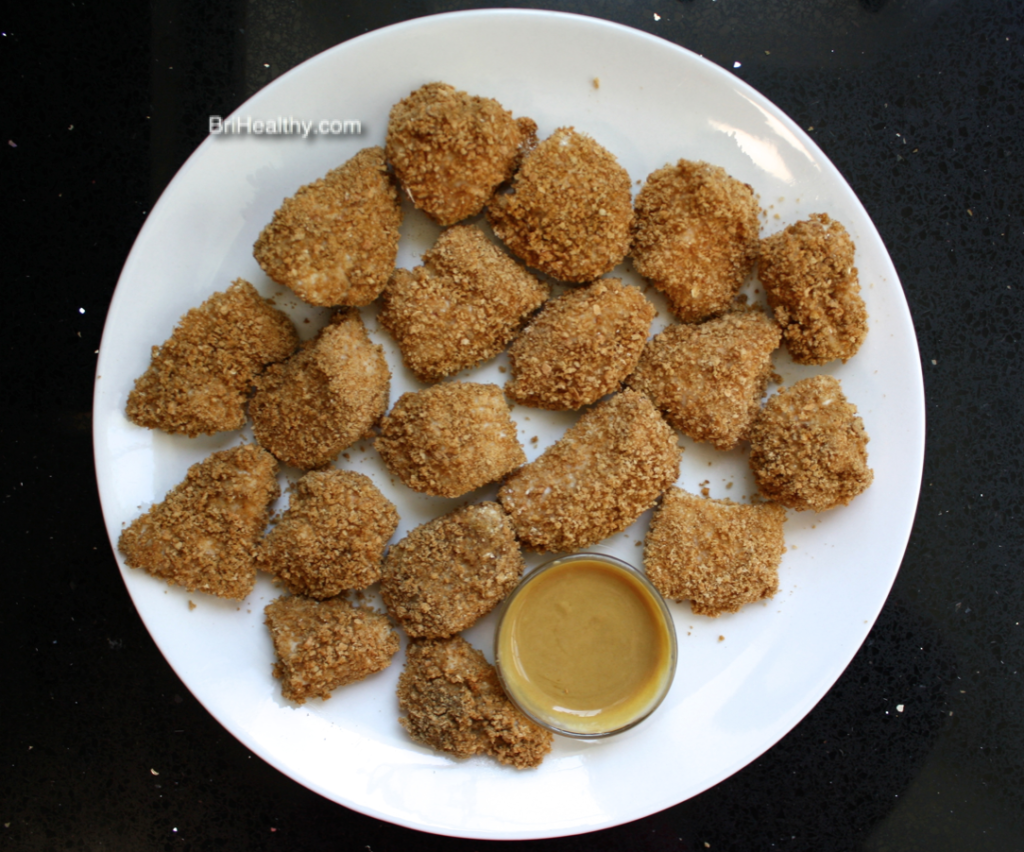 Clean Honey Mustard Dipping Sauce
2016-05-12 10:59:48
Ingredients
1 tablespoon dijon mustard
¼ tablespoon raw honey
Instructions
Mix both ingredients together. Enjoy!
Notes
Calories: about 15
Bri Healthy™ https://brihealthy.com/