When I was little, my parents used to purchase packs of mini chocolate chip muffins frequently. They quickly became one of my favorite muffin flavors and remains so to this day, although I rarely buy muffins anymore. They tend to be oversized and filled with mostly-empty calories, meaning that there is little nutritional value to them. Since I created Bri Healthy, I continue to become more knowledgable about healthy baking, so I decided to try out a classic, delicious muffin recipe. I had quite a few people (who don't typically eat healthy) remark about how they couldn't believe they were healthy; they loved them so much!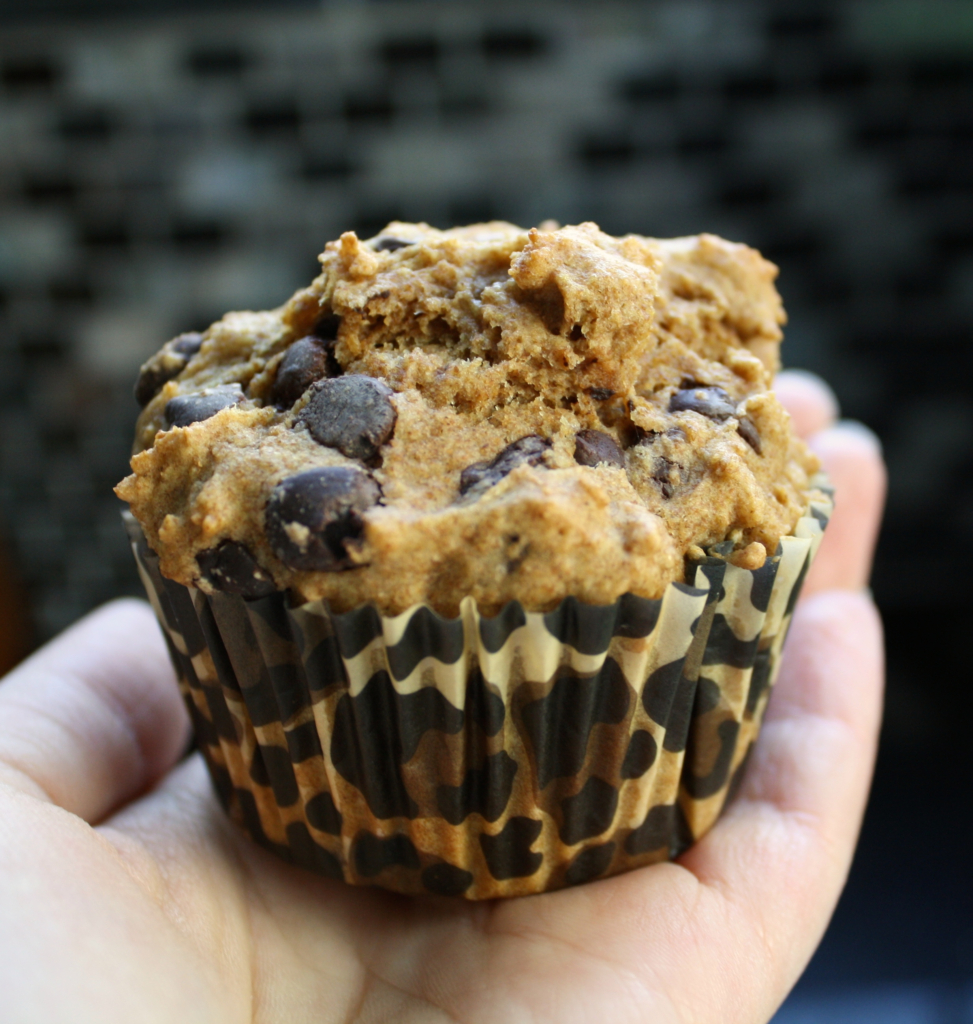 The great part about these muffins is that they have just the right amount of sweetness. On top of that, there is no refined sugar in the recipe! I used Lily's Dark Chocolate Baking Chips, which are my go-to chocolate chip brand due to the fact that they're made with stevia. I used coconut oil and applesauce to cut down on the amount of calories from the oil. If you're a dedicated Bri Healthy viewer, you know that I usually use oat flour (ground oats), but I decided that I wanted the consistency of whole wheat flour in this recipe. It's very easy to throw together and it's a recipe the whole family will love. Plus, you can jazz them up with fun muffin cups (like my cheetah print ones).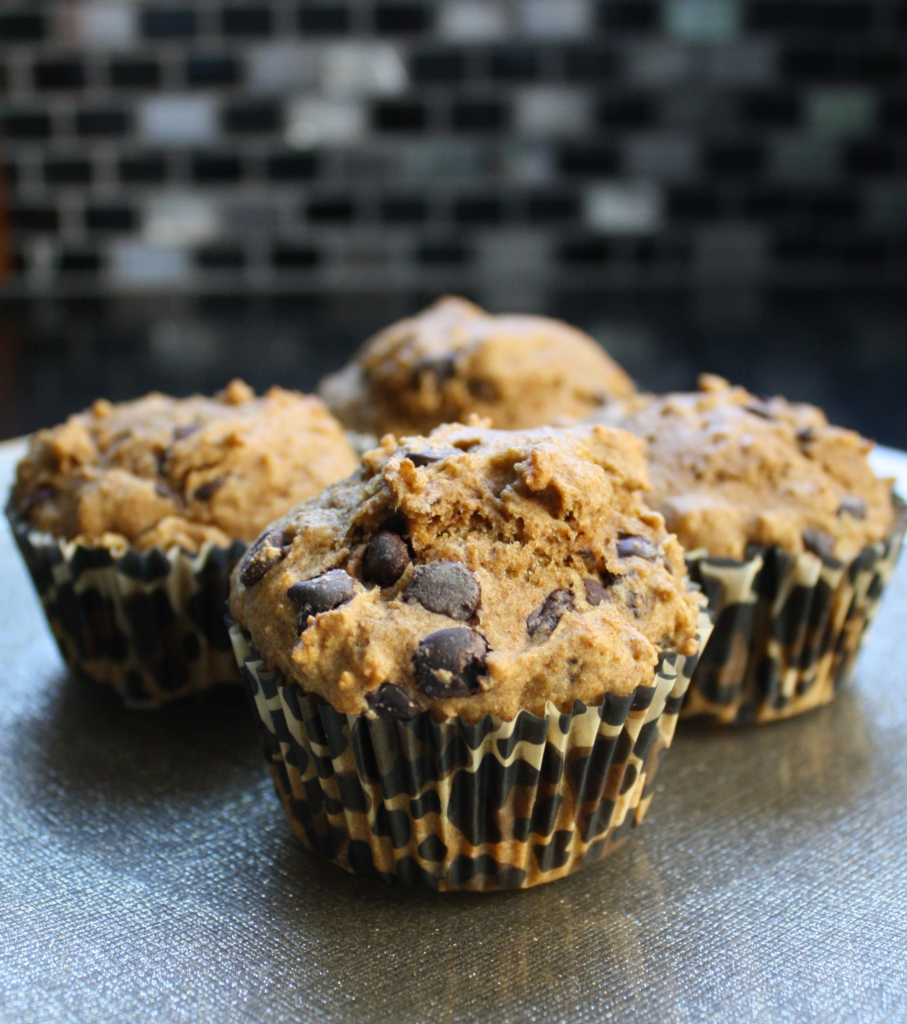 These muffins are only about 130 calories each and they're so tasty! You can make these and eat them as a part of your breakfast throughout the week, or even as a snack. They're super easy to pack and bring with you. I highly suggest using Lily's Dark Chocolate Chips so the recipe remains free of refined sugar. You can find them at health food stores or order them here through Amazon. Make these soon and enjoy!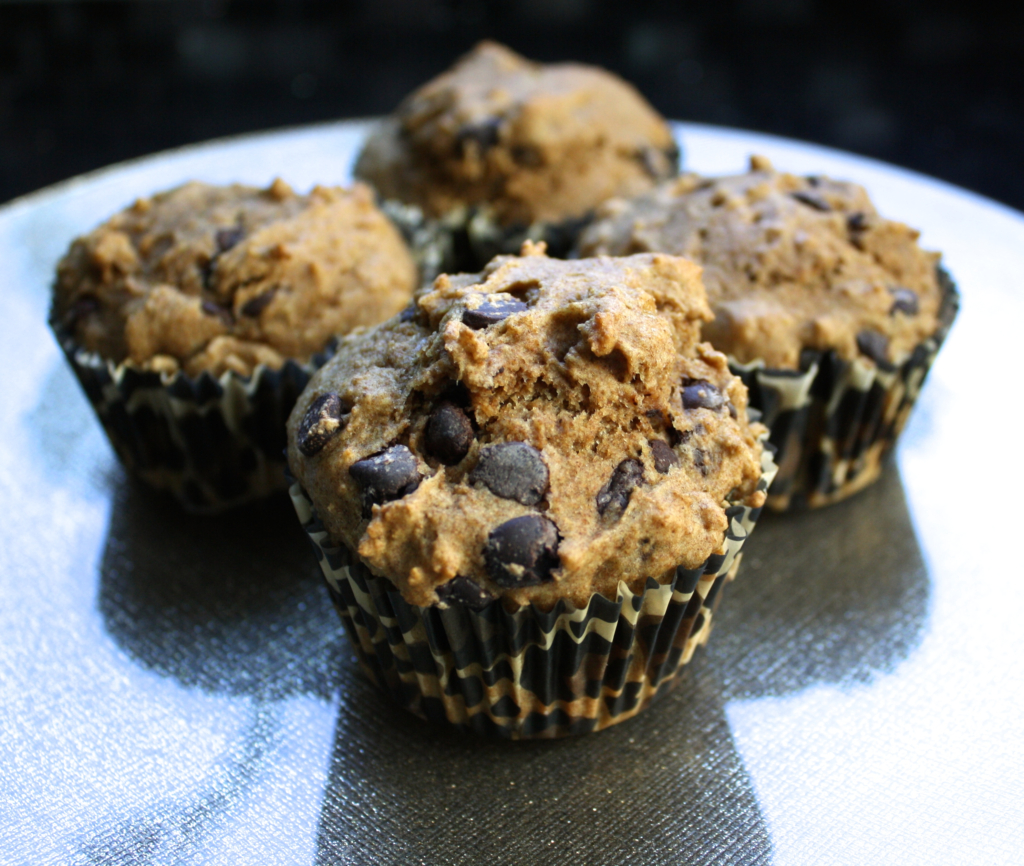 Whole Wheat Refined Sugar-Free Chocolate Chip Muffins
2017-03-26 11:13:13
Serves 16
Ingredients
2 ½ cups whole wheat flour
1 tbsp baking powder
1 tsp baking soda
¼ cup liquid coconut oil (I used Carrington Farms)
¼ cup unsweetened applesauce
¼ cup powdered stevia
2 eggs
1 cup unsweetened almond milk
1 tbsp vanilla extract
1¼ cups chocolate chips (I used Lily's Dark Chocolate Chips made with stevia)
2 tablespoons pure maple syrup
Pinch of salt
Instructions
Preheat oven to 375ºF.
Line a muffin pan with paper liners.
In a large mixing bowl, add the whole wheat flour, baking powder, baking soda, stevia, salt, and chocolate chips. Whisk well.
In a separate mixing bowl, add the coconut oil, applesauce, eggs, almond milk, vanilla extract, and maple syrup. Whisk well.
Add the wet ingredients to the dry ingredients and whisk until combined.
Evenly distribute batter between muffin cups, filling them about 3/4 of the way full.
Bake for 10 to 12 minutes. When a toothpick stuck through the middle comes out clean, they're ready. Enjoy!
Notes
Calories: about 130 calories per muffin
Bri Healthy™ https://brihealthy.com/